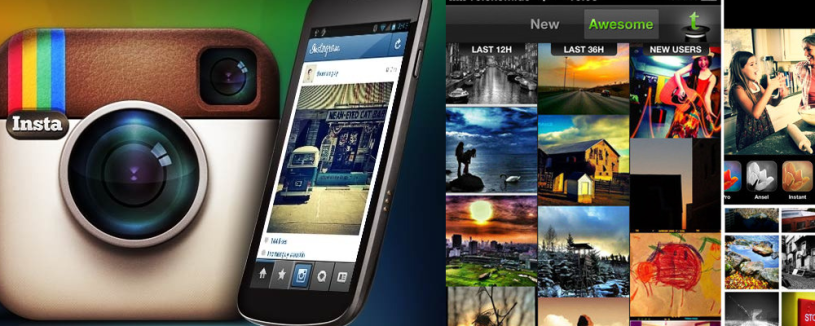 Instagram Revamps App, Gets More Social With Explore Tab
Instagram released its first app update today since the $1 billion dollar acquisition of the company by Facebook in April. The app's most notable difference is the new "Explore" tab and its compass-like icon, replacing the former "Popular" tab with the heart icon. By going to the "Explore" section of the app, users see a grid of the top trending photos shared on Instagram at any given time (just like before) and can quickly search for other users or content using specific hash tags using the new search bar.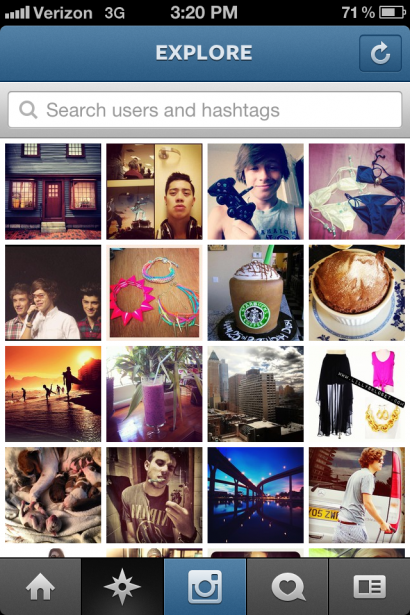 Other updates to the app include:
Improved user commenting
Streamlined profile layouts
Search autocomplete for users you follow
Visual aesthetic improvements
Speed optimizations
In addition, you can share your "likes" to Facebook if you choose, which means every time you "like" a photo on Instagram, it will show up as a notification in Facebook's news feeds. The plus side is that pushing "likes" is not automatic. You must authorize the mobile app to push notifications and link your profile to Facebook. If you want to enable this option, you can do so in your profile settings.
A couple of tips that might be handy to the power Instagrammer:
You can change your profile photo by tapping on it instead of navigating to your profile settings. Previously, tapping on it did nothing. Now, tapping on the photo brings up the options to change the picture, remove, choose a new one, etc.
Jump straight to your camera roll (for iOS users) by holding down the camera icon. It auto pulls up your photo album to select the image you want to post next.
Since updating to the new version this morning, I've noticed that the app is a lot less buggy. The speed seems to be noticeably faster, and moving from screen to screen is a much smoother experience. If I could ask for one change, I might ask for the ability to post external links within captions/comments (although, the linking thing could get out of hand). But even without that, I'm still a happy camper.
Instagram continues to be one of the most-used apps on my iPhone. Since I last  wrote about Instagram on the Cypress North blog, they've released an Android version and, as mentioned earlier, were purchased by Facebook for $1 billion.
Have you updated to the new version of Instagram? What do you think of the new changes?
The following two tabs change content below.
Tiffany Tcheng
Tiffany is an internet marketer and project manager at Cypress North. She is certified in Google AdWords and Google Analytics, and is a Bing Ads Accredited Professional in search advertising. Outside of the office, she can be found dining out, traveling, or
photographing couples and families
.
Latest posts by Tiffany Tcheng (see all)
Related
1 Comment
Brittany

on June 30, 2012

Reply

I still haven't gotten the chance the check out the new update because instagram has been down due to a storm in Virginia.
There is two issues that are ruining the real instagram experience: one is hash tags, the other is re-post from the web.
What I would like to see instagram do is somehow go back to when the hash tags actually worked for what you wanted to see; its all messed up now, people tag their photos with tags that have nothing to do with it just to get noticed, it gets really annoying when you are actually looking to see for example cloud photos and you get it all, I don't know how instagram would be able to fix this, but it would make hash tagging actually useful again.
Second thing I would LOVE to see instagram do is not allow "re-post" from the internet, (maybe somehow detecting their origin with the photo's info like the url and not allowing it to be posted)
Post from other pages like "weheartit" and "pinterest" are the most common cluttering instagram and shadowing the people who actually snap the photos they post.
When instagram came out it was wonderful to see amazing images taken by regular people with their camera phone; not only is instagram now becoming the same thing as "weheartit" which is a website where you simply post photos from the web that you like/inspire you. IG is not meant to be that! but its also becoming like "pinterest" which is a website where you "pin" photos,products,comedy related images, etc. and you end up with a collection of things you like.
If instagram doesn't do anything about it, it will become exactly like those other two websites that are designed for a totally different purpose than instagram was originally meant to be for.