Jumpstart Your Campaign with StumbleUpon's Paid Discovery- No Ad Clicks Required!
This new and improved platform offers new targeting and tracking features to make your campaign more effective.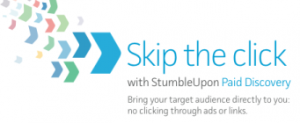 The traffic per click is inexpensive, and it can be used to drive free "stumbles" to your site.
This post  highlights some new features that appeal to marketers.  Do not miss the tips and tricks section!  There is advice on selecting and checking the right categories for your campaign.   Read the full article at Search Engine Land, and kickstart your social campaign!
The following two tabs change content below.
Greg Finn
Greg is the director of marketing at Cypress North. He has been managing internet marketing campaigns for more than seven years and is a certified Google AdWords partner in search advertising. Greg has been both a speaker and moderator at SMX, the world's leading search engine marketing conference, and is also a contributing editor and regular writer at SearchEngineLand and MarketingLand.
Latest posts by Greg Finn (see all)
Related