The Rundown
Knak is a collaborative email and landing page creation software that integrates directly with enterprise marketing automation platforms like Marketo, Eloqua, and Pardot. Knak came to Cypress North to overhaul their demand generation efforts and use digital marketing tactics to solidify Knak as the preferred enterprise SaaS product for emails and landing page design.
---
The Game Plan
Knak turned to Cypress North to optimize their paid efforts on Google and LinkedIn, developing a clear strategy and generating a positive return on ad spend. Knak also wanted to improve the content and user experience on their website to rank for the terms that mattered to their business. Finally, website conversion tracking needed to be established and CRM attribution had to be updated to tie deals directly to specific marketing efforts.
Cypress North planned to completely revamp Knak's paid lead generation program, implement robust tracking & analytics, and formulate an SEO strategy to help Knak achieve their goals.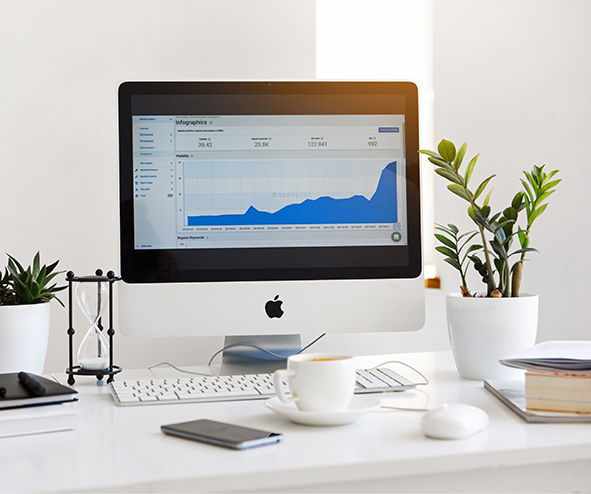 Tracking & Analytics
We firmly believe that the clearest path to success in digital marketing is through data-informed decision making. Cypress North configured Google Analytics so that Knak could accurately track website traffic & conversions. We also set up new URL tracking parameters that Marketo could effectively parse & capture along with new reporting infrastructure that enabled the team to attribute opportunities and customers back to marketing efforts.
Landing Page Creation
To maximize the value of Knak's paid campaigns, Cypress North designed and created content for new landing pages that clearly conveyed Knak's core value propositions, tailored to specific marketing initiatives. The new landing pages drove a 13x increase in conversion rate for paid search.
Paid Search
When Cypress North first audited Knak's Google Ads Account, the campaigns were generating leads, but in a format that wasn't trackable or scalable.
Cypress North performed in-depth keyword research to identify new opportunities for Knak, segmented campaigns to promote the most appropriate offers and control budgets & bidding, drafted completely new ad copy, leveraged in-market audiences, and led Knak's first foray into Microsoft Advertising.
The result was:
A 60% decrease in cost per lead and an 80% decrease in cost per marketing qualified lead
More customers in 3 months than in the entire history of Knak's Paid Search efforts
A pipeline over ad spend of 12.32, a 14x increase compared to existing campaigns
LinkedIn
Before Cypress North, Knak was generating a high volume of leads on LinkedIn, but demo request leads were not converting down the funnel and free sign up campaigns had a cost per lead that was far too high for a lower intent offer.
Given the clear demand for Knak's products, how easy they are to understand, and how fast the Knak sales cycle can be, we determined that the best course of action for LinkedIn was to promote a Knak demo request via LinkedIn lead gen forms. We targeted Knak's core personas, users of certain marketing automation platforms, or an account based marketing list according to campaign goals.
Cypress North designed new ads, drafted compelling copy, and utilized LinkedIn's advanced skills targeting to help Knak find success on the platform to increase in conversion rate by 3x and decrease cost per automation qualified lead by 90%.
Remarketing
Remarketing is a fantastic way to capture demand that you've already generated. Cypress North implemented a robust remarketing strategy across Google Search, Microsoft Search, and the Google Display Network.
On paid search, Cypress North set up Remarketing List Search Ad (RLSA) campaigns where we bid on broader email & landing page design keywords targeted by a non-converting website visitor audience.
On display, Cypress North created new remarketing audiences segmented by a prospect's funnel stage according to their website activity. These segmentations allowed us to serve prospects the right offer, at the right time.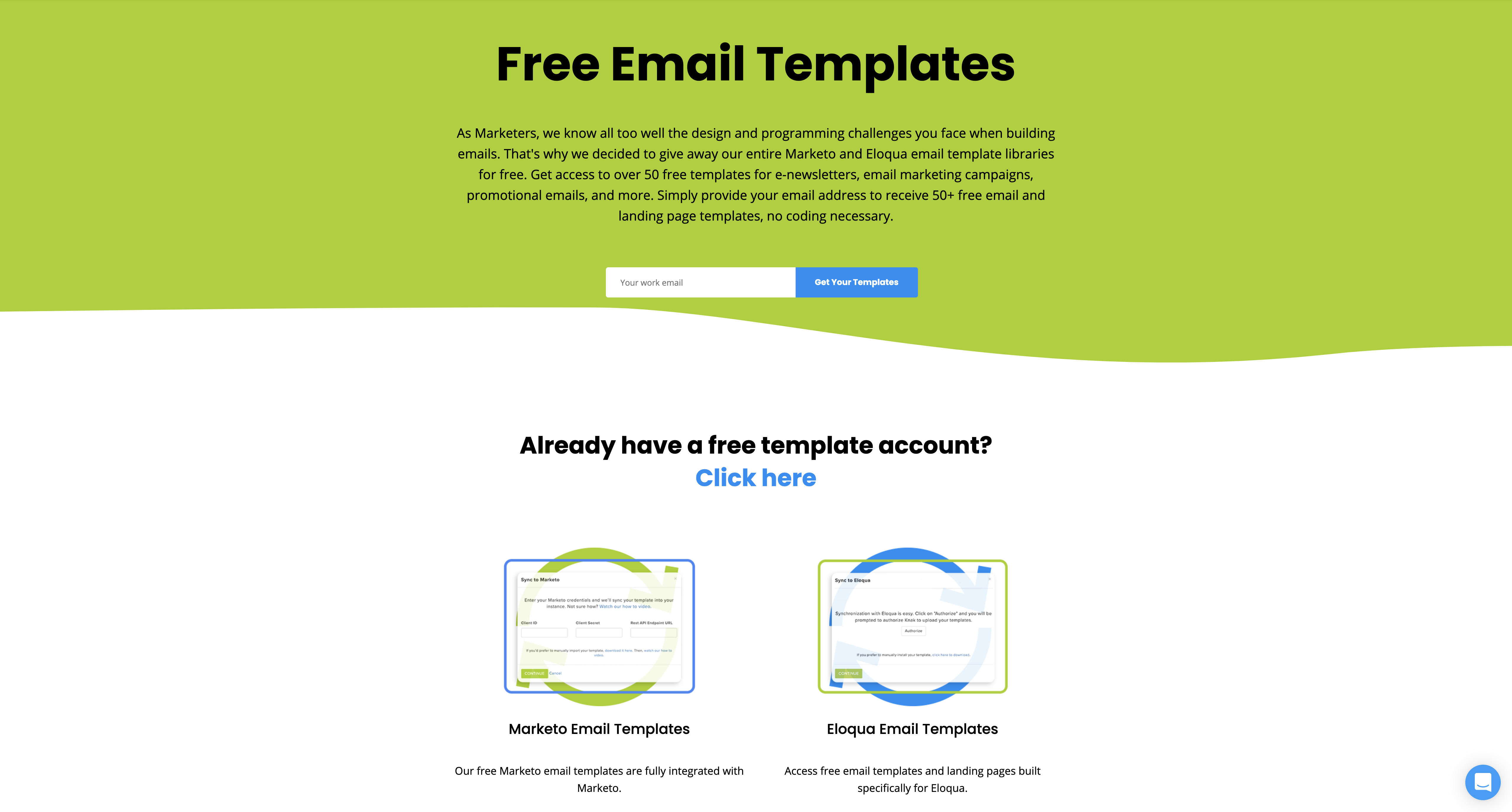 SEO
During the length of our engagement, Knak launched a free version of their product and a site redesign. Cypress North advised Knak on SEO strategy to help the free product to rank for relevant queries, to effectively migrate the site without losing any SEO value, and to maximize the SEO value of core product pages.
The free product pages now rank on the first page for Knak's target queries, and from an organic search perspective the website had a 91% increase in users, a 30% lower bounce rate, and 50% longer session duration.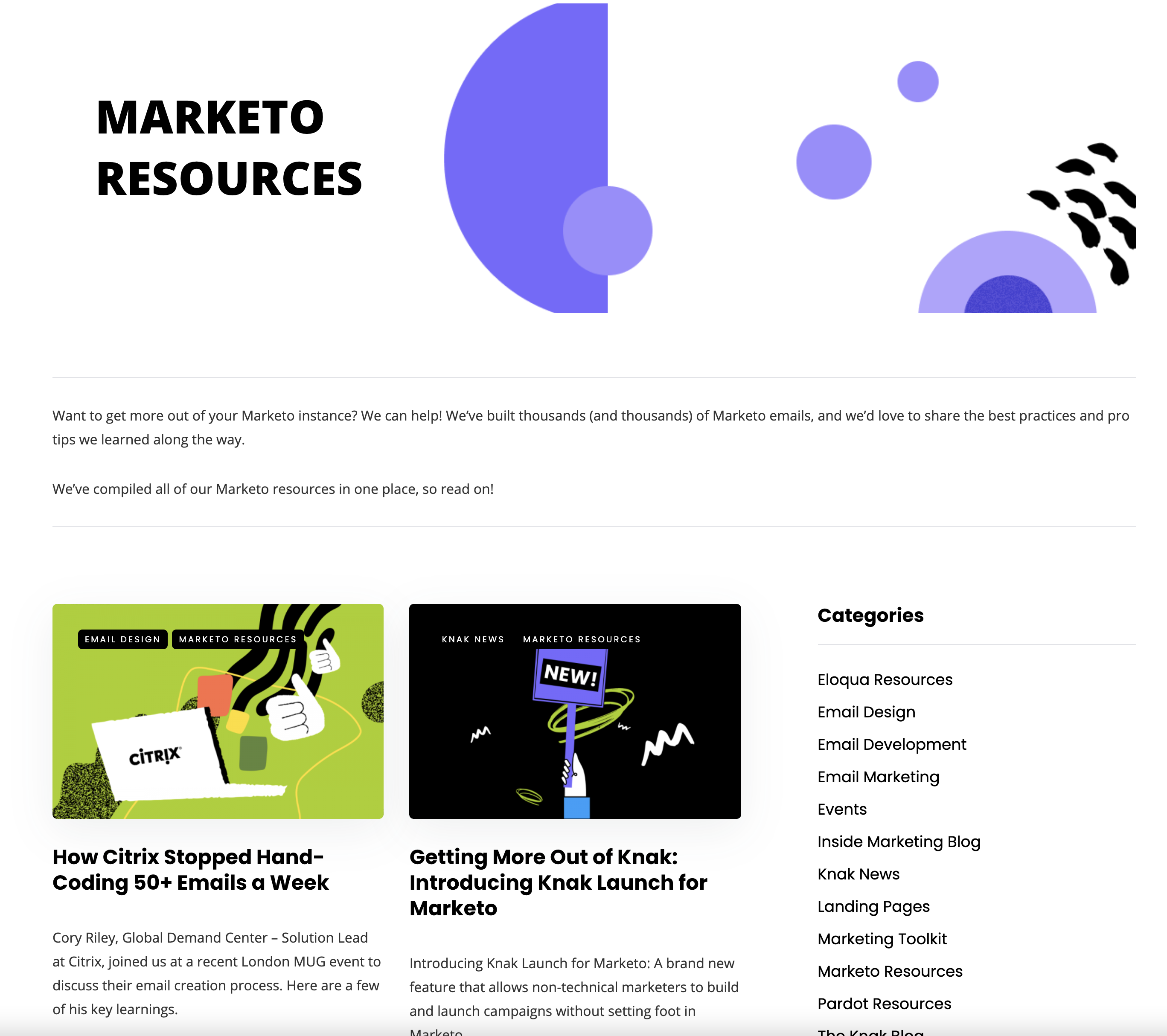 Blog
Cypress North developed a completely new blog for Knak that would help drive long-term SEO value. The blog redesign not only included visual and functional elements, but it also focused on developing blog categories that would help Knak rank for broad but relevant terms like "eloqua resources" and "marketo resources". Additionally, Cypress North regularly consulted on blog content development, ensuring that content was optimized for search, aligned with goals, and included conversion opportunities.
Blog improvements helped drive 715% increase in organic clicks and a 775% increase in SERP impressions.
The Outcome
Knak and Cypress North worked together to build a sustainable digital marketing program that will continue to drive new business for the long-term. Our efforts generated more customers from Google Ads in 3 months than Knakhad in the history of their PPC program, doubled organic users to the site, and allowed Knak to attribute leads and deals in their CRM to marketing campaigns.
The Results
13x  increase in click to lead conversion rate with new landing pages
85% decrease in cost per Marketing Qualified Lead
A 10x increase in pipeline generated per ad dollar spent
12x sales pipeline over ad spend on Google Ads
More customers generated from paid search in 3 months than in the past 2 years
65% decrease in customer acquisition cost
91% increase in users from organic search
715% increase in organic blog traffic
You've got big plans
Let's build something amazing together