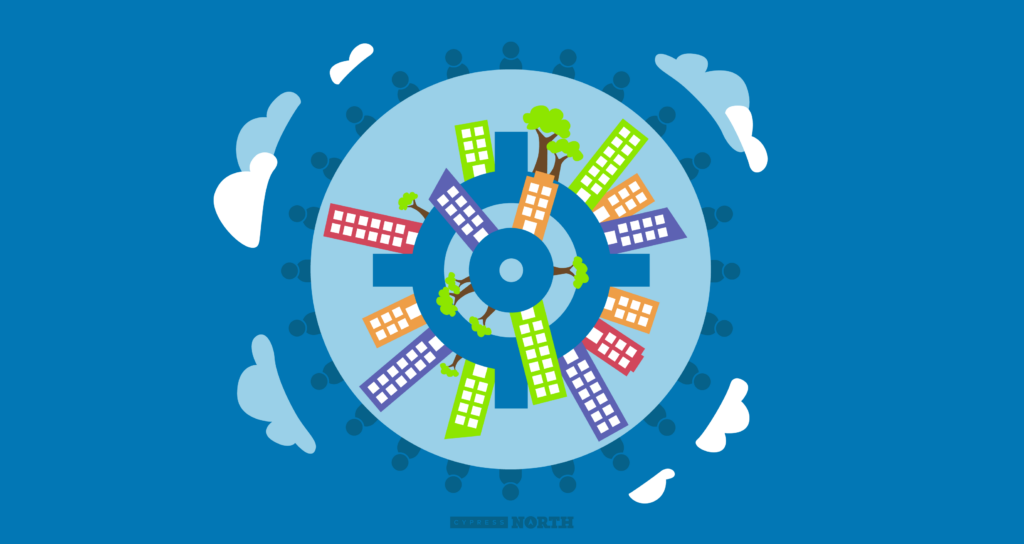 Whether you're a LinkedIn Ads beginner or a seasoned PPC expert, chances are you're already aware of the power of LinkedIn targeting for B2B advertisers. However, staying on top of targeting options is hard work! Updates to LinkedIn targeting options are often silently released only to be found during your next campaign buildout.
Our fully comprehensive guide to all things LinkedIn Ads targeting aims to combat this issue. In this guide, we'll cover what you can (and can't) target, how you can (and can't) combine targeting and everything in between. What's more, we plan to keep this post updated so it's as evergreen as the tree in our logo. Okay, maybe our tree isn't quite evergreen but we'll keep the post that way. Feel free to bookmark, like, heart share, pin or however you keep tabs on your favorite content.
In this article, we'll cover everything you need to know on the following LinkedIn Ads Targeting options.
If you're looking for information on a specific targeting option, just click on through via the expandable table of contents to head directly to that section.
LinkedIn Ads Targeting Setup & Structure
---
Whoa whoa, hold up! Before we get into the actual targeting options, it is important to review how you can build audiences so you can brainstorm as you run through our list.
How to Use LinkedIn Ads AND-OR Logic
First up in Audience Building is a feature released Back in the fall of 2019, AND-OR targeting. LinkedIn modified its audience builder to allow B2B advertisers to utilize AND when building campaigns to better customize reach.
AND will limit reach, but increase specificity. AND targeting is a way to narrow targeting criteria without relying on exclusions. It allows advertisers to create inclusive audiences that reach members who meet at least two specified targeting criteria, meaning users will need to meet both targeting selections in order to see your ad. If more than two targeting selections are used with the AND option, users will need to meet all targeting selections the advertiser selects.
Previously, audience targeting was limited to OR, meaning you couldn't combine targeting criteria to narrow audiences. OR targeting inherently broadens your reach. Exclusions used to be the only way to lower reach and tighten audiences, but now advertisers have the option of using AND targeting.
OR targeting will increase reach and decrease specificity. OR targeting allows advertisers to create non-inclusive audiences to reach LinkedIn members who meet one OR more targeting criteria. OR inherently creates larger audiences as users only need to meet one targeting criteria to be eligible to see your ads.
Why does AND-OR matter? One word: CONTROL.
Let's say I wanted to target digital marketing managers who also had an MBA. Before AND-OR targeting, it was simply not possible. There is a fundamental difference in audience composition between:
Digital Marketing Managers AND MBAs
Digital Marketing Managers OR Internet Marketing Managers AND MBAs
Digital Marketing Managers OR Internet Marketing Managers OR MBAs
Let's break down this list of audiences:
In the first audience build, we have a really nice segment of higher educated marketing professionals.

In the second audience build, we have a more inclusive mix of higher educated marketing professionals regardless of which job title they go by (Digital vs. Internet are quite similar)

But in the third audience build, we're left with an extremely broad segment that does target some marketing professionals but also hits a wildly diverse audience of MBAs that could work in any industry listed on LinkedIn.
This fundamental difference between AND-OR can make or break the success of your campaign (and your brand's piggy bank). I've discussed the implications of not utilizing AND-OR in this post.
Where To Find LinkedIn Ads AND-OR Targeting
Within the target audience section of Campaign Manager, you will only see these options appear after making your first targeting selection.
In the example below, only after I added "Digital Marketing Manager" did I see the option to narrow my audience further using the AND option. Once you click the AND option, the OR option will also appear.
Other than showing you how the targeting works, this GIF is also a great example of how AND-OR targeting allows you to get creative and build hyper-targeted audiences. Advertisers aren't limited to using only AND or only OR. Both options can be leveraged in one audience to find your target persona. In this example, I targeted Digital Marketing Managers OR Internet Marketing Managers AND Member Skills of LinkedIn.
How to use LinkedIn Ads Forecasted Results Tool
Forecasted Results is an audience preview tool that generates real time estimates on expected performance of an advertisers chosen targeting. Forecasted Results estimates will always include target audience size, spends/budget, and impressions, but changing your campaign objective will change some data fields in the forecast. A few examples:
For the video objective, forecasted results will show VTR (View-through rate) and expected video views.
For lead generation, forecasted results will show CTR (click-through rate), clicks, and leads.
While building your campaign in Campaign Manager, you can see this feature on the right side of your screen. The update added a really awesome segment breakdown feature, that allows you to filter by:
Job Functions
Job Seniority
Years of experience
Company Size
Industries
Interests
So, not only can you see your overall reach potential, but you can see the breakdown of your reach potential across important targeting categories for your brand's product or service. This tool is a great aid in determining if your audience should be further segmented and pared down.
Pro Tip: You can use this tool to forecast unwanted impressions, too! If you see something that looks like it'd be a waste of your ad dollars, make a note of it and add it to your exclusions list later on in the audience building process!
What Are LinkedIn Ads Saved Audiences?
Campaign Manager allows advertisers to save any audience made in the audience builder tool. This is a time-saving feature that is especially useful if you, or your agency, prefer to build audiences ahead of campaign setup.
LinkedIn does not allow advertisers to utilize different ad types within the one campaign, so saving your audiences can be a huge time saver when duplicating campaigns to test different ad types. It's not ideal, but duplicating campaigns is the only way to accomplish ad type testing – saved audiences to the rescue!
Before you start building new audiences, you'll see the option to use a saved audience at the top of Campaign Manager's audience builder in blue:
Pro tip: Any audience you save is your audience and yours alone, meaning your colleagues will not be able to see the audiences you've built & saved when they access Campaign Manager.
Saving Audiences As Templates
After you've built an audiencing using the targeting options you'll read about below, you'll see an option to save your audience. It directly follows the exclusion section of Campaign Manager, and is tucked in the bottom right corner, "Save as template":
After hitting save as template, it'll ask for a name and an optional description:
What is LinkedIn Ads Audience Expansion?
Another warning is this easy to miss audience expansion checkbox:
Found right below the exclusion section, this box is checked by default when you create a new campaign.
This feature allows LinkedIn to automatically expand the reach of the advertisers selected targeting by finding and targeting users who are similar to those in your hand-built audience.
In short, this gives up a level targeting control to LinkedIn's algorithm. The similar piece of this feature is a big unknown leading to risky spending of those ad dollars.
We really don't recommend this if you're at all concerned about budget, as the engagement and conversion rates are unknown with audience expansion. I've written more about the implications of leaving this setting on in this post.
LinkedIn Ads Pre-Built Audiences
---
Phew! Now that we've gotten through that, the moment you've all been waiting for… targeting! But before we start building our audiences, let's take a look at some that LinkedIn has pre-built for us:
What Are LinkedIn Ads In-Audiences?
LinkedIn's In-Audiences are pre-built by the professionals over at LinkedIn. While these audiences are fun to explore, they seem to be more of a training tool for new advertisers. They are great examples of the power of LinkedIn targeting, but they really aren't all that tightly targeted and are quite honestly all over the place across industries and professions.
I really wouldn't recommend using these audiences for your campaigns.
After reading this guide, you'll be an expert at building highly targeted audiences and won't need to use LinkedIn's pre-built segments. But feel free to check them out to see if they spark any ideas on targeting combinations!
LinkedIn Ads Audience Targeting Options
---
Now, let's look at the user attributes you can use to build your own audiences from scratch!
How to Use LinkedIn Ads Location Targeting
Before adding any location specifics, you need to decide which location targeting option you're going to use for your campaign. By default, Campaign Manager targets people who were recently in or are permanently in your targeted location, meaning you could be wasting ad dollars on folks that won't ever convert if your business is location-specific (and every business is to a certain degree). In most cases, you'll want to change this setting so your ads only show to users who are permanently in your specified locations.
I talked about the ad cost implications of this location setting in this post!
Once you've made a decision about including recent visitors, it's time to decide the best way to reach your desired locations. LinkedIn provides most of the standard location targeting categories except for zip code, which is seen on all other major social platforms – Facebook, Instagram, Twitter, and YouTube.
Unlike other platforms, LinkedIn offers a Metropolitan Area option. Generally speaking, the Metropolitan Area categories are larger and more widespread than the city categories.
For example, targeting Buffalo will deliver impressions to 270,000+ users (with no additional targeting applied). Comparatively, targeting the entire Buffalo-Niagara region – which extends through Niagara Falls, New York – will deliver impressions to 480,000+ users.
If I could show you a map, I would. Unfortunately, LinkedIn does not utilize any visual representation of location targeting in Campaign Manager.
So with that said, what location categories can you target?
Country
State
Metropolitan Area
City
County
What is LinkedIn Ads Profile Language Targeting?
If you're interested in reaching profiles of different languages, this is the spot for you! We've used this previously to reach English profiles in countries outside of the USA, but this can work really well to target the local language of your home country. It is also great for targeting alternate languages in regions that have more than one official language.
Note: you can only target one language per campaign, just be careful that your ad copy matches your language selection!
Currently, the language options are:
Czech
Danish
Dutch
English
French
German
Indonesian
Italian
Japanese
Korean
Malaysian
Norwegian
Polish
Portuguese
Romanian
Russian
Spanish
Swedish
Turkish
What is LinkedIn Ads Company Targeting?
Company targeting allows you to tell LinkedIn to show your ads to users based on the company they currently work for, as specified in their LinkedIn profile.
Company category – Advertisers can serve impressions to users who work for companies that are members of the following publication and editorial lists:
Forbes World's Most Innovative Companies
Fortune 100 Fast-Growing Companies (Worldwide)
Fortune 500 (US only)
Fortune Global 500 (Worldwide)
LinkedIn News Editors' Top Companies (this one repeats for several countries)
Note: if you target by company category, you cannot narrow (use "and" section) with company names.
Company connections – This option allows advertisers to serve impressions to 1st-degree connections of users who work for the company the advertiser selects. So, if you use company connections targeting for Cypress North, any user who is a first degree connection of a Cypress North employee would be eligible to see your ads. This only works with companies that are 500+ in size, but could be a valuable prospecting option when built from a list of current high-revenue customers.
Company growth rate – This option allows advertisers to reach companies with growth rates defined as:
Negative growth companies
0% – 3% company growth
3% – 10% company growth
10% – 20% company growth
20%+ company growth
Growth rate is a calculated metric by LinkedIn, and is defined by comparing the most recent employee count against the previous year's count. This is a huge opportunity for advertisers looking to reach startups and early-stage companies alike. From software companies to growth consulting and investment services, this could deliver newfound success on LinkedIn Ads.
Note: If you target by company growth rate, you cannot narrow (use "and" section) with company names.
Company industries – This option allows advertisers to target users based on the company category their employer specifics on their business page. This is a common targeting choice for brands that service niche or limited markets.
Here's the full list:
Agriculture – dairy, farming, fishery, ranching
Arts – arts & crafts, fine art, performing arts, photography
Construction – building materials, civil engineering, construction
Consumer Goods – food & beverages, furniture, luxury goods & jewelry, sporting goods, tobacco, wine & spirits
Corporate services – accounting, business supplies & equipment, environmental services, events services, executive office, facilities services, human resources, information services, management consulting, outsourcing/offshoring, professional training & coaching, security & investigations, staffing & recruiting
Design – architecture & planning, design, graphic design
Education – e-learning, education management, higher education, primary/secondary education, research
Energy & Mining – mining & materials, oils & energy, utilities
Entertainment – animation, broadcast media, computer games, entertainment, media production, motion pictures & film, music
Finance – banking, capital markets, financial services, insurance, investment banking, investment management, venture capital & private equity
Hardware & Networking – computer hardware, computer networking, nanotechnology, semiconductors, telecommunications, wireless,
Healthcare – biotechnology, hospital & health care, medical device, medical practice, mental health care, pharmaceuticals, veterinary
Legal – alternative dispute resolution, law practice, legal services
Manufacturing – automotive, aviation & aerospace, chemicals, defense & space, electrical & electronic manufacturing, food production, glass, ceramics, & concrete, industrial automation, machinery, mechanical or industrial engineering, packaging & containers, paper & forest products, plastics, railroad manufacture, renewables & environment, shipbuilding, textiles
Media & Communications – market research, marketing & advertising, newspapers, online media, printing, public relations & communications, publishing, translation & localization, writing & editing
Nonprofit – civic & social organization, fundraising, individual & family services, international trade & development, libraries, museums & institutions, non-profit organization management, philanthropy, program development, religious institutions, think tanks
Public Administration – government administration, government relations, international affairs, judiciary, legislative office, political organization, public policy
Public Safety – law enforcement, military, public safety
Real Estate – commercial real estate, real estate
Recreation & Travel – airlines/aviation, gambling & casinos, hospitality, leisure, travel & tourism, recreational facilities & services, restaurants, sports
Retail – retail, supermarkets, wholesale
Software & IT Services – computer & network security, computer software, information technology & services, internet
Transportation & Logistics – import & export, logistics & supply chain, maritime, package/freight delivery, transportation/trucking/railroad, warehousing
Wellness & Fitness – alternative medicine, health, wellness & fitness
Note: if you target by company industry, you cannot narrow (use "and" section) with company name.
Company names – If a company has an active page on Linkedin, you can target the employees of that company. An important designation is that you're targeting any LinkedIn member that currently lists your targeted company as their employer.
Pro Tip: Believe it or not, you can browse a list of every active company on LinkedIn by its first initial, but fair warning, it is seriously expansive. Check it out here!
Note: if you target by company names, you cannot narrow (use "and" section) with company category, company growth rate, company industries, or company size.
Company size – Advertisers can select from the following list of company sizes:
Myself Only
2-10 employees
11-50 employees
51-200 employees
201-500 employees
501-1000 employees
1001-5000 employees
5001-10,000 employees
10,001+ employees
This option really comes in handy if your company only services certain company sizes. Great for companies that service SMBs, advertisers can cut out a significant portion of their impressions (and spends) on big household names.
What is LinkedIn Ads Demographic Targeting?
LinkedIn offers advertisers the option to utilize the big two: Member Age and Member Gender. While we don't utilize LinkedIn demographics all that often at Cypress North, there are some situations where it could be really useful.
Certain professional communities, organizations or associations could really hone in their targeting by utilizing demographics. This is phenomenal for a brand like Together In Digital to prospect for new members by targeting females.
But advertisers need to be careful. LinkedIn has zero-tolerance for any discrimination based on age or gender or by "other protected characteristics in ads related to employment, housing, education or credit".
Member age – targeting brackets are as follows: 18 to 24, 25 to 34, 35 to 54, 55+
Member gender – targeting options are as follows: Male, Female
Note: LinkedIn requires advertisers to check a box pledging to respectfully and fairly use demographics before allowing you to utilize any of the above selections.
What Is LinkedIn Ads Education Targeting?
To target specific degrees, fields of study, or schools LinkedIn members have attended, advertisers should consider LinkedIn's Education targeting category.
Degrees – This option allows advertisers to reach LinkedIn members that have a degree recognized by valid colleges, universities, or other certified learning institutions.
While there are still more options than other social platforms, LinkedIn's degree selections are pretty slim. They cover the standard naming conventions for Doctorate, Masters, and Bachelors degrees, but don't go into the specifics of concentrations.
For example, I have a Bachelor of Science degree with a concentration in marketing, but that is not available for targeting. The closest option is the overarching Bachelor of Science, which would leave you with a pretty broad audience.
But don't be discouraged! Pairing broad degree titles with Fields of Study is a great way to close the gap left by the degree targeting options.
Here's the full list:
Doctor of Philosophy – PhD
Doctor of Pharmacy – PharmD
Doctor of Medicine – MD
Doctor of Education – EdD
Doctor of Law – JD
Master of Architecture – MArch
Master of Arts – MA
Master of Business Administration – MBA
Master of Computer Applications – MCA
Master of Divinity – MDiv
Master of Education – MEd
Master of Engineering – MEng
Master of Fine Arts – MFA
Master of Laws – LLM
Master of Library & Information Science – MLIS
Master of Philosophy – MPhil
Master of Public Administration – MPA
Master of Public Health – MPH
Master of Science – MS
Master of Social Work – MSW
Master of Technology – MTech
Bachelor's degree
Bachelor of Applied Science – BASc
Bachelor of Architecture – BArch Bachelor of Arts – BA
Bachelor of Business Administration – BBA
Bachelor of Commerce – BCom
Bachelor of Education – BEd
Bachelor of Engineering – BE
Bachelor of Fine Arts – BFA
Bachelor of Laws – LLB
Bachelor of Pharmacy – BPharm
Bachelor of Medicine, Bachelor of Surgery – MBBS
Bachelor of Science – BS
Bachelor of Technology – BTech
Associate's degree
Associate of Arts – AA
Associate of Arts and Sciences – AAS
Associate of Science – AS
Fields of Study – The Fields of Study option allows you to reach specific higher education concentrations across many major fields, industries, and topics. There are quite a few of them listed on LinkedIn, so go ahead and see what you can find to hit your target customer!
Both Degrees and Fields of Study are great options for recruiting agencies looking to work with or place active job seekers, for schools looking to recruit new students for advanced degrees, or for professional organizations to recruit new members.
Member Schools – The Member Schools option allows advertisers to reach members who completed classes at an active college, university or other certified learning institution on LinkedIn.
Like the Company Name option, if the school exists on LinkedIn, you can target it. Unlike the Company Name option, it is important to note that this applies to member schooling completed in the past.
This option is fantastic for alumni associations looking to reach out and reconnect with past students, or for colleges and universities looking to recruit new students for advanced degrees.
What is Linkedin Ads Job Experience Targeting?
To target entire job functions, job titles, job seniority levels, specific hard and soft skills, or years of experience, advertisers should consider LinkedIn's Job Experience targeting category.
Job Functions – this option allows advertisers to reach entire operating segments of businesses. This is especially helpful for software companies that target the needs of specific job types, tasks, and needs.
Here's the full list:
Purchasing
Accounting
Administrative
Arts and Design
Business Development
Community and Social Services
Consulting
Education
Engineering
Entrepreneurship
Finance
Healthcare Services
Information Technology
Human Resources
Legal
Marketing
Media and Communication
Military and Protective Services
Operations
Product Management
Program and Project Management
Quality Assurance
Real Estate
Research
Sales
Support
Note: if you target by job functions, you cannot narrow (use "and" section) with job titles.
Job Seniorities – Target job seniority allows advertisers to reach folks based on where they are in the chain of command. Pairing this with a job function or list of job titles can be a really effective way to ensure you're reaching users that have enough technical acumen to understand your offerings, or possess decision making power for their company.
Do you offer training courses? Hit up the training & entry-level seniority groups. How about virtual assistant services? Give the Director, VP, CXOs, and Owner groups a shot.
Here's the full list:
Unpaid
Training
Entry
Senior
Manager
Director
VP
CXO
Owner
Partner
Note: if you target by job seniority, you cannot narrow (use "and" section) with job titles.
Job Titles – woohoo! Everyone's favorite. Targeting job titles is a fantastic option for almost any business out there. Serve impressions directly to the folks who use your product or service the most. Got any customer data on hand? Match up your most popular customer segments with LinkedIn's vast list of job titles.
Hop into Campaign Manager and see how many applicable job titles you can find for your persona. LinkedIn's list of job titles varies and might not be exactly what you type in, so you might need to do a little fishing to find job titles that make the most sense for your targeting goals.
Note: if you target by job titles, you cannot narrow (use "and" section) with job functions or job seniority.
Member Skills – the member skills option is an awesome way to target folks by way of technical and applicable know-how. In theory, skills are even more specific than job title targeting – the same job title doesn't necessarily mean the same skills across individuals. This is a fantastic option for folks looking to advertise conferences, tradeshows, or other events. Depending on messaging and ad copy, event advertisers could gain event visibility to promote ticket sales or, on the other side of the stage, promote spots for speakers and sponsors of the event.
The caveat here is that skills are user-generated, meaning any skill listed on a user's profile – and therefore also included in your targeting – was endorsed (added) by another LinkedIn user. This is not to say that you shouldn't test it, it's just a fair warning that some endorsements might be given whether the user agrees with it (or deserves it) or not.
Years of Experience – Similar to job seniority, this is a fantastic way to qualify the userbase within your targeting. Knowing the experience level of your audience can drastically change how you approach ad copy and share your offerings.
Looking for a contractor with a certain number of years under their belt? Check! How about a certification course for professionals of 5+ years? Check!
Setting the years of experience is presented in an interactive format in Campaign Manager:
Changing the drop downs will dynamically edit the blue selection. Note that 12+ is the largest level of experience available, 1 is the smallest, and experience levels are 1-year increments.
What is LinkedIn Ads Interests And Traits Targeting?
To target based on a collection of interests or user behaviors, advertisers should consider LinkedIn's Interested and Traits targeting category.
LinkedIn's version of interest targeting is very "business-y" for lack of a better word. These targeting options are a bit pale in comparison to other targeting categories available on LinkedIn, but still present some interesting considerations such as frequent travelers and specific interests like B2B Marketing > Search Engine Marketing.
Member groups – this option allows advertisers to reach users that are part of specific LinkedIn groups. This can be a valuable way to get in front of highly engaged segments of LinkedIn users. Folks that are active in groups are likely active readers, too!
Pro Tip: if you want to verify the authenticity or activity of a certain group you discover, open up a separate LinkedIn tab (the platform, not Campaign Manager) and search the group name. Make it easy on yourself by filtering search results for groups only. You'll quickly find a selection of groups that might work for you.
Member interests – while I did call these business-y, that's what you want on LinkedIn ( and should expect!). Testing out interests is a nice route to take when your goal is top of funnel prospecting or brand awareness.
Here's the full list:
Arts and Entertainment

Audio Visual Production > Sound Engineering / Special Effects
Design and Visual Arts
Online Media > EBooks / On Demand Videos and Streaming
TV and Radio
Business and Management

Accounting > Accounting Software / Cash Flow Management / Cloud Accounting / Payroll / Taxation in Business > Corporate Tax
Business Administration > Business Analysis / Business Consulting / Business Continuity / Business Mediation / Business Plan (Business Loans) / Corporate Communications / Disruptive Innovation / Franchises / Non-Profits and Charities / Office Management / Operations Management / Outsourcing / Process Management / Professional Networking / SMBs / Starting a Business (Entrepreneurship / Startups) / Strategic Management
Business Ethics > Corporate Social Responsibility / Sustainable Business (Social Entrepreneurship)
Business Intelligence
Business Technology
Business Travel
Corporate Finance > Corporate Financial Planning / Financial Auditing / Mergers and Acquisitions / Stocks and Shares
Human Resources > Employee Engagement / Employee Onboarding / Performance Management / Salary and Wages (Minimum Wage) / Workplace Conflict Resolution / Workplace Etiquette
People Management > Leadership Development
Project and Program Management > Agile Project Management / Risk management
Working Environments > BYOD / Coworking / Home-Based Business / Hot Desking / Office Design /Office Supplies / Remote Working / Workplace Wellness
Careers & Employment

Retirement > Pensions
Seasonal and Temporary Jobs
Self-Employment > Freelance
Finance and Economy

Banking > Central Banks / Credit and Lending / Digital Banking / Retail Banking
Financial Investing > Venture Capital
Financial Technology > Digital Currency
Global Economy > Emerging Markets
Insurance > Car Insurance / Health Insurance / Home Insurance / Insurance Fraud Prevention / Liability Insurance / Life Insurance / Travel Insurance
Personal Finance > Mortgage / Student Loans
Public Finance > International Aid
Taxation > Tariffs / Tax Compliance
Trade > International Trade
Marketing and Advertising

Advertising Strategies > Celebrity Endorsement / Commercial Sponsorship / Direct Marketing / Mobile Advertising / Native Advertising / Out-Of-Home Advertising / POS Advertising / Performance Based Advertising (Affiliate Marketing) / Product Placement / Targeted Advertising (Hypertargeting / Influencer Marketing)
B2B Marketing
Brand Marketing > Brand Awareness / Brand Equity / Brand Personality / Corporate Identity and Culture / Employee Advocacy
Customer Experience > Chatbots in Marketing / Consumer Engagement / Customer Relationship Management (Helpdesk and Customer Support) > Customer Retention > Customer Satisfaction > User Experience
Digital Marketing > Adblocking / Email Marketing / Pay-Per-Click / Programmatic Marketing / Retargeting / Search Engine Marketing / Search Engine Optimization (Content Strategy) / Social Media Marketing (Paid Social)
Marketing Communications > Copywriting / Integrated Marketing Communications / Public Relations
Marketing Performance Management > Marketing Metrics
Marketing Research > Focus Group / Market Research (Market Segmentation) / Neuromarketing
Marketing Strategies > Affinity Marketing / Content Marketing (Interactive Content / Virtual Reality Marketing) / Engagement Marketing / Lead Generation / Marketing Mix / Media Planning (Media Buying) / Relationship Marketing
Politics and Law

Government
International Development
International Relations
Law Practice > Legal Accreditation / Legal Aid
Legislation > Corporate Law / Data Protection / Insurance Law
Public Services
Social Issues > Civic Engagement
Science and Environment

Agriculture and Farming > Agronomy and Agricultural Sciences / Crops / Farm Machinery and Automation / Forestry / GMOs / Irrigation / Livestock / Organic Farming
Biology > Genetics
Chemistry
Energy > Renewable Energy
Engineering > Infrastructure
Society and Culture

News Media > Journalism
Social Media > Blogs and Blogging
Technology

Artificial Intelligence > Chatbots / Machine Learning (Deep Learning) / Natural Language Processing
Biotechnology > Gene Editing Therapy
Computer Graphics > Augmented Reality / Computer Animation / Video Game Development / Virtual Reality
Computer Programming > Competitive Programming / Computer Languages (C++ / Java / Javascript / Python)
Computer Software > Antivirus and Malware / Design Software / Enterprise Software (Collaboration and Communication Tools / ERP Solutions) / Open Source Software / Operating Systems / Productivity Software
Data Management > Big Data / Blockchain Technology / Data Architecture / Data Hosting / Data Modeling / Data Science / Databases
Digital Manufacturing > 3D Printing
Electronics > Computer Hardware / Computer Electronics
Human-Computer Interaction
Information Technology > IT Infrastructure (Cybersecurity) / Information Systems
Internet Infrastructure > Computer Networks (Cloud Computing / Distributed Computing / Network Equipment and Virtualization / Network and Enterprise Security) / Web Development (Web Hosting / Web Design)
Mobile Technology > Cell Phones / Tablet Computers
Nanotechnology
Quantum Computing
Robotics > Drones / Nanorobotics / Swarm Robotics
Member traits – there's some pretty neat options in here related to user activities and routines. Traits could be a really nice qualifier if paired with the right audiences. For example, what if you were marketing an app that only worked on Mac OS to LinkedIn users? Cutting out users that are known to be PC or Linux users is a great way to save ad budget.
Here's the full list:
Device Preferences

Desktop / Laptop Preference > Mac / PC / Linux
Mobile Preference > Android Users / iPhone Users

Frequent Contributor
Frequent Travelers

Frequent Domestic Travelers
Frequent International Travelers

Job Seeker
Open to Education
What is LinkedIn Ads Website Retargeting?
This feature allows advertisers to harness the power of their own web traffic to create a powerful audience for use in campaigns. With tools to segment out sections of your site, you can serve impressions to your prospects based on the content they engaged with most.
Also known as remarketing in the digital marketing sphere, LinkedIn Website Retargeting can be found within the Matched Audiences section of Campaign Manager's targeting selector. Website Retargeting utilizes your own site traffic to build out targeted audiences to re-engage with previous website visitors.
This is a phenomenal option for any brand looking to stay top of mind with their prospects. The beauty of this targeting option is flexibility. You control who falls into what audiences, and you can build audiences that align with your business goals.
If you want to bring back ecommerce customers to purchase, try abandoned cart lists. If you want to share a content offer with a prospect who viewed the pricing page, try a list of all pricing page variations.
The website retargeting options are seemingly endless for list building, but LinkedIn's retargeting audience builder does have some limitations. You can only utilize OR. So, you can tell LinkedIn to target folks that visited page a or page b or page c, but you cannot say folks who visited page a AND page c.
Pro Tip: LinkedIn's builder also does not allow you to exclude URLs within the retargeting audience builder (utilize URL does not include, does not start with, etc.) but you can exclude by retargeting audiences. So if you have a thank you page, or anything of the sort, you can build an audience of converters who hit that thank you page, and exclude them from your remarketing targeting.
You also can add more granularity to your URL matching by specifying that a URL must also contain a word or string.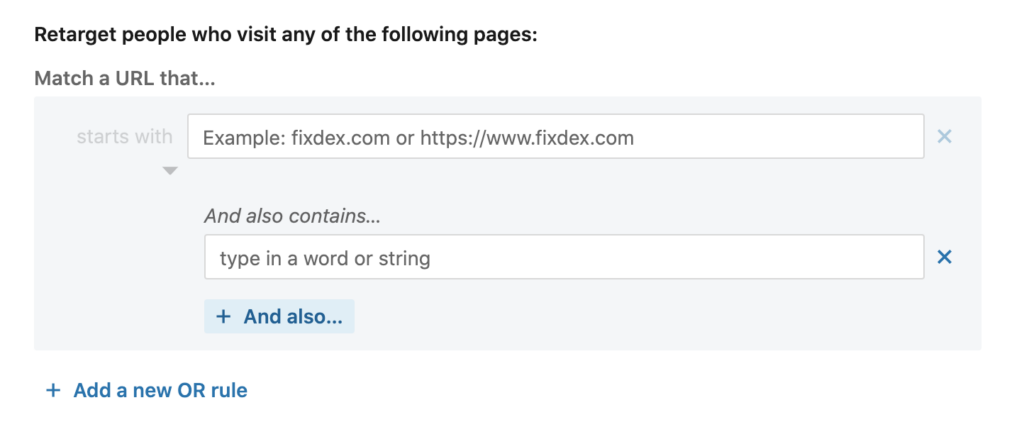 Note: the use of LinkedIn's website retargeting builder requires installation of the LinkedIn Insight tag on your site. For more details on how to do that, check out their help guide or contact us for assistance.
New for 2020: In addition to URL-based matching, you can also retarget users who watched a certain percentage of a video ad from an existing and running campaign, or retarget users that either opened or submitted one of LinkedIn's native Lead Gen forms.
Lead Gen Form Audiences – build retargeting lists using interactions with LinkedIn native lead gen forms from other active prospecting campaigns. The options are as follows:
How did they engage?
Anyone who opened your lead gen form (including submits)
Only people who submitted your lead gen form
When did they engage?
30, 60, 90, 180, or 365 days in the past.
Video Audiences – build retargeting lists using watch time percentages of LinkedIn's native video player showing video ads from other active prospecting campaigns. The options are as follows:
How did they engage?
People who viewed at least 25% of your video ad
People who viewed at least 50% of your video ad
People who viewed at least 75% of your video ad
People who viewed at least 97% of your video ad
When did they engage?
30, 60, 90, 180, or 365 days in the past.
What Are LinkedIn Ads Matched Audiences?
This feature allows advertisers to harness the power of their own customer and analytical data to create a powerful audience for use in campaigns. There are a few major types, and each have their own restrictions, so read up to see how you can best use your data!
The four additional types of matched audiences (beyond website retargeting) are as follows:
Account Targeting (CSV File) – this option allows advertisers to upload a CSV list of company names and company domains to match up against LinkedIn's broad list of company pages.
Restrictions: LinkedIn suggested uploading lists of at least 1,000 companies to start. If 300 users are matched, your audience is valid to serve impressions. The list limit is 20MB or 300,000 records.
Contact Targeting (CSV File) – this option allows advertisers to upload a CSV list of personal or professional emails to match against LinkedIn profiles.
Restrictions: LinkedIn suggests uploading lists of at least 1,000 emails to start. If 300 users are matched, your audience is valid to serve impressions. The list limit is 20MB or 300,000 records.
Contact Targeting (Data Integration) – just like the above option, this option will match your contact records against LinkedIn user profiles, but it will do it automatically when connected to your CRM system. The major benefit here is the elimination of manually keeping lists up to date and re-uploading customer lists monthly, quarterly, etc.
LinkedIn integrates with many of the most popular CRM systems, so check to see if your CRM is on that list here!
Restrictions: matched audiences must be 300 users to launch advertising campaigns. Personal data that is imported into LinkedIn Campaign Manager will be deleted after 90 days if it is not actively used in any campaigns. You must have Creative Manager or higher permissions to connect your CRM to Campaign Manager.
Lookalike audiences – this option allows you to build audiences off of your other existing matched audiences such as website retargeting and account or contact lists.
"Lookalike audiences use a proprietary algorithm to build upon your selected audience and looks at LinkedIn profiles and company attributes to determine similarity in order to expand to audiences who share similar characteristics. Your lookalike audience size can be up to 15x larger than your original audience size. The original matched audience segment will not be included in your generated lookalike audience."
Restrictions: Lookalike audiences can only be built from valid matched audiences with 300 matched users. Lookalike audiences cannot be used if they are building, expired, or in an error state. Lookalike audiences cannot be used with audience expansion.
LinkedIn Ads' Exclusions & Limitations
Exclusions allows advertisers to prevent ad impressions from showing to users who meet certain targeting criteria. They are great for advertisers who have a really well defined customer and know exactly who they want to target and who they don't want to target.
A very important note on exclusions: what you use for your first level of targeting determines what you can use to exclude. You cannot cross over certain categories. Generally, the rule of thumb is if you target with a broad category, you'll be able to exclude by granular categories. But if you target with a granular category, you'll only be able to exclude by granular categories (i.e. the category you used to target).
Because we're awesome, we tried all the combinations for you and put together the options that aren't possible!
Most importantly there's a forbidden list! You are never allowed to exclude by these categories:
Demographics: member age, member gender
Job Experience: years of experience
Interests and Traits: Member Groups
COMPANY – Some restrictions
If targeting by Company Category, you can exclude with anything but the forbidden list.
If targeting by Company Connections, you can exclude with anything but the forbidden list.
If targeting by Company Growth Rate, you can exclude with anything but the forbidden list.
If targeting by Company Industries, you can exclude with anything but the forbidden list.
If targeting by Company Names, you cannot exclude by company category, company growth rate, company industries, or company size. All else but the forbidden list is fine.
If targeting by Company Size, you cannot exclude by company size. All else but the forbidden list is fine.
EDUCATION – No restrictions
If targeting by Degree, you can exclude with anything but the forbidden list.
If targeting by Field of Study, you can exclude with anything but the forbidden list.
If targeting by Member Schools, you can exclude with anything but the forbidden list.
JOB EXPERIENCE – Some restrictions
If targeting by Job Function, you can exclude with anything but the forbidden list.
If targeting by Job Senorities, you can exclude with anything but the forbidden list.
If targeting by Job Titles, you cannot exclude by job function or job seniority. All else but the forbidden list is fine.
If targeting by Member Skills, you can exclude with anything but the forbidden list.
If targeting by Years of Experience, you can exclude with anything but the forbidden list.
INTERESTS AND TRAITS – No restrictions
If targeting by Member Groups, you can exclude with anything but the forbidden list.
If targeting by Member Interests, you can exclude with anything but the forbidden list.
If targeting by Member Traits, you can exclude with anything but the forbidden list.
When thoughtfully combined, LinkedIn Ads' targeting options – company, job experience, education, and interests – allow advertisers to serve their messaging to the right mix of LinkedIn members. Members that not only have problem that your product or service can fix, but also hold the decision and budgetary authority to make a sale happen.
LinkedIn Ads' unique AND-OR audience logic and business-specific targeting enables prospecting for organizational power holders. And that ability to find power prospects is precisely the reason LinkedIn Ads is so valuable for B2B advertisers.
If you want to make sure every ad dollar count, we've compiled this article into an always up to date Google Sheet. Simply pop in your details back at the top, and you'll receive a link from me straight to the inbox closest to you! Bookmark it, share it, C+P it – the options are yours!