Search Engine Optimization, or SEO for short, is the process of establishing proper site structure, off & on-page elements and valuable content in order to have higher visibility in the Search Engine Results Pages (aka the SERPs). Most of this work is quite technical and will be implemented by a digital marketing team, consultant, or webmaster. However, the most important piece of the puzzle is created by you – the content.
With basic knowledge and a proper plan you can increase your presence in the SERPs without compromising your journalistic integrity. Getting your content to rank at the top of a search engine results page can bring valuable traffic to your website, grow your audience, and boost your exposure. This content can include (but is absolutely not limited to) web pages, blog posts, articles, images, videos, recipes, tutorials… even TikToks! The guidelines for SEO are pretty simple, but there are no shortcuts. Developing quality content that will rank takes careful planning and research, and it takes time.
If there's one piece of advice we can give an SEO beginner, it's that it is important to make sure your content is human-centric and that it's written with intent to provide value to your readers first and searchers second. Constructing a poorly written article to beat a search engine algorithm will just frustrate users who visit your website, and they will be unlikely to convert or revisit your site again in the future.
In this guide we will be discussing basic SEO practices for bloggers and content writers. We will review intent, keyword research best practices and tools, and how to write title tags and meta descriptions.
Step 1: Know That There Is No Magic
---
There is a lot of information out there about how you should "do SEO". The truth is, there is no magic bag of tricks that will make an article rank higher. If you learn one thing from this ultimate guide, it's that in order for your article to perform well on search engines, it's crucial that you create compelling content that people will find useful and want to read. You are not writing content for search engines, you are writing content for human beings. With the right optimization, search engines will help people discover your amazing article.
The good news is, modern algorithms are more advanced now than ever before and can identify the intent behind content with advanced machine learning. Even so, there are still some basic SEO guidelines you can follow to make sure search engines understand what it is you are writing about so they can send relevant traffic to your site.
So moving forward, make your readers the first and foremost priority. We'll work next on empowering content with additional SERP visibility.
Step 2: Determine Intent
---
Before we talk about technical SEO guidelines, let's talk about intent. When writing content for your website, blog post, or article, the most important step is determining the intention behind that content. Most authors have one main goal in mind, to write content that will increase traffic to the site. However, that traffic is useless if those users aren't valuable to your business. The goal is to get people to read your post and then convert, whether that means submitting a lead form, subscribing to your service, becoming a loyal follower, purchasing a product, or signing up for your newsletter.
Here are some questions you can use as guidelines for forming the intentionality behind your article:
Why would someone find this post useful?
What is really being featured in this post?
What question am I answering?
What audience am I trying to bring to my website with this topic?
What would people be searching to find this content piece?
These seem overly simple, but they are crucial. Let's look at an example:

Let's use this post entitled What is CRM Retargeting and Why Is It a Necessity For Digital Marketing? from Cypress North's blog as an example.
Why would someone find this post useful?
This post would be useful for searchers looking to learn more about CRM remarketing so they can incorporate it into their digital marketing strategy.
What is really being featured in this post?
Education and credibility. The author of this post is demonstrating that he really knows his stuff when it comes to using CRM data to drive conversions, and now he is looking to pass his knowledge on to the reader. For this post in particular, his goal is to establish credibility with the reader in the hopes that if they need help on this or any other marketing topic, they'll reach out to Cypress North for assistance.

What question am I answering?
We're giving the reader a thorough answer as to what CRM retargeting is, why it's useful, and how they can use this strategy. More importantly, we're establishing Cypress North as a trusted source for B2B marketing information.

What audience am I trying to bring to the site with this topic?
The author of this article was looking to bring B2B marketing professionals currently using a CRM or POS system to the Cypress North website.
What would people be looking for to find this?
"What is CRM remarketing?", "CRM remarketing", "CRM digital based marketing", "CRM retargeting"
This post was written with the intent to inform, educate and rank.
In our experience, we find that many writers don't hone in enough on a topic. Instead of a granular topic like: "The Guide To Hosting a WordPress Recipe Blog on Your Own Domain (& The 5 Essential Plugins You Need)," people fall into writing posts with very broad topics like: "How To Set Up A Blog" or "How To Host A Blog".
Make sure that you are addressing the intent and speaking directly to your audience – and that a robot indexing machine like Google can also understand what it is you're trying to say.
Step 3: Make Sure Your Topic Is Unique
---
When writing a blog post, it's best practice to take a look at your website first to see if there are any articles already written about that topic. The goal is to make sure that your articles aren't competing against each other for a spot in the search results.
This doesn't mean you have to comb through every article on your website. By using Google's "site:search" operator in your Google browser, you can search for potential duplicate content quickly. This operator allows you to conduct a search on one specific domain (not the entire internet) for your desired topic.
For example, if I wanted to look for the topic "Pizza" on the Cypress North domain, I could input "site:cypressnorth.com pizza" into the search bar to find posts or content about pizza on the Cypress North website. This is critical to find what Google thinks the closest matches on our site actually are.

If you write for larger sites, this is important to make sure your new content will support other articles. If you already had an article on "Pizza" this is where you can differentiate it and spice it up by creating "20 Minute Pizza" or "Vegan Pizza" content. In general, you shouldn't have two of the same pages when it comes to SEO. When this happens, you force Google to pick a page to rank higher in SERPs. Creating unique content allows pages and articles to support each other instead of competing against one another.
Step 4: Keyword Research
---
If you're unfamiliar, keyword research is simply studying how other people research the topic you're going to write about. It's important to take the time to do this before you write to see how often people research your topic, where geographically people are researching it, what search engines they use, and the terms they use when they research it. This information will let you know if this particular article is worth writing at all and which words you should use in your post so people can find your content when they're searching for answers.
You're probably thinking that if a keyword has more monthly searches, using it in your article will bring more traffic to the site. In some cases that may be accurate, but not always. High search volume often indicates higher competition for that particular keyword, which could limit your chances of showing up in search results. In fact, if low-volume terms indicate a niche topic that is super relevant to your website, users who search for them are most likely very valuable to your business.
So what should you do with the information you uncover? Let's use pizza as an example. By entering multiple terms into a tool like Google Trends, you can see that people search for "pepperoni pizza" more than "pineapple on pizza" or "breakfast pizza". If these terms are interchangeable and won't impact your story, then it would be sensible to use the term "pepperoni pizza" as the main target. This should be used in the title of the piece as it has more volume.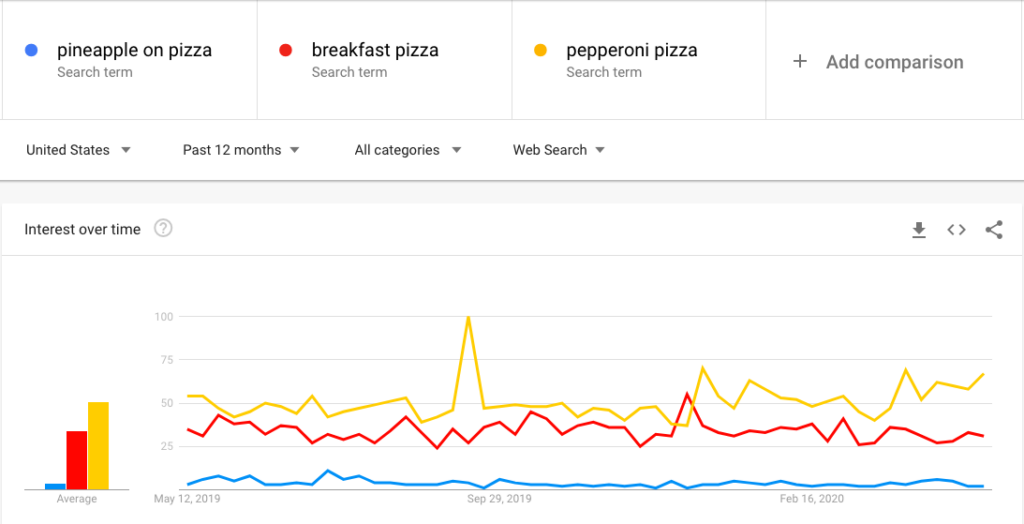 The keyword research tools we'll cover in this section are great for uncovering trends but they just give indications – you have to make the final decision. The bottom line is, if a keyword has some search volume and you can write an amazing article on that topic that is both relevant and unique to your website, write it!
In addition to seeing trends, part of keyword research is uncovering the terms and strings of terms that people may use to research your topic. Then, you can compare different variations and find the best keywords to target. Most of the tools we'll cover in this section will give you recommendations for related keywords to target. Some of them may be super relevant and some may be completely nonsensical for your post. You as the author need to decide which terms are appropriate for your topic.
In this section, we'll cover some free tools available to conduct keyword research before moving into paid options.
Keyword Research With Google Trends
This tool allows users to see search trends around a topic or keyword and how they change over time. To use Google Trends, simply type keywords or phrases related to your topic into the search bar and click the magnifying glass.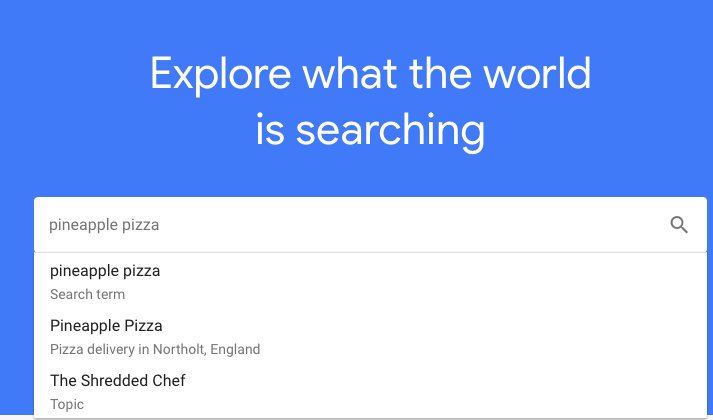 We're located in the U.S., so this shows us search trends for web searches in the U.S. over the last 12 months. This free tool does not show actual search volume, but what Google calls "search interest". A value of 100 is the peak popularity for the term. A value of 50 means that the term is half as popular. A score of 0 means there was not enough data for this term.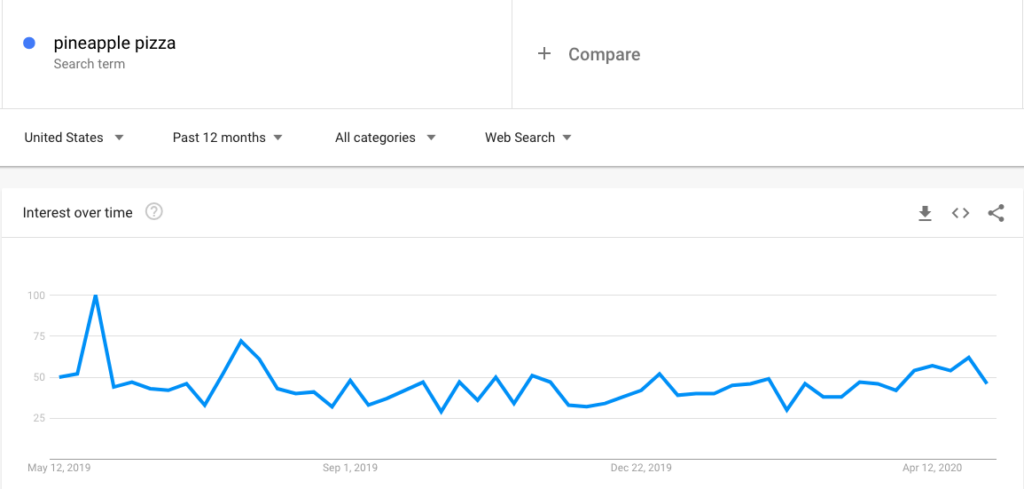 At the bottom of the page, you'll see related topics and related queries. These can be useful for uncovering the terms people use when researching your topic online, but authors shouldn't blindly use these topics just because they were suggested.

Using Google.com for Keyword Research
Another option for uncovering related keywords is to go directly to Google.com and see what variations pop up when searching for your topic.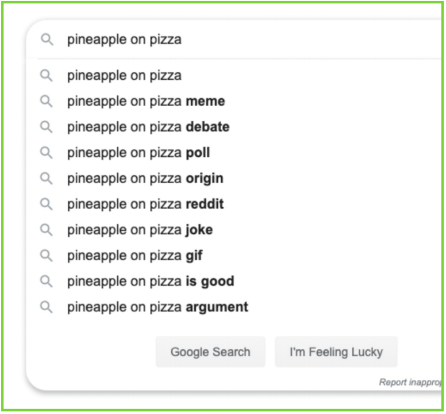 When you type in a keyword, the auto suggest feature will show popular searches that people use that begin with the keywords or phrases you entered. If one of these suggestions is relevant to your topic, you could pop it into Google Trends to see how often people search this term. In this example, you may have wanted to write about pineapple on pizza, but didn't realize it was so controversial.
As a bonus, if you search for a term you may see the "people also ask" box in the search results. If you find one in your research, you may have struck gold! This shows similar search queries to the one you entered where Google feels the user had similar intent. This can be a great source for finding new keywords that people use to research your topic.
Keyword Research With Google Keyword Planner
This keyword research method requires a Google Ads account, so if you don't have access to Google Ads you may want to skip to the next tool.
Google Keyword Planner is a free keyword research tool that comes as part of Google Ads, but it can be used to research more than just ad copy! After logging into Google Ads, click on "Tools & Settings" in the upper right navigation bar.

Then select Planning → Keyword Planner. Click on the "Discover new keywords" box and type in your search term. You can adjust your language or location where it says "English (default)" and "United States" to narrow or broaden your search results. Then click on the blue "Get Results" button.
As you can see, Keyword Planner will return the keyword(s) you provided in the top section, and additional keyword ideas in the bottom section, as well as the average monthly search volume and the competition for those terms. Google also may provide additional advertising metrics, like an ad impression share score, or a top of page bid range. These metrics aren't critical for everyday content writing.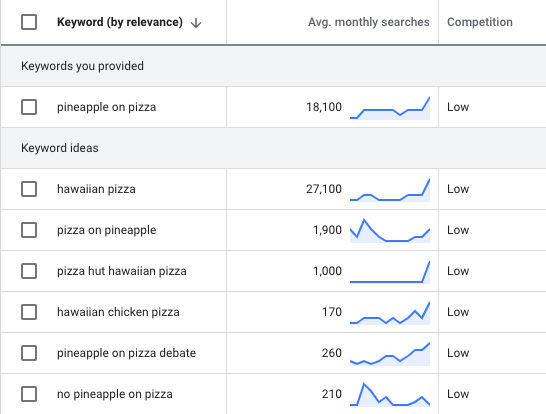 Keyword Research With Moz
Moz is a paid tool available for keyword research, but you can do up to ten searches a month for free after creating an account. If you have access to Moz, follow along as we discuss best practices.
After logging in, click through to the keyword explorer. This can be found on the left side menu of your screen under "Keyword Research". Then, simply type your keyword or phrase into the search bar and click "Analyze".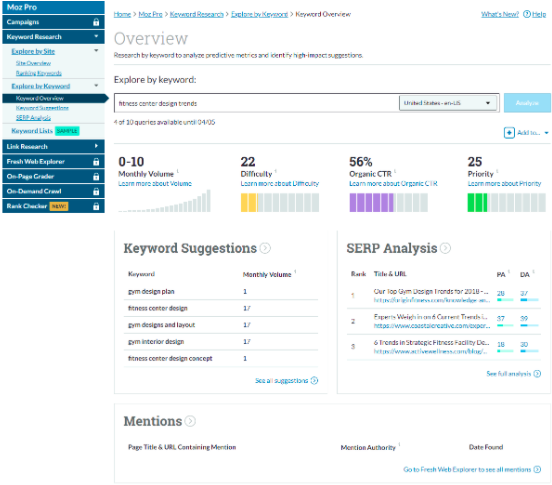 Moz will give you competitive metrics on the term you entered and make suggestions for similar keywords. The keyword suggestions are a great tool for finding keyword variations to use in your piece.
When researching keywords you'll notice that every search term has a monthly volume associated with it. This represents the number of searches performed each month for that keyword. As a rule, if a keyword has more than ten searches a month and you can write a fantastic article on that topic, you should go ahead and write it. But, as mentioned earlier, higher search volume does not always mean that the article will be more valuable than a search term with lower volume.
Keyword Research With Ahrefs
Ahrefs is a comprehensive paid SEO tool that offers keyword research, site auditing, and rank tracking. If you have an Ahrefs account, you can get started by logging in and clicking on "Keywords explorer" in the header navigation bar.
From here, you can select which search engine you'd like to see metrics for and then type in your keywords. Select your country and then hit the orange search button on the lower right. If you have a CSV or TXT file of your keywords, you can also upload the file to do a search.

Here are the results! We've broken down some of the key metrics seen in this screenshot below.

Ahrefs provides a Keyword Difficulty (KD) score next to your term so you can see how challenging it will be to rank within the top ten positions organically for that term in search results. KD Scores range from 0 to 100, 0 being the easiest to rank for and 100 being the most difficult.
Volume is the average number of monthly searches (similar to the other tools discussed above).
CPS, or Clicks-Per-Search, is the ratio of clicks to keyword search volume.
RR is the Return Rate, or the number of people who searched for that term multiple times in one month.
SF shows the number of non-traditional organic results on a SERP.
The parent topic determines whether or not you can rank for your target keyword while using a more general term as a topic instead. Authors need to use discretion here, since "pizza on pineapple" does not have the same intent as "pineapple on pizza".
Step 5: Using Keywords In Your Article
---
The main goal of keyword research is to uncover how users are searching for your topic and then determine the best way to write your piece. Taking the results from your keyword research and properly incorporating them throughout your content is the first step in ensuring your content is seen by the right person at the right time during their search process.
Google is smart but it's not clairvoyant. If we'd like our piece to have the most exposure, we should make sure that the terms we want to rank for are somewhere on the page. If we are trying to write an article about pineapple on pizza, we need to include "pineapple on pizza", "pineapple pizza", or "Hawaiian pizza" within the article. Many terms like "this", "that", or "there" read well for humans, but aren't overly helpful for search engines. It is important to include specific terms in a post if we want to show up for it. Here's an example from The Spruce Eats website:

While you're writing, you should be using your keywords at a natural cadence throughout your piece. However, it's important not to stuff your article with keywords. Search engines are smart enough to recognize this tactic as spammy and you will not be rewarded for it in search results. At the end of the day, you're writing articles for humans, and humans find keyword stuffing difficult to comprehend. Instead of jamming your keywords into an article, spend your time creating better, more thorough content.
It's also important to include variations of your keywords throughout your piece. As a writer, you know that varying your language creates a better experience for the reader, but it also helps search engines better understand the intent behind your article. If all synonyms are accounted for, more searchers will be able to find your piece. Going back to the example above, don't just use "pineapple on pizza". Also include "pineapple pizza", "Hawaiian pizza", and "pineapple ham pizza" if those terms fit your article.
Step 6: Title Tags and Meta Descriptions
---
In addition to including keywords, it's vital that all articles and blog posts have a title tag, meta description, article title, and a properly structured URL to ensure that search engines can find your webpage, understand it, and index it for the appropriate search queries. Without these, your blog post will be at a disadvantage and people searching for your topic may not find your post.
Writing Title Tags and Meta Descriptions
Title Tag

The title tag defines the title of your page and appears as the blue linked heading in search results. When a user clicks on your page, the title tag text also appears on the tab at the top of the browser. Title tags are important because they tell search engines what your blog post is about, and allow them to match your blog post with a user's query.
When writing a title tag, make sure that you:
Are descriptive
Are unique, do NOT use the same title tag for all blog posts
Include keywords from your research
For website pages (such as an About page), be sure to include your website's brand name
Use less than 70 characters
The beautiful thing about title tags is that they don't have to be the same as the title of the article, you can get creative with them without ruining the impact of the article.
For example, this blog article from the Cypress North website is entitled "5 Simple Tips for Lowering Costs in LinkedIn Ad Campaigns." This is a compelling title, and you can use the title in conjunction with the title tag to make sure search engines understand the intent of the article.
A good title tag would be: "LinkedIn Ads Tips | Lower Costs In Expensive B2B Campaigns | Cypress North"
This title tag expands on the title of the article, and could cause this article to rank for "lower costs in expensive B2B campaigns" as well as "lowering costs in LinkedIn ad campaigns".
Meta Description
The meta description is not used intrinsically as a ranking factor for search engines like Google, but many times it will appear in search results as the article description. What you write here can entice users to click, so make sure that it's descriptive and clearly conveys the article's content. Google will bold any terms in the meta description that match the user's search query (see "Cypress North" in the example above), so it's recommended that you use keywords from your keyword research.
Sometimes Google will override your meta description with an auto-generated meta description of their own if they think their version will match a search query better than yours. The more relevant the meta description, the more likely Google is to use what you've written.
Meta descriptions should be:
Between 150-160 characters if possible, but there is no official character limit – write what you think is best
Unique and descriptive
Include keywords from research
Article Title
Your article title works with your title tag to tell search engines what your article is about. Be sure to use your keywords in here if you can. If not, use a catchy article title and put the terms in the title tag (that will show in the search engine results pages).
Slug
A slug is text that appears after the domain name (cypressnorth.com), subdirectory (blog), and blog category (e.g. b2b-marketing) in the URL of your article.
So, if i made my slug "lower-costs-linkedin-ads-campaigns" and I selected the blog category "b2b-marketing", my article URL would be: https://cypressnorth.com/blog/b2b-marketing/lower-costs-linkedin-ads-campaigns
The example above also highlights the importance of selecting a relevant blog category for your article! This will help search engines understand what the article is about.
Keep your slug short, succinct and on-point.
A searcher will likely click on something like /lower-costs-linkedin-ads-campaigns/ instead of /uncategorized-932929/ or whatever the default slug is that WordPress comes up with.
No matter what, it's important to make sure that all these elements are optimized for humans. If these elements are descriptive and helpful to a user, then you will likely be rewarded for it in search results.
Visualizing Title Tags & Meta Descriptions Using a SERP Simulator
SERP simulators allow you to visualize how your title tags and meta descriptions will appear in search results. This free tool from SERPsim generates SERP snippets and displays a Google mockup so you can make sure everything will display as expected after publishing your article or blog post. This isn't mission critical, but it's a nice tool to have in your SEO toolbox.
Enter your title tags, meta descriptions, and the final URL here…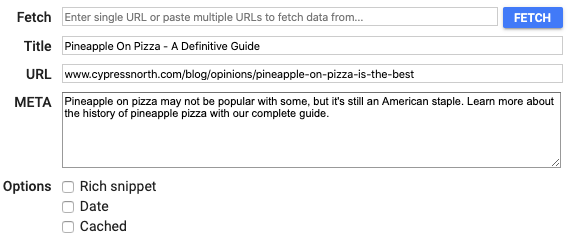 and SERPsim will generate the search result here:

Adding Title Tags and Meta Descriptions to Your Blog Post
The Yoast SEO WordPress tool (and other tools like All-In-One SEO) make it easy to add title tags, meta descriptions, and custom URLs to your blog post without using HTML or doing any coding. This section assumes that you are running your website on WordPress and already have Yoast SEO installed.
To get started:
When you've finished writing your blog post in WordPress, navigate to the bottom of the article where you'll see a dropdown for Yoast SEO, then click on the down arrow


Click on "Edit snippet" beneath the "Preview as" section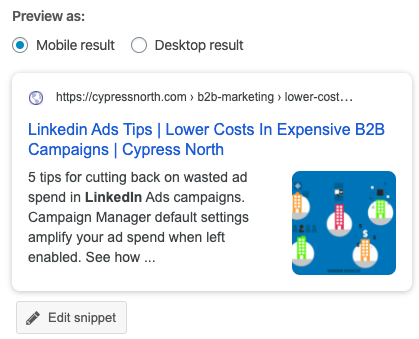 Add your pre-written title tag into the "SEO title" section

Add your pre-written meta description into the "Meta description" section

Add your slug to customize what gets added onto the blog post URL instead of the default letters and numbers

There you have it! With a little bit of research and the right setup in WordPress, you can help search engines understand what your article is about so it can appear in the search results for relevant queries.
Step 7: Post Your Article
---
Equipped with these guidelines, you should no longer consider yourself an SEO beginner. Don't forget to download the complete SEO guide to gain access to our SEO checklist and template for title tags and meta descriptions. If you need assistance optimizing your website content for the web, don't hesitate to reach out! Our SEO experts are always ready to help.