Earlier this week, I had the honor of sitting in as a panelist for a discussion on mobile marketing hosted by the Advertising Club of Buffalo. The talk, titled "Mobile Marketing: What is it and how we can utilize it?" focused on:
Types of mobile strategies that companies could use as effective marketing tools
The best practices for designing a mobile-enabled website or email, and
General insights on who the mobile user is, what the mobile user wants, and why someone looking to market their products cannot ignore the mobile demographic
I spoke mainly from a mobile developer point-of-view, but I wanted to recap some of the figures I shared about the mobile demographic, why it is important to reach them, and what you can do.
Note: This post primarily focuses on the smartphone user. However, tablets also play a significant role and should not be ignored. For more information on tablet usage, check out this interesting study from Nielsen, Connected Devices: How We Use Tablets in the U.S.
Who is Part of the Mobile Demographic Anyway?
According to the Pew Internet & American Life Project study that was published on March 1, 46% of American adults (18 and older) are smartphone owners as of February 2012. This is up 11% from May 2011, when 35% of American adults said that they owned a smartphone.
The study notes:
Nearly every major demographic group—men and women, younger and middle-aged adults, urban and rural residents, the wealthy and the less well-off—experienced a notable uptick in smartphone penetration over the last year, and overall adoption levels are at 60% or more within several cohorts, such as college graduates, 18-35 year olds and those with an annual household income of $75,000 or more.
You can see the complete breakdown of all the demographic groups that were polled in this diagram: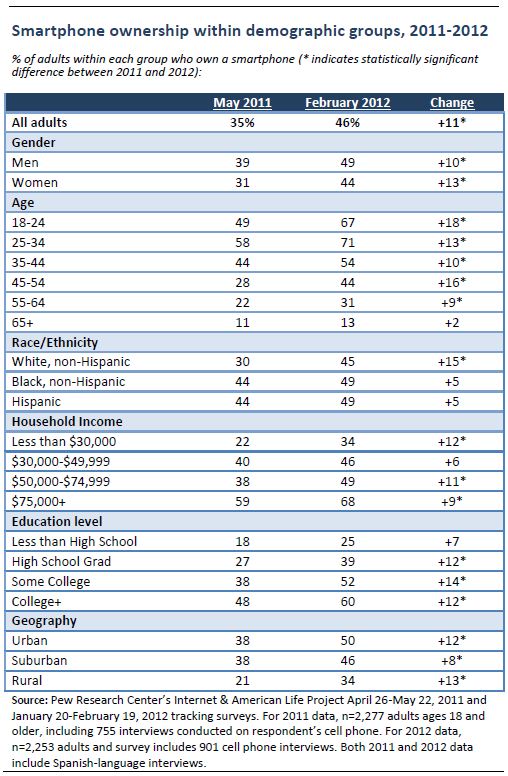 So what do all of these numbers mean? Unless your product or website is directed toward a really niche market which targets only seniors, chances are that a significant percentage of your users are consuming content on mobile devices, and this percentage is growing.
What Do Mobile Users Want?
From the data above, it seems clear that mobile reaches a wide variety of groups and these numbers are growing quickly. However, you might be asking yourself, "Is mobile usage really all that different? Can I follow the same rules that apply to a normal desktop user and be successful in mobile?" The answer to that question is NO.
If the same rules don't apply, then what are the rules? Mobile smartphones are still a relatively new technology, and nothing is set in stone yet, but here are a few things to keep in mind when designing your mobile app/website/email:
Keep things simple and fast

The screen size of mobile devices is significantly smaller than most laptop/desktop monitors. Make sure all of your important information stands out and is easily accessible to the user.
Don't overload the user with pictures and text. If they are looking for something quickly, they will probably ignore it.
61% of smartphone owners only look at the first page of search results. MOBILE USERS WANT INFORMATION FAST!


Mobile devices are a great research tool for consumers

96% of smartphone owners use their mobile devices to research product and service information
66% of smartphone users search as a result of seeing an offline ad
52% of smartphone owners use the internet on their phones while watching TV
58% of smartphone users look for more information on their smartphone after seeing an ad on TV
35% of smartphone users carry their mobile devices with them while shopping in stores to compare prices

Unlike computers, smartphones are with their users most of the time

94% of smartphone users look for local information on their smartphone
Use location to your advantage
Do I Need a Mobile App?
According to a Nielsen study, mobile users spend 81% of their time on their mobile device using apps (as opposed to using mobile websites). Having a mobile app can give you a huge advantage on your competitors, and can help with your brand recognition.
However, if you don't want to invest in a mobile app, you can still be a part of the mobile space. Mobile-enabled websites can follow the design principles listed above to provide a user with a clean, simple, and fast way to access content.
When a user visits your website on a mobile device, a simplified mobile version is displayed. Mobile websites might not have the performance benefits of a native application, and they might not provide you with as strong of brand recognition, but with a large percentage of users accessing content from mobile devices (see: figures in section 1), you probably want, at the very least, a mobile version of your website.
Note: most major websites, such as Facebook, have both a mobile app and a mobile website.
Now What?
Now it's up to you to decide whether a mobile app or a mobile site fits into your business plan and marketing strategy. Where do your customers spend their time? How do they interact with your business? Can they access the information they need quickly and easily?
Ready to go mobile? Cypress North can help build a mobile app for your business or a mobile friendly version of your current website. Feel free to ask questions about mobile development in the comments below. We may select a few topics to write about in future blog posts!