Square, small square, banner, leaderboard, inline rectangle, skyscraper, wide skyscraper…and the list goes on.
If you've uploaded Google Display Ads before, you're familiar with the arduous process of creating and uploading multiple size variations of the same ad to fit all available space and get the best results.
You may ask yourself…
Which image is the best? What kind of copy is the most enticing to my audience? How can I test performance?
To answer these questions, Google Ads created responsive ads that conformed to multiple ad sizes and allowed you to upload:
1 image

1 short headline

1 long headline

1 description

1 logo
While responsive ads were helpful, they had a flaw – you couldn't test alternate messaging…
This brings us to Responsive Display Ads or RDAs.
---
What Are Responsive Display Ads (RDAs)?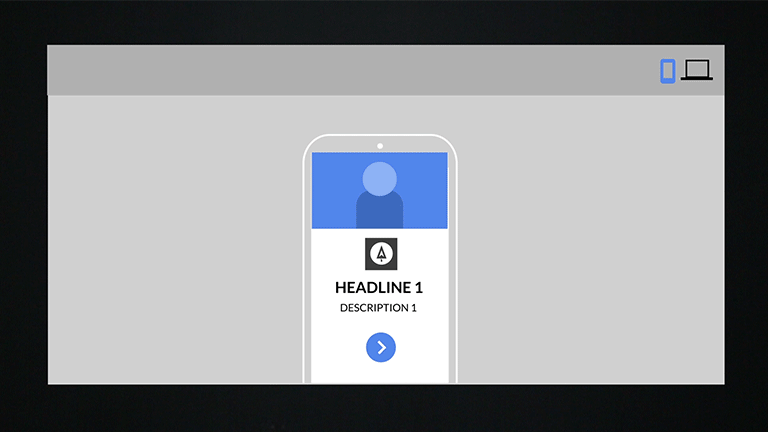 Responsive Display Ads are the new default ad type for the Google Ads Display Network.
Now, with the new Responsive Display Ad format, you can upload multiple headlines, images and logos to help automate your ad creative, and deliver the best display ad that will resonate with your audience.
Through this, Google uses its advanced machine learning to optimize and test the different asset combinations you've provided to improve the ad's performance.
Google will even adjust the asset's size, appearance, and format to fit available space on any website in the Google Display Network.
No more uploading 10+ versions of the same display ad in every size possible.
Assets include:
15 Images
5 Logos
5 Headlines
5 Descriptions
1 Long Headline
Business Name
Benefits Of Responsive Display Ads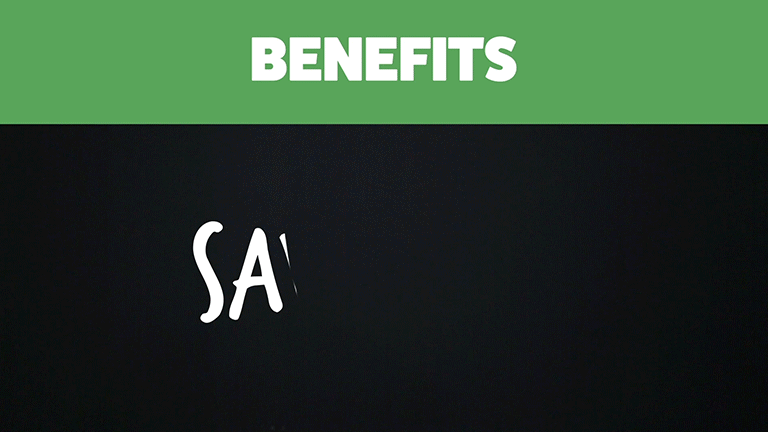 There are multiple benefits to using the new Responsive Display ad format. Some of them include:
SAVES TIME – Google's automation technology makes multiple asset combinations for you, so you can focus on your overall strategy.
OPTIMIZE – Google's machine learning model uses your past performance history to make predictions for you with the optimal combination of assets.
EASIER REACH – The new Responsive Display ad format adjusts its size, appearance, and format to fit all available space on GDN. From text ads to banners, Responsive Display has you covered.
Bonus: You can link Responsive Display ads with your dynamic remarketing efforts. Just attach your feed to the campaign to make messages and images even more tailored to your audience.
How To Set Up & Analyze Responsive Display Ads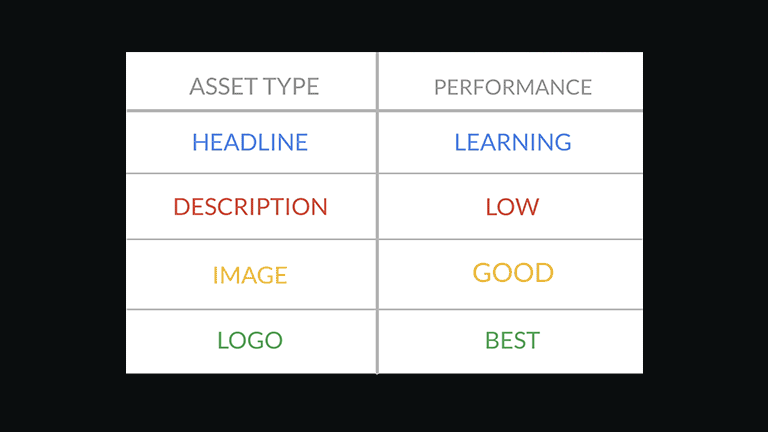 Responsive Display Ad setup is easy. You will be able to create and report on your ads in a few simple steps:
Step 1: Create Your Responsive Display Ad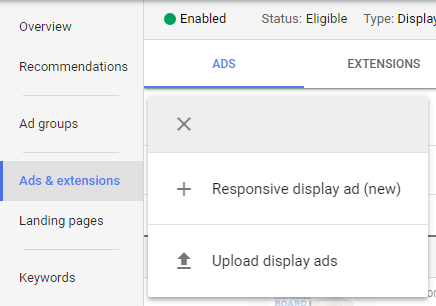 Once you've set up your Display Campaign and Ad Groups you can create your ad by going to your sidebar > ads & extensions > click the 
 > select the Responsive Display Ad format.
 Step 2: Upload Your Assets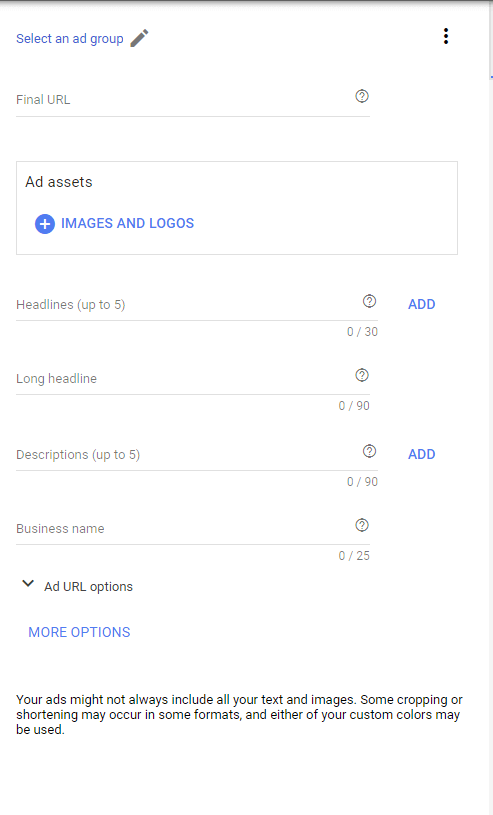 Start uploading your creative and copy. Some recommendations for assets are:
Upload as many headlines, images, and descriptions as possible to increase the opportunity for your ads to show
Test multiple copy variations. Some long, short, descriptive, silly, etc.
Try using different types of imagery styles (i.e. candid vs. product focused) & sizes to see what resonates with your audience.
Ad sizes include:
Landscape: a ratio of 1.91:1 and greater than 600×314 with a file size limit of 5MB.
Square: a ratio of 1:1 and greater than 300×300 with a file size limit of 5MB.
Logo: greater than 128×128 for square logos, 1200×1200 is the recommended best size. Landscape logos should be greater than 512×128, with the best size at 1200×300. All logos are recommended to have a transparent background and a file size limit of 5MB.
Step 3: View The Results
To review what headlines, images, etc. are performing the best go to Ads & Extensions and click 

under your ad.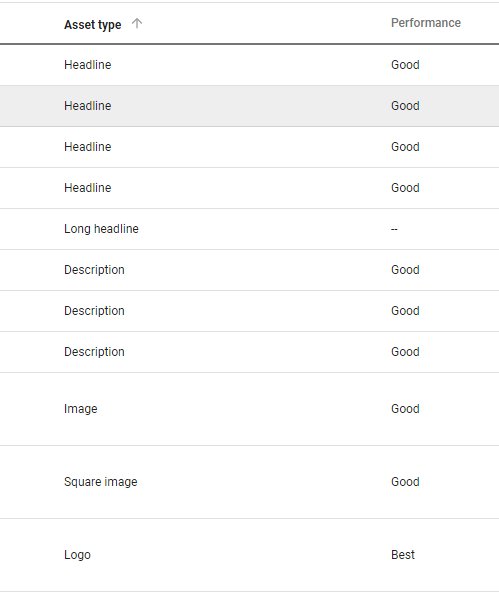 Here, you'll see two columns that show your Asset type & Performance with the following rating, learning, low, good, best. Swap out and adjust your creative from there until you get the best rating. You can even break out the top performing creative into its own ad or campaign.
Recapping Responsive Display Ads
Let's sum everything up with the pros and cons of the new RDAs.
Pros:
Spend less effort and time than you would be making multiple variations of ad copy and sizes
Great for automating combinations to drive ad performance
Deliver the tailored creative for your audience and site visitors with dynamic remarketing
Cons:
Can not see an overall best performing combination.
May not provide enough consistency in high regulatory environments.
There isn't a capability to control for brand colors, Google will optimize to make your ad perform best.

This is still a responsive ad, not a custom designed ad. You can likely find better performance with a professionally designed, customized ad – and this is a great tool to help you figure that out.
Conclusion
That's everything you need to know about the new Responsive Display Ad format! Bookmark our RDA tutorial video on YouTube to get a refresher on these tips whenever you need them.
Google Responsive Display Ads are great for helping advertisers and businesses who have limited resources, time and money to optimize their Display Campaigns and reach customers with the right messaging across GDN.
Go out and give this new format a try and see if its the right fit for your product or service. Want to read more about dynamic creative ads? Read our article, "The Ultimate Guide to Facebook Dynamic Creative Ads!"
Want more tips like these?
Get industry insights straight to your inbox with the Cypress North eNewsletter. Unsubscribe anytime.