Read our most recent article about how to set up Google Ad's Responsive Display Ads, here.
Rolled out in July 2016, responsive ads are one of the newest ad formats available to Google Ads advertisers. Running on the display network, this type of ad allows advertisers to input copy and images into an ad template, then hand over the reins to Google to compile them in different ways. Then, Google will do the heavy lifting to fit your creative into every ad placement size available, and into several formats that they predict will work best on the website that the ad is displayed on. This can be a huge time saver as it provides more options with less effort. However, it comes with areas to be cautious of as you are giving some of the control to Google in the ad creation process. Worry not – we'll cover everything you need to be aware of when creating and running responsive ads.
Note: Google assembles responsive ads slightly differently when using with a dynamic remarketing campaign versus other display network campaigns. This article is split into 2 sections explaining each separately.
Are Responsive Ads Right For You?
Before we dive into the process of how to create a responsive ad, let's first determine if they're right for your business. While responsive ads are now available to all advertisers, it doesn't mean they're necessarily the best route to take for everyone. Some businesses have legal or compliance departments that require a thorough review of every ad and all ad copy, making sure that certain statements, disclosures, or badges are present on all marketing materials. Responsive ads make it a bit tough to send ads to these departments and get them approved as there is no knowing how exactly Google will show the ad and which of the ad components they will combine together to create the final version that shows to users. It will likely require a team effort between departments to determine if responsive ads are a viable option and a process that caters to the business's requirements.
Alternatively, if the nature of your business doesn't require rigorous compliance review, responsive ads are worth a test. Remember, nothing is a magic bullet, but it is worth trying a responsive ad to fill all ad sizes with a one-step ad creation process, or to be used in tandem with a set of manually created display ads to fill in the blanks. For example, if you would like full control over the most popular ad sizes, you would only need to manually create a maximum of 5 ads, and then run one responsive ad to catch all of the other ad sizes. Google may also choose to show the responsive ad for a placement that you have a "manual" ad created for, depending on your ad rotation settings. Let it run and see if your designer can outperform Google's machine learning algorithms!
Let's Create!


If you've come this far, you've determined that responsive ads may be a beneficial addition to your marketing efforts and you're ready to start creating. Great! (If you are interested in creating responsive ads for a dynamic remarketing campaign, jump down here).
First, head over to the Display campaign that you would like the responsive ads to run in (or create a display campaign if you don't have one set up already)

Click on the Ads tab

Click the red +Ad button to open the drop-down menu, and select Responsive ad





Here is where you will fill in all of the information that Google will then curate into different ad sizes – a short headline, long headline, description, business name, logo, and images.
This is also where it can be a bit tricky to tell which fields work with others in the different ad sizes. When filling these in, take full advantage of the Preview section on the right to see how each field works with each other and adjust from there. Google does a good job showing a wide range of how your ad may look.
For example, only the short headline or the long headline will show, so you may need to re-state the short headline copy in the long headline copy (or a variation of it).
Other things to be aware of that will determine how you will fill in the fields to ensure that your ad contains all the copy you need it to no matter what size it is placed in:
Short headlines may appear with or without the description
Long headlines may appear with or without the description
The description doesn't show in all ad sizes or formats
Once you have all of your copy and images entered in to your liking, go ahead and hit save! Your responsive ads will go into review with Google, as occurs with all display ads, and then begin showing once approved.
How The Ads Will Show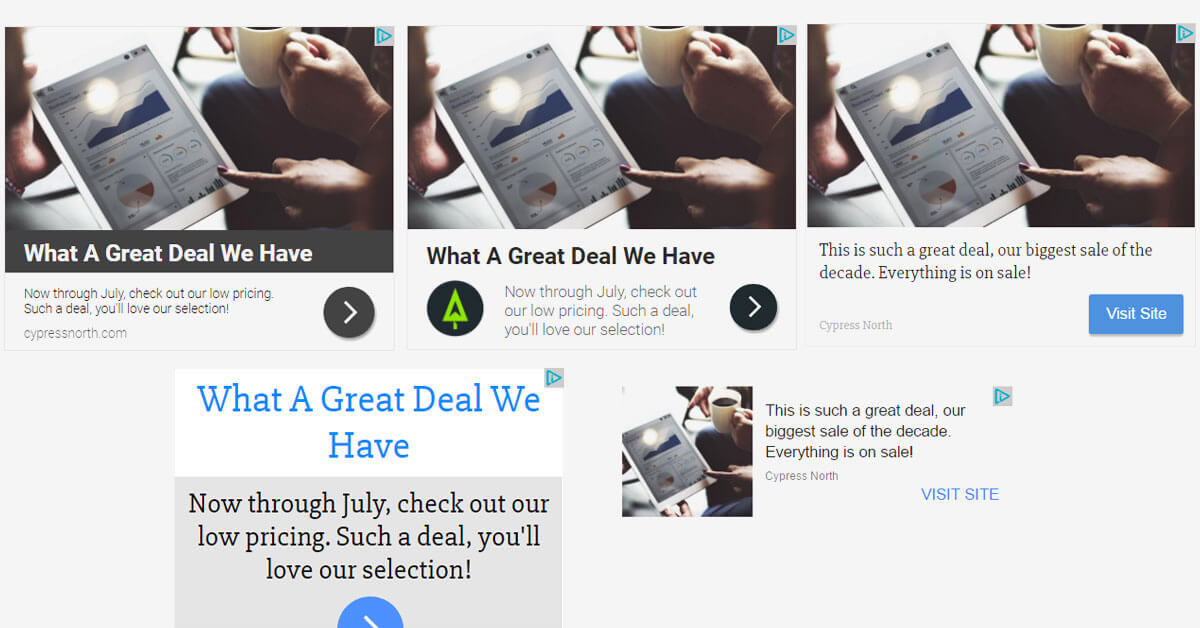 We've already discussed that one of the main benefits and differentiating factors of responsive ads is their ability to fit into any ad placement size available…but wait, there's more! In addition to this, responsive ads can also appear in 3 different formats:
You, the advertiser do not have any control over which format will show and you can't opt in/opt out of certain format types. Google will do their best to choose the best suited format for the website in which the ad is being placed so it looks as naturally integrated as possible – something that really is an option when uploading your own ads. Remember, Google benefits from a high click through rate just as much as the advertiser since they will reap the monetary rewards from clicks, so they will try hard here to make your ad attractive and enticing to click on.
Responsive Ads With Dynamic Remarketing
Responsive ads used with dynamic remarketing campaigns are currently in beta. Since they work and are set up separately from other responsive ads on the display network, we're breaking them out into their own set of instructions.

All components for a dynamic remarketing campaign must be in place for these to work properly. This includes:
Merchant center account created (if you're a retail business)
Merchant center account linked to Google Ads account (if you're a retail business)
Display campaign set up for dynamic remarketing – marketing objective selected (buy on your website), proper configuration of dynamic ad settings, and product feed created and linked to the campaign
Remarketing lists created and added to the dynamic remarketing campaign
Remarketing tag modified for dynamic remarketing and installed on every page of the website
For detailed instructions on any of these steps, Google offers a very thorough dynamic remarketing setup guide. Once all of these items are in place, read on!
A Little More Information…

Responsive ads used with dynamic remarketing campaigns follow the same general idea as responsive ads on the display network. Basically, their main purpose is to show an ad in a size and format that is highly integrated with the website on which it is published in a way that will be the most successful out of all sizes and formats offered. The same benefits and words of caution mentioned before apply here as well – you the advertiser are saving time to generate better results, at the expense of giving up some control to Google.
In a dynamic remarketing campaign, the highest level of control given to the advertiser would be found in dynamic product image ads and product text ads. Dynamic product image ads offer options to set preferences for colors, text sizes, button styles, and even include disclaimers. Text ads simply pull in content and images from the product feed that the advertiser created, and also offer a field to enter in a promotion.
Responsive ads still offer a fair amount of control, letting the advertiser upload a logo and marketing images if they choose, write a headline, description, advertiser name, optional promotion and button text, select a color scheme, and ad formats that you do/do not want the ad to show up in. After all of this information is entered in and saved is when Google steps in to compile the information entered in the ad template here combined with information from your product feed to show the ad according to what users viewed on your website, in different formats (again, you selected which ones you want Google to choose from) and sizes that are predicted to perform the best.
Let's Create, Again!
Creating responsive ads for dynamic remarketing is different than creating "regular" responsive ads since these will be attached to your product feed. Some of the data will pull from your feed rather than manual entries in the ad template. To get started…
Head on over to your Dynamic Remarketing campaign

Click on the Ads tab and then click on the red +Ad button to open the dropdown menu

Select Ad Gallery (while all common sense may tell you to click on Responsive Ad, this isn't the one! This is where you would create a "regular" responsive ad, not associated with a product feed)

Click on Dynamic Ads

Click on Dynamic Responsive Ad

Here is where you can add a logo, marketing image (both optional), headline, description, your business name, and the option to include a promotion and/or button. Again, you can also set the main color scheme and select formats that you do or do not want your ad to show up in (sizes cannot be chosen though)

Once you have everything set to your liking, hit Preview and Save in the top left
Once approved, Google will begin showing your ads according to the specifications you set, combined with the information you uploaded in your product feed to show users items they've looked at on your site.
Reporting

Now that you've created responsive ads for a dynamic remarketing campaign (or another display network campaign), you are likely eager to check the performance. Unfortunately, this is where we highlight one of the limitations of responsive ads. The stats that are available to you for your responsive ad performance are the same as are available for all of your other display ads, which makes sense…for the most part. You can see how many clicks, impressions, conversions, etc. your responsive ad generated, but Google Ads does not (yet) accommodate for the main difference between responsive ads and your other display ads and fails to break down performance by ad size or format. You will get a high-level look at responsive ad performance, but you won't be able to tell which size or format is the most successful to integrate into other display or online marketing efforts.
The Future of Responsive Ads
From what we've seen, it doesn't look like Google will be neglecting improvements to responsive ads anytime soon. They have been consistently adding new features to responsive ads as well as extending the overall usability since launch back in July 2016. Since then, we've seen the addition of the beta version of responsive ads for dynamic remarketing, more impressions, and small improvements to the ads themselves (like requiring a smaller, square image in addition to the original landscape image in responsive ad set up).
So where are responsive ads headed from here? The next stop will be to Gmail Sponsored Promotions (GSP) campaigns sometime this year, allowing advertisers to take advantage of several Gmail layouts with a one time effort.
We strongly recommend taking advantage of this new ad type. It's not only a time saver in the ad creation process, freeing you up for more testing and performance tracking, but it also comes with many benefits that simply are not available when using image display ads – better integration into what can be vast differences in the aesthetics of every website, access to the native inventory on the display network, and automatic adjustments based on device to name a few. So give them a shot – our prediction is that responsive ads will be a winner for both you and Google!