For a while, it seemed that nobody was ever going to catch up to Facebook from a targeting standpoint. Facebook's ability to pinpoint specific users based on their behavior, demographics, or interests is still unmatched, but with the seemingly constant rollback of Facebook targeting options and advancements in targeting from Google Ads, that gap appears to be closing.
Google's audience targeting has improved exponentially over the past few years. Customizable 'Custom Intent' audiences have been a godsend, affinity audiences have gotten better, and Google Ads' remarketing can't be beaten.
When it comes to YouTube and Gmail ads specifically, Google has some meticulous audience options that you may not know about.
Life events
Detailed demographics
These audiences will not work on Display or Search but may help you dial in your Tube/Gmail ad efforts. Everything mentioned below can be found within the Audiences section within a campaign: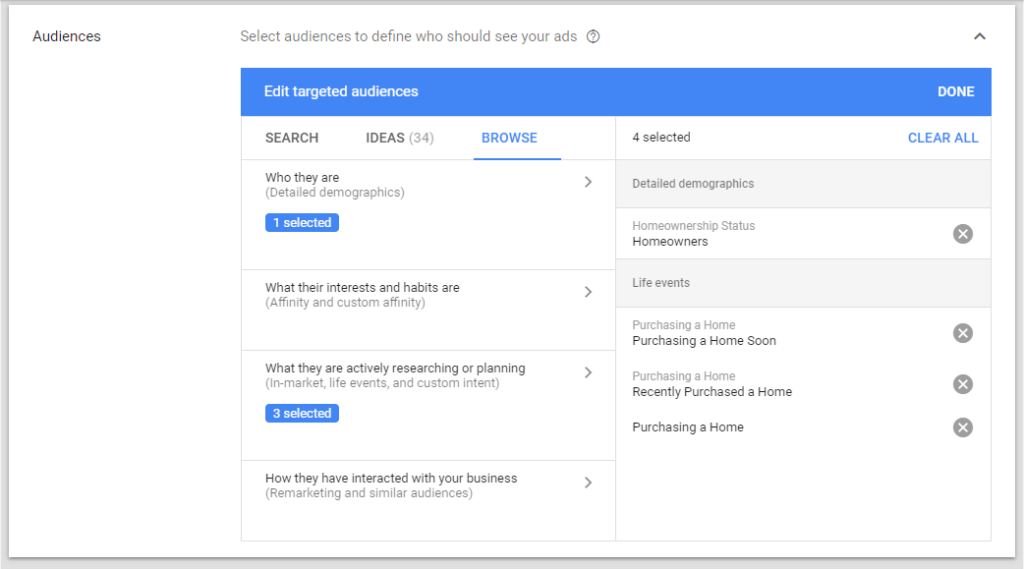 So, let's take a look at these lesser-known audiences found within Google Ads audiences.
Life Events
When it was initially launched in Summer 2018, life events targeting on Google Ads (then still AdWords) was sparse. There were only three categories of life events to target – college graduation, marriage, and moving. Since then, the Google team has implemented 6 all-new categories and 14 new life events to target.

It should also be noted that either the parent or the child life event can be chosen. Here is the current list in its entirety:
Business Creation
Recently Started a Business
Starting a Business Soon
College Graduation
Graduating Soon
Recently Graduated
Home Renovation
Recently Renovated Home
Renovating Home Soon
Job Change
Recently Started New Job
Starting New Job Soon
Marriage
Getting Married Soon
Recently Married
Moving
Moving Soon
Recently Moved
New Pet
Adding Cat to Household Soon
Adding Dog to Household Soon
Recently Added Cat to Household
Recently Added Dog to Household
Purchasing a Home
Purchasing a Home Soon
Recently Purchased a Home
Retirement
Recently Retired
Retiring Soon
That's it, all the current life events that you can use for targeting on YouTube and Gmail ads. Stay tuned for more changes and updates as Google has already greatly expanded targeting opportunities in this area.
Detailed Demographics
Similar to life events targeting but with one key difference, detailed demographics allow you to target users who have already experienced certain milestones. These allow you to leverage more granular demographic data on YouTube and Gmail ads that aren't available with other Google Display products.
Parental Status
Parents

Parents of Infants (0-1 years)
Parents of Toddlers (1-3 years)
Parents of Preschoolers (4-5 years)
Parents of Grade-schoolers (6-12 years)
Parents of Teens (13-17 years)
Marital Status
Single
In a Relationship
Married
Education
Highest Level of Educational Attainment
High School Graduate
Bachelor's Degree
Advanced Degree
Homeownership Status
That's it! If you haven't dipped your toes into detailed demographics or life events before, we hope there is some targeting that may help your campaigns.
Looking for more digital marketing insights? Subscribe to our newsletter or listen to our podcast!
If you need any help don't hesitate to reach out to us for help!