You may already know you can create custom columns in the Google Ads online interface. But, if you're anything like me, you may not always think about how you can leverage custom columns to surface essential Google Ads performance metrics, saving you time and a lot of clicks.
Why Use Custom Columns?
I began using custom columns to make my life easier while I was sharing my screen with clients. Frankly, was sick of explaining that the Conversion Value/Cost column was Return on Ad Spend (ROAS). So, I made a column that was a % called "ROAS".
That was just the beginning.
From there, I began to explore other options to showcase KPIs in our campaigns. I highly recommend testing these out and adding your own custom columns to make it easier to see campaign performance at a glance. It'll save you a lot of time during analysis and (if you love screen sharing as much as I do) a lot of energy explaining what different columns are to clients.
Optional Segmentation
This is where the true value lies within Custom Columns. Instead of relying on segmentation of the entire data set in the web editor, you can bring that segmentation into the column specifically. This means that you can compare performance across device types (like mobile vs. desktop) or networks (like Google Search or Search Partners). Here are all the available options for Custom Columns:
Conversions

Conversion source

Google Analytics
Calls from Website
Google Play
Import from clicks
iOS app install
Mobile app
Phone number clicks
Website
Store visits

Conversion action

Transactions (All Web Site Data)
Android installs (all other apps)

Device

Computers
Mobile Phones
Tablets
TV screens


Network (with search partners)

Google search
Search Partners
Google Display Network


Top vs. Other

Google search: Top
Google search: Other
Google Display Network
Search Partners: Top
Search Partners
So, you can juxtapose this segmentation on one (or any, or all) data points that you pull into a column, unlike the simple segmentation tool in Google Ads that will filter all of the data.
Additionally, you can turn the column into one of the following types:
Allright, let's get to it.
Sample Google Ads Custom Columns
True ROAS
As mentioned above, for some reason, Google Ads does not have a ROAS column that you can fire up out of the gate. Instead of showing the decimal return on spend with the Conversion Value/Cost column, you can show ROAS as a percentage with the following column: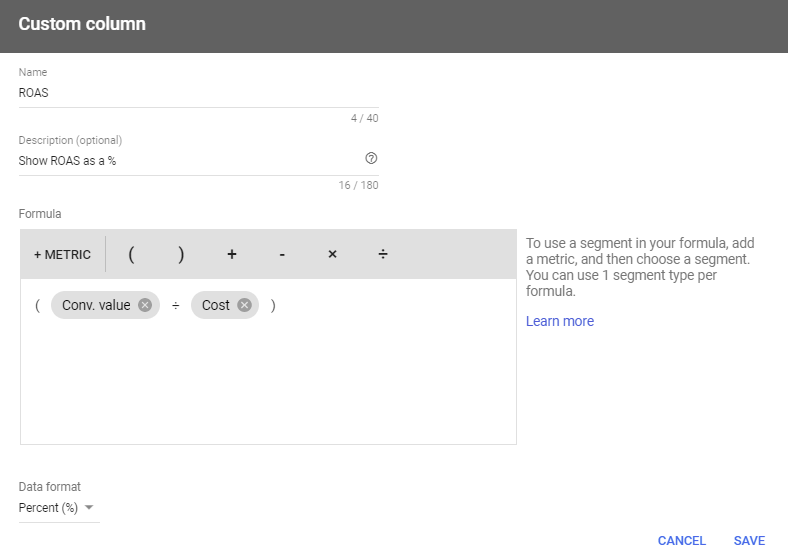 View Through Percentage

When assessing how display campaigns are running, I always like to consider the view-through conversions as well. However, with that being an entirely different column, I wanted to get a quick percentage of view-throughs compared to regular conversions. This is directionally helpful to quickly show what campaigns or ads are really driving conversions without the click. If there are 5 view through conversions to 1 regular conversion, this percentage will be 500% and if the other way around (1 view through to 5 regular conversions) then the number will be 20%.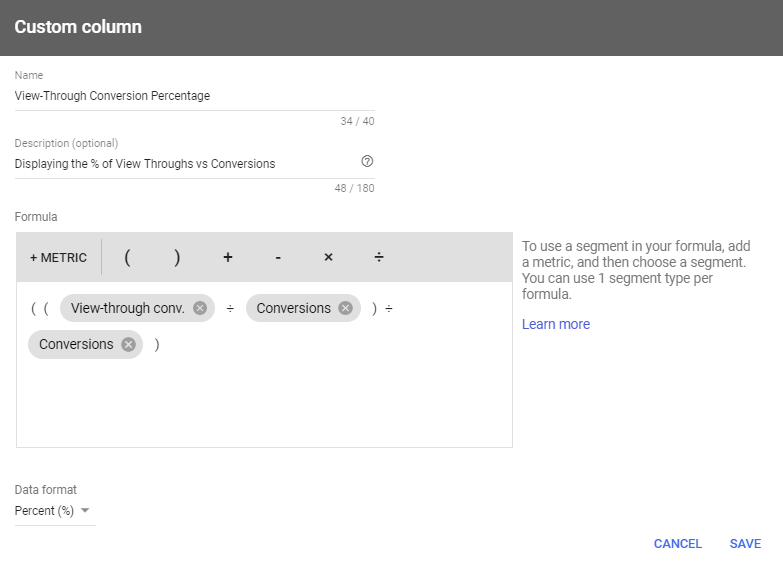 Percentage Spend on Search Partners

Search Partners are a hot topic, and when search ads are enabled to run on Search Partner sites, you may end up putting more of your budget toward properties that aren't paying off. With this equation, you'll be able to quickly see how much of a campaign/ad group budget is going towards Search Partners. For this, we'll need to start with the segmentation of the Search Partners cost divided it by total cost: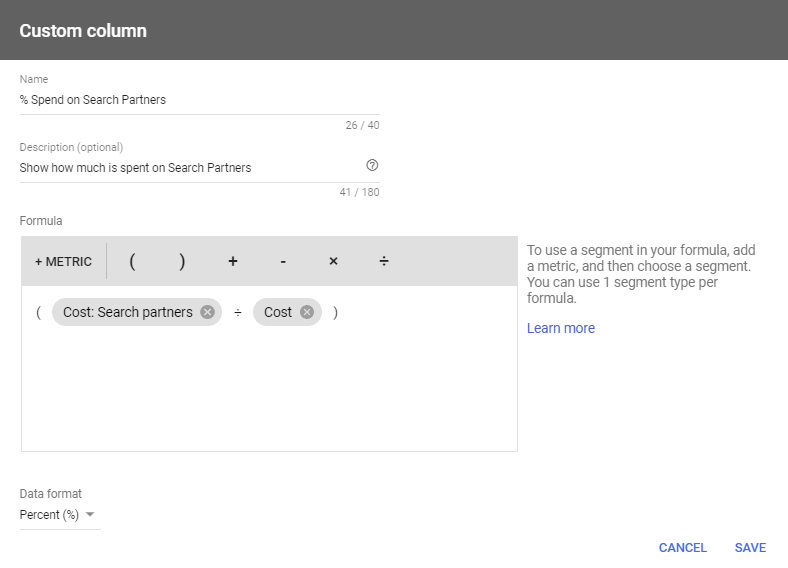 Top ROAS vs Other ROAS
If you wanted to quickly compare ROAS (or CPA) from clicks in the top position vs the other positions, this can help show the difference (as a percentage) of top vs other clicks. This can help dictate what location works best for return.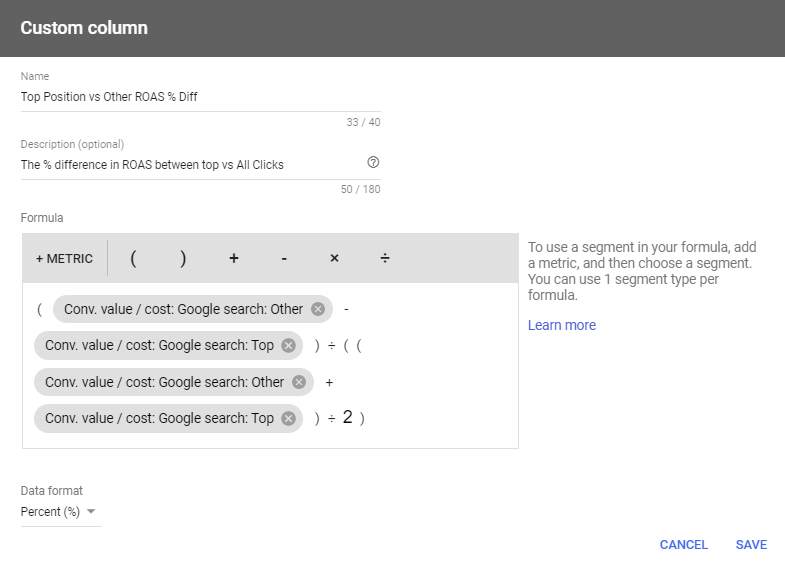 CPA by Conversion Type

If you have different conversions or all-conversions that you report on, setting up as a column is a simple way to view stats without needing the conversion type segmentation across all data. Simply toss in a metric you want to see (like CPA in this case) and see it in it's own column next to all your other data.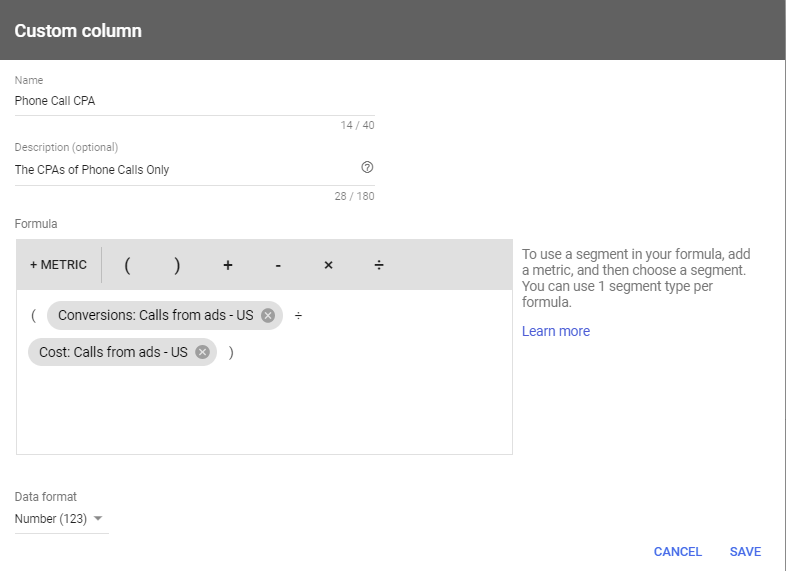 CPA Differential (Mobile vs Computers)
This is one of my favorites for any campaigns that mix device types. Quickly compare how much more efficient one device type is compared to another to help make informed decisions with device-based bid adjustments. Switch over to CPA if you aren't e-comm and you can use this for any campaign that targets multiple devices.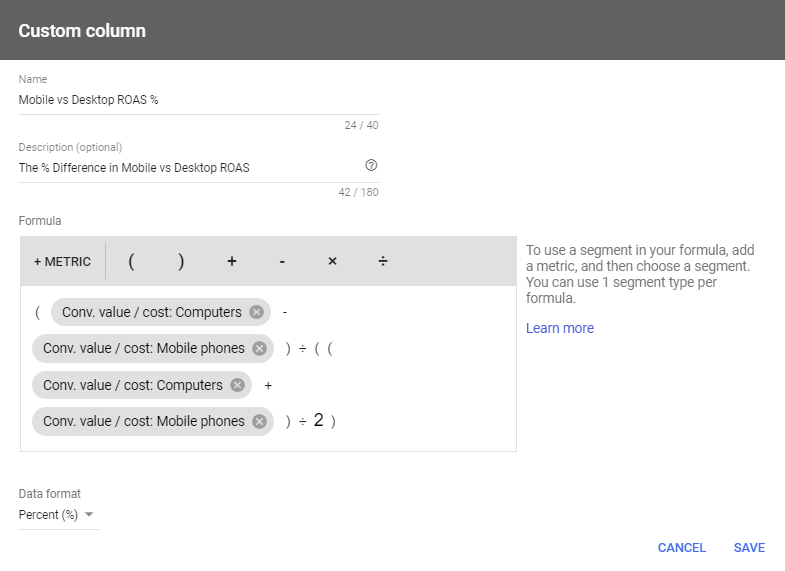 While those are only six examples, the key is to figure out what data would be most valuable when doing your daily maintenance and then work backward to create the equation that you need. There are a good number of options to segment data, but you can't do everything with Custom Columns and may need to create your own Data Studio or Custom Reports. If you haven't played around with Custom Columns yet, you now have 6 ideas to work off of and improve on!