Guide to Setting Up Campaign Experiments In 2022
Goodbye, drafts!
Early in 2022, Google Ads overhauled their campaign experiments, making it easier for advertisers to run A/B tests within the platform. This article will outline how to set up an experiment on the new and improved Google Ads experiment page.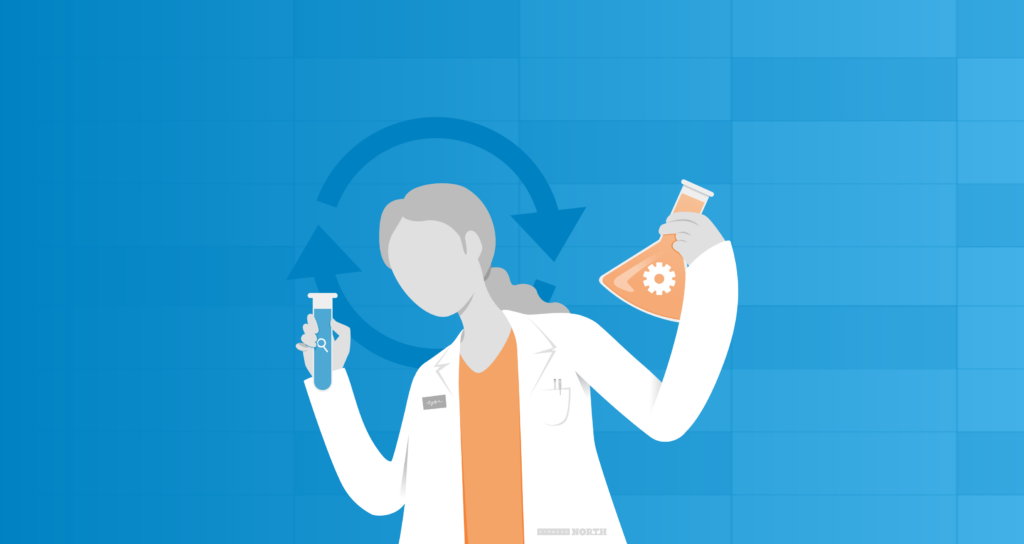 Why should you run a Google Ads experiment?
Google Ads experiments allow you to easily A/B test an idea or strategy against your existing campaign to determine which scenario performs better. It is beneficial in most scenarios because running an experiment doesn't take any additional budget. The platform allows you to split a given campaign budget in half giving both scenarios an even playing field.
Another perk to experiments on the Google Ads platform is comprehensive reporting. It allows you to see a direct comparison of your base campaign & trial experiment in one place showing important key metrics. We'll have more on this later.
What are the types of experiments that you can run?
You can create an experiment for ad variations to test new headlines or description lines across a campaign.
You can run a video experiment, where you can test a new video against the existing video in your campaign.
Lastly, you can set up a custom experiment. This is the type of experiment we'll be diving into in this post. A custom experiment allows you to run an experiment on a display campaign or a search campaign. Some options to test here are:

Bidding strategy
Geo targeting
Ad schedule
Bid adjustments
Audience targeting
How do I set up a Google Ads experiment?
Follow the steps below to set up your own custom experiment in Google Ads.
In this scenario, we'll be setting up a custom Google Ads experiment campaign to test out a new bidding strategy.
When you're in the account that you want to test an experiment in, on the left of your screen, scroll until you see the Experiments tab.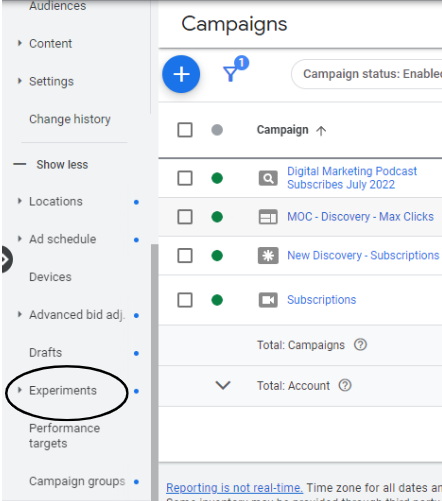 2. Select the blue plus sign to add a new experiment.
3. On the next page, select Custom experiment then for this scenario, also select search under campaign type. Then click continue.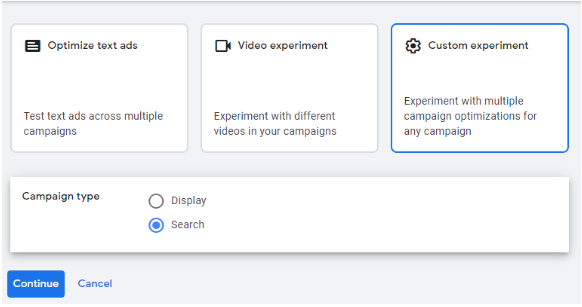 4. On the next page, start off by naming your experiment.
In this instance, we're going to set up a tCPA experiment to test against our enhanced Cost Per Click base campaign.
I'm going to name it [eCPC vs tCPA]. This will appear at the end of your base campaign name.
5. Select your base campaign that will be mirrored in your experiment, by selecting the pencil to edit. Select the campaign that you would like to base your experiment on.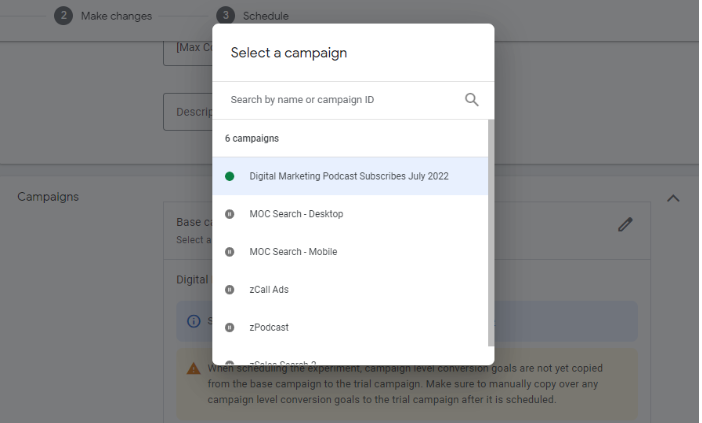 6. When you scroll down, the "Suffix for the treatment name" should match what you named your experiment.
7. Click save and continue.
8. You should now be looking at a page that looks like a normal Campaigns tab view. The only difference here is we're only looking at experiment campaigns, more specifically, the one you just made.
So far, your new experiment is an exact clone of your base campaign.
9. Now, make whatever change you want to test in your experiment campaign.
For this example, we're going to head over to the settings tab to change the bid strategy to tCPA
Click into your new campaign, then go to the settings tab on the left
10. Under Bidding
Change bid strategy to $20 tCPA
Then click Save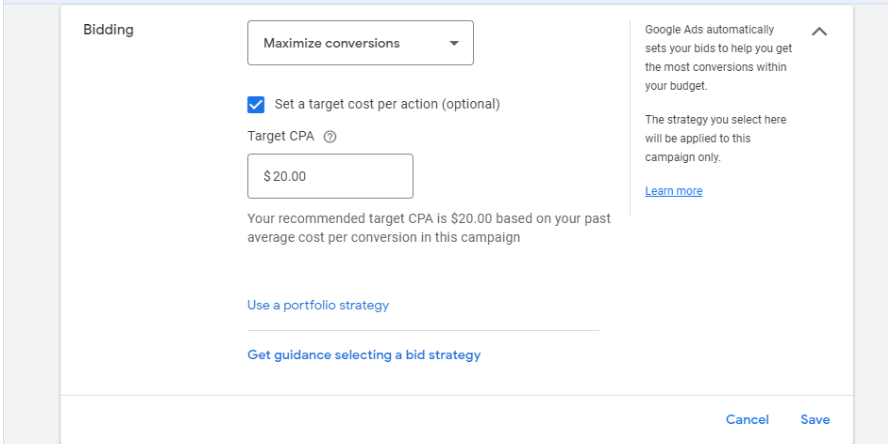 11. At the top of the screen, select Schedule

12. Here, you're going to set your goals. This is another huge advantage to the new and improved Google Ads experiments. You can select up to two metrics per experiment, and specify whether you want that metric to increase, decrease, or have no significant change. For this experiment we are hoping to increase our conversions for a lower cost per conversion.
To set this as our goal, select the drop down menus that appear to match the below screenshot.

Other things you can aim to achieve are:

Increased or decreased:

Clicks
Impressions
Cost
Conversion value per cost
Conversion value
13. Below that is the "Experiment split" section. This is where you allocate what portion of the base campaigns budget gets spent on the experiment.
In most scenarios, you're going to keep this at a 50/50 split for a true A/B test.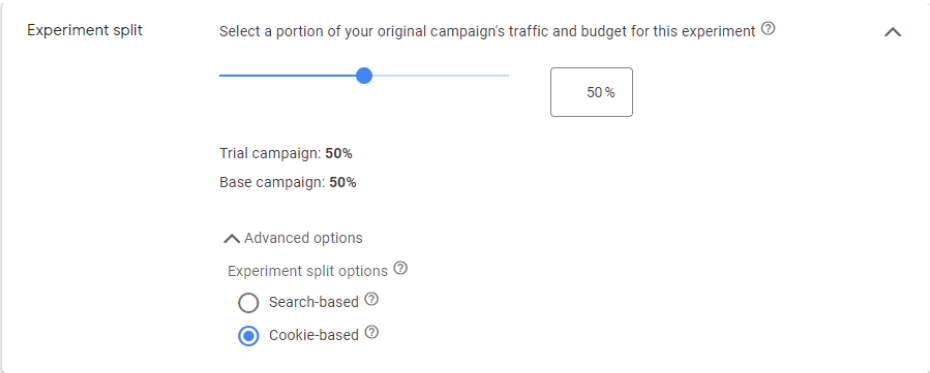 Under "Advanced options" you can select whether you want your experiment split to be search-based or cookie-based.

This setting only matters for users who are seeing your experiment more than once. The cookie-based option will always show the same person the same version of your experiment if they're seeing it more than once. The search-based options treat every individual search randomly and could show someone either version of your campaign.
This is particularly important if you're testing different messaging, like pricing in your ad copy. With search-based, Google could show a user either version of your ad, regardless of if they've seen one of your ads before. We typically opt for cookie-based as best practice.
14. The next section is setting when you want the experiment to begin and end.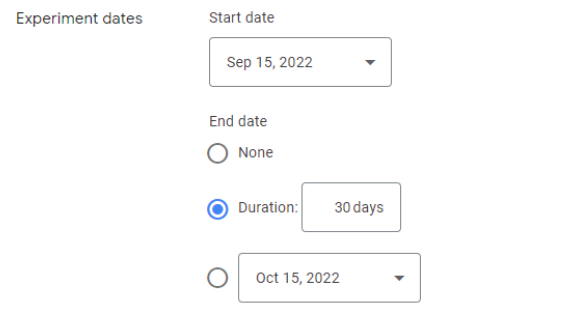 In this instance, it is automatically set to tomorrow which is when I want this experiment to start. But you can choose a different start date by selecting the dropdown under "Start date" and selecting your desired date.
Next, I want this to run for 30 days. Next to "Duration", I'll set it to 30 days and the dropdown menu below is automatically set to 30 days later, October 15th
15. Finally, in the "Enable Sync" section, we will choose to have the sync turned on.
Leaving this on means that any changes that we make to the base campaign will be mirrored to our new experiment. So, you won't have to worry about a minor change (like updating bids) throwing off the results of the A/B test. This is another update from 2022 that we love!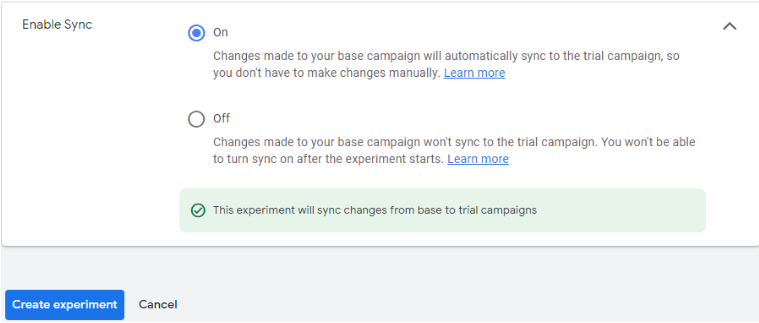 16. Click Create experiment
17. Finally, check back tomorrow, or whenever your start date is set to, and make sure it's active and working properly!
Reporting
When you first open your account and navigate to the campaigns tab, now that you have an experiment live, you will see the experiment and basic data here. In this view, you cannot make any edits to the experiment, all edits will need to be made in the experiments section.
Now that we've navigated to the experiments tab let's take a look at reporting. Since our new experiment only launched yesterday and we don't have any data yet, we're going to look at a completed experiment.
When you first enter your experiments tab, you will be on "all experiments" where you can see every experiment you have run in the past. From here you can select which campaign you'd like to see further details on.
After clicking into your experiment, you're brought to the "Experiment Summary". Here you will see some key metrics of how your base and trial campaigns performed in a given time period.

The base campaign setting here was eCPC which was being tested against the trial campaign set to a tCPA of $35.
As a reminder, our goal setting was hoping to achieve increased conversions for a lower cost/conv. When analyzing this data, it appears as though the tCPA experiment followed our set goals and performed better than the base campaign. The trial campaign did spend more than half of the budget but all other metrics improved. If I had run this campaign, I would have felt comfortable switching the whole campaign to tCPA while keeping a close eye on the budget.
Ending Or Applying Your Experiment
When your experiment is complete, and you have analyzed your data, you now have to decide whether to move forward with your new strategy or continue using your existing strategy.
Applying The Experiment

If your experiment was successful and you choose to change your strategy there is a simple way to change your base campaign automatically. When you're on the Experiment Summary page, there is an option to Apply Experiment. This will ensure all new strategies that were being tested are carried over to the base campaign.

Ending The Experiment

If your experiment was unsuccessful and you decide to not use the strategy moving forward, or if you decide to end it early, simply click End Experiment on the Experiment Summary page.

A note about experimenting with bid strategies:
Analyzing your results may be a little trickier when you're testing some bid strategies. The success of some bid strategies is very dependent on the budget for that campaign. For example, maximize conversions can work really well with a tight budget. But, if the budget is too large, maximize conversions will spend through your budget every day, whether or not it's achieving the results you're looking for.
This matters, because an experiment splits the budget from your base campaign (typically a 50/50 split). Keep in mind, if you then apply that bid strategy to your base experiment, your base campaign will now have the entire budget to play with instead of just half of the budget. This could impact your results, so make sure you are thinking through budgets when you run experiments and keeping a close eye on spends if you make any bid strategy changes to your base campaign.
I hope this helped you create your experiment and learn why we should elect to use them. If you have any questions or would like to discuss other marketing related questions, feel free to contact us today!