If you are a search pro using Bing, you'll likely spend a good chunk of time living in the Bing Ads Editor. Much like Google's AdWords Editor, this standalone desktop program saves advertisers time and energy by allowing for bulk and batch changes outside of the web platform. It also has an extremely useful feature that estimates overall impressions, clicks and costs between the various ad positions. This is a somewhat under-the-radar tool that can be a boon for the savvy PPC manager.
To access, head to the tools button in the top navigation:

Then choose "Find related keywords." One you enter a term and perform a search, you'll see a screen similar to the following: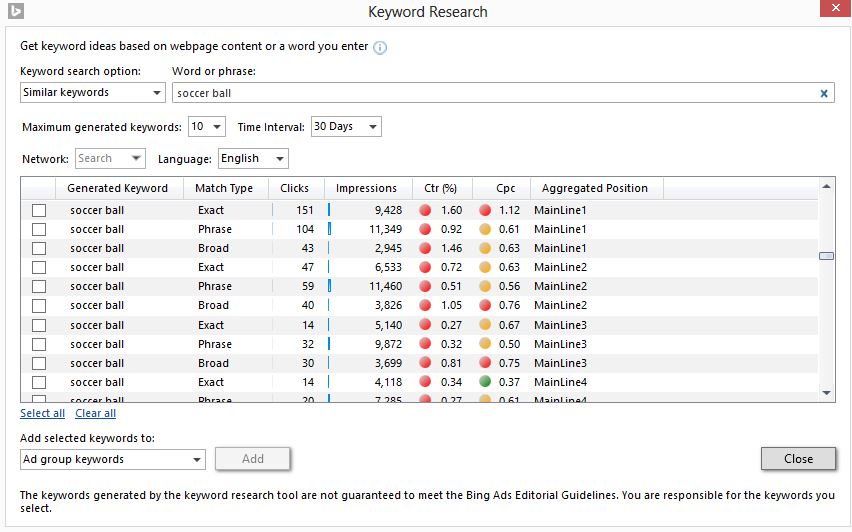 The information provided includes:
Keyword (NOTE: This is the keyword in relation to the specific position for each)
Match Types
Aggregated Position
Estimated Clicks
Estimated CTR
Estimated CPC
This can help advertisers bid appropriately to the position and traffic that they'd like to acquire. In the example above, we can see that there is roughly a 77% increase in the cost-per-click from the exact match "soccer ball" keyword from position #2 to position #1. Additionally, the top (Mainline 1) version of the exact-match term "soccer ball" in the first position (MainLine1)  has a 122.2% higher click-through-rate then that of position #2.
Impressions and clicks are also shown as well as Green/Yellow/Red indicators that signal click-through-rate and cost of the keywords. While this isn't a great tool for actually discovering keyphrases, I applaud the transparency that Bing brings to advertisers who are looking to place ads in a more educated format.
For more great posts on Paid Search, follow us on Google+:

Keep up with us on Twitter: Follow @cypressnorth
or of course
and Facebook.