Google Ads makes it really easy to see performance at the campaign or ad group level, but analyzing audience performance across multiple Google Ads campaigns is easier said than done.
You're left wondering….
What's working well?
What's not?
Combining like-minded campaign audience data can give you a better, more high-level view of how audiences are performing from a larger sample size.
The bad news?
Unfortunately, you can't see this data in the web editor view.
But, you can easily pull cross-campaign information from Google Ads' online reports for analysis.
The Easiest Way to Analyze Cross-Campaign Google Ads Data
Hopping from campaign to campaign in Google Ads to see overall audience performance just isn't tenable. Thankfully, Google Ads gives us advertisers the ability to see more in the reports section. To pull audience stats for specific campaigns, you'll want to know:
The campaigns you want data for
The type of audience you want to analyze
The performance metrics you want to dig into (conversions, revenue, clicks, etc)
We'll start by heading to the reports section of Google Ads. Before diving in, there's one thing you need to know, and that's what you want to know! Do you want to see in-market audiences across search campaigns? Or, are you looking for affinity audience performance for campaigns with a specific label? If you can figure out what you want in a specific fashion, Google Ads' reports can likely bring that to life. To get to your Reports section, just hit the chart icon in the top nav bar, bypass pre-defined reports and let's get to work making our own!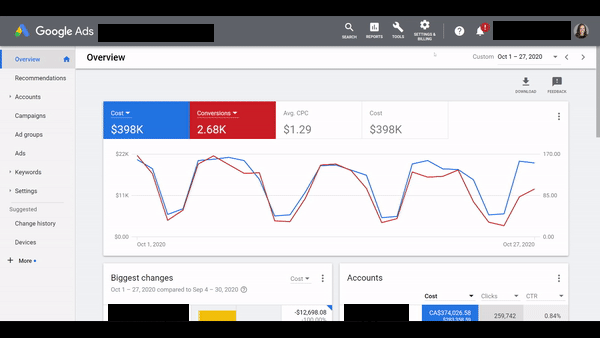 How To See Audience Data Across Your Entire Google Ads Account
Once in reports, you'll head over to "custom" as we are pulling this data straight from your head (and Google Ads of course). If you want to see all the data, a table can work best to generate your report. The key is to know what you want to include (and what NOT to include) in the columns to pull your data.
Let's say for this report that we want to see info from the recently released in-market audiences across all shopping campaigns.
We'll first add in "Campaign type" as we'll need that to filter down the road: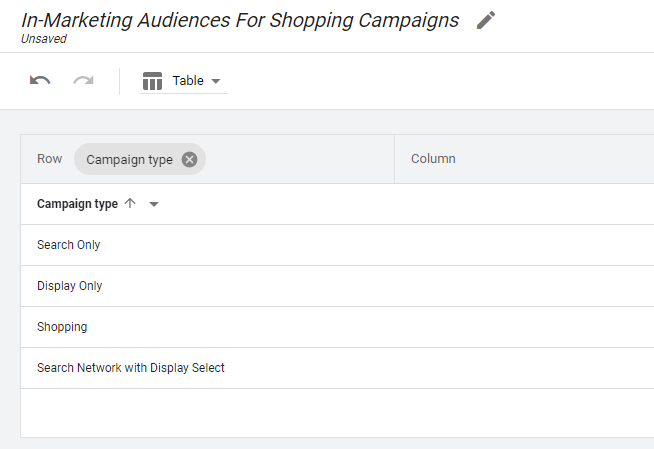 Don't worry if it is showing all types … the key to reports is to filter down to get the most granular data. Next up, we'll add in both the "Audience" and "Audience type" to your rows: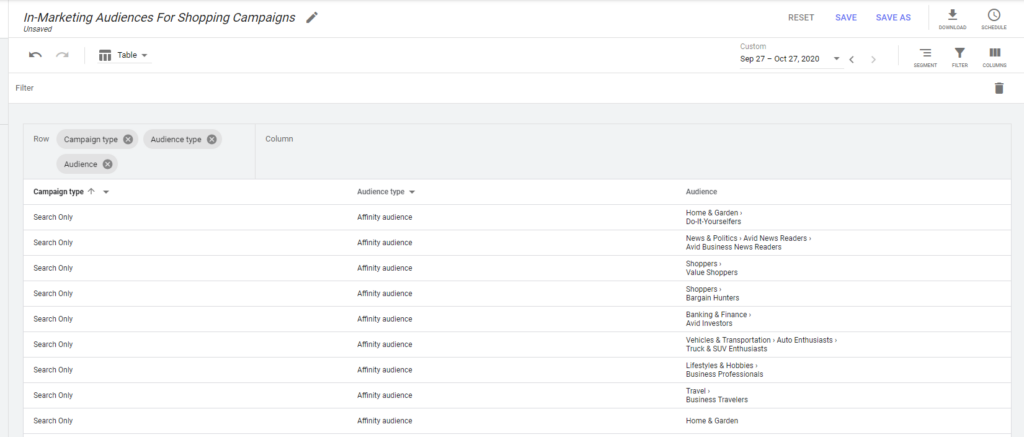 Now that you have the main categories that you are looking to refine, it is time to pull the data in via columns! Since these are shopping campaigns, seeing all of the cost/revenue/volume data across all campaigns should be enough to surface patterns. So in this case, I'll add in:
Cost
Clicks (to see total volume)
Avg. CPC
Conv. value/cost (ROAS)
Toss each of these into the columns section and see what happens.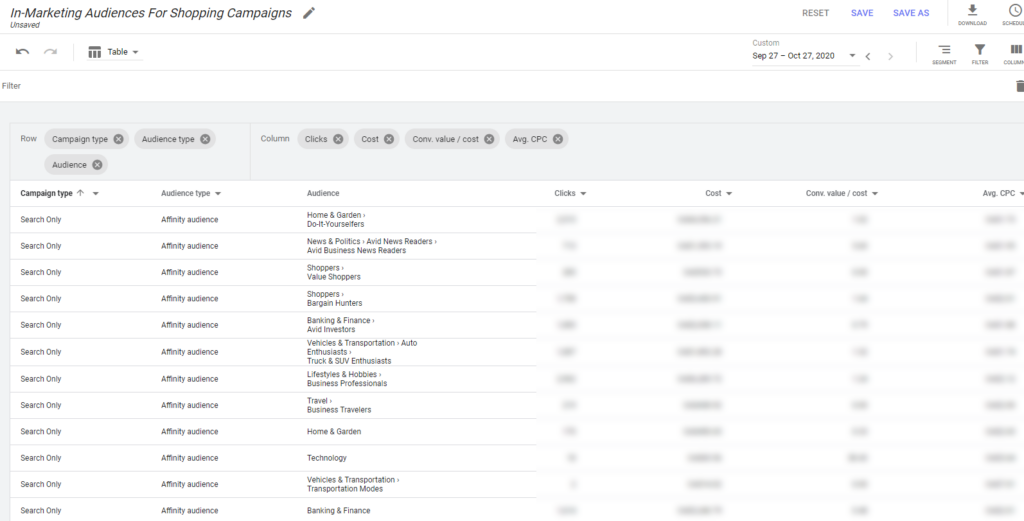 Now we have all of the data in, but it is a total mess with Search/Display/Shopping campaigns and every Audience type under the sun. That means it's time to refine.
Let's hammer that Filter button in the top right and start filtering as needed. To get what we need from our original ask, we'll have to find some of the items within filtering. Google Reports can be a bit confusing when it comes to filtering audiences, but you can do almost anything in there.
For example, you can drill-down to only in-market audiences by selecting the filter for "What they are actively researching or planning" then selecting "In-market audiences"
Then, once you have applied your audiences, you will only see data from those specific segments, and you'll see it across all campaigns (as we didn't add Campaign in the rows):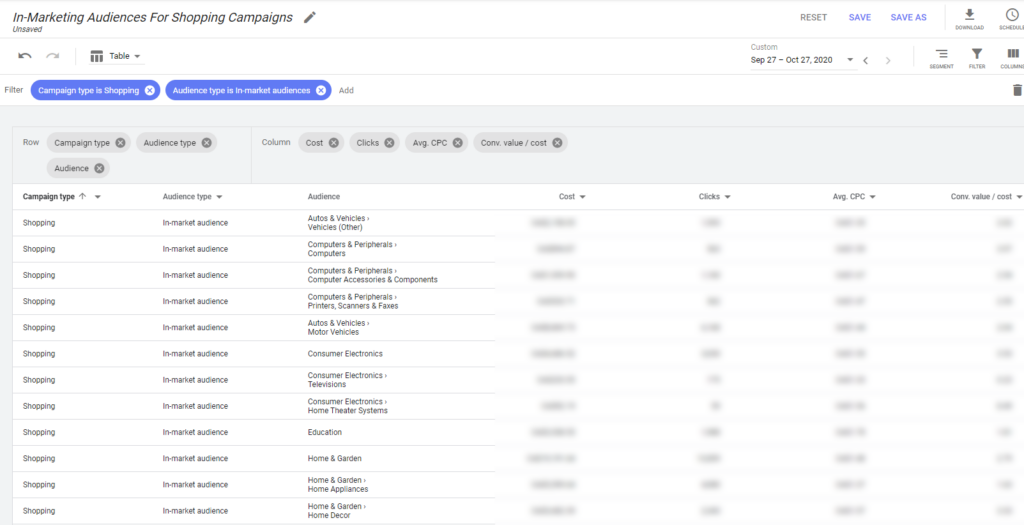 And there you have it! You can easily see how those In-market shopping audiences performed across your entire account! Google Ad has the best reporting of any ads platform that has ever existed and with enough trial and error you'll be able to find all you are looking for across campaigns.
Looking for more? Now that in-market audience targeting is compatible with shopping campaigns, you may be wondering what audiences are available to target. Lucky for you, our advanced Google Ads targeting guide has a list of every Google Ads in-market and affinity audience. Download the free lists now to find the right match for your business.