When it comes to last year's roll-out of enhanced campaigns in AdWords, one thing is for certain: the dayparting functionality is horrific. Maybe it's Google trying to confuse low-level AdWords users to overspend, or maybe it's an attempt to give users more control with the more terminal style offering. Either way, it's a far cry from the beautifully-designed former ad scheduling tool that makes ad scheduling far more time-consuming.

There is a way to copy and paste settings from one campaign to another that is a lifesaver for anyone not using an advanced bid management tool.
In order to make bulk changes and copy/paste campaign ad scheduling settings from one campaign to another, you'll need the following:
[list type="circle" color="color1″]
One campaign that has the dayparting manually setup properly (that you'd like to copy to others)
AdWords Editor tool
[/list][divider]
Steps to Copy/Paste Ad Scheduling to Campaigns
1. Open AdWords Editor and look to see if you are viewing the "Ad Schedule" column.
If not, click on the box in the upper right side of the display:

2. Check the Ad Schedule" column box from the drop down menu:

Now you'll begin seeing the ad schedules in a column (with the % on that each campaign is). Find the campaign that has the proper settings that you'd like to copy and right click. Select "Copy."

3. Next, you'll select the campaign that you'd like to past the settings to.
Scroll down in the "edit selected campaigns" screen and hit the "Paste" link to the right of "Ad Schedule".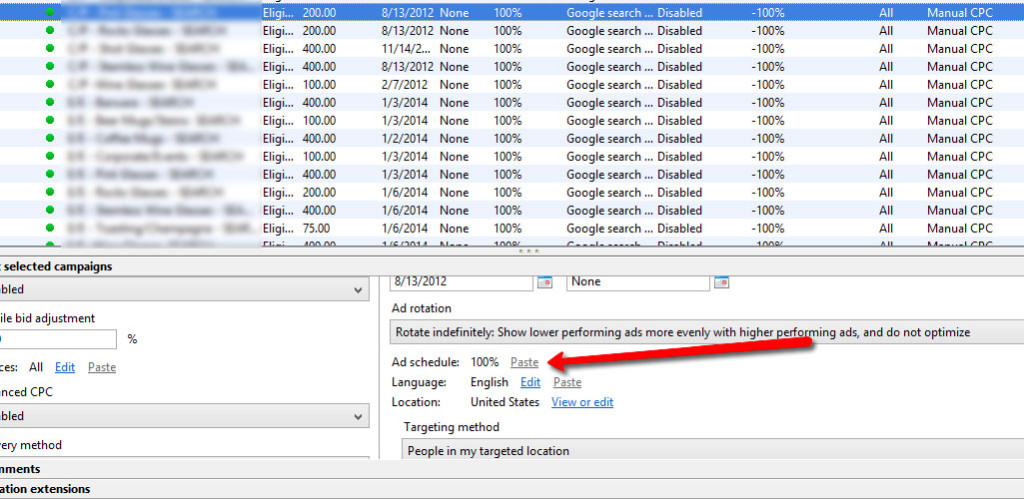 4. Post your changes.
That's it! If you'd like, hop over to the web version of AdWords to confirm that the changes stuck and you are all set.
Did this help you out? Then please stay tuned to all of our updates by following us on Google+:

Keep up with us on Twitter: