If you've been following us for a while, you'll know we generally don't like running ads on mobile apps. Don't get us wrong, we love apps! They've made it easier than ever before to get information and connect with each other. However, with over 2 million apps in the Google Play store, running ads on apps can get out of control quickly. Who here hasn't accidentally clicked on an ad in an app before? Even worse, many of these are games played by (gasp) CHILDREN! Again, don't misinterpret us, we love kids, but they're unfortunately pretty high up in the purchase funnel.
The Problem
Ad clicks from mobile apps do not usually have high conversion potential, particularly with our B2B clients, and Google Ads has made it increasingly difficult to exclude mobile app placements from campaigns running on the Google Display network.
Marketers were thrown into a full-fledged panic in 2018 when Google announced the adsenseformobileapps.com placement exclusion (AKA Cypress North's favorite trick for excluding mobile apps) was being taken away from us in an attempt to "simplify" targeting options.
At first, it seemed so treacherous that we thought we had no option but to ban tablets and mobile devices from our display campaigns entirely!
The Solution
After doing some digging, we found the solution to be surprisingly simple thanks to the help of our trusty pal Google Ads Editor.
Although they are making targeting increasingly difficult, Google does grant us the luxury of excluding apps by category. So in theory, excluding all of them should exclude all apps. The problem? There are over 140 categories.
You could check all 140 category boxes on the Google Ads online interface, or you could follow the instructions below to prohibit your ads from displaying across all app categories in a few simple steps.
Step 1:
After opening your Google Ads account in Google Ads Editor, download your recent changes from the online interface by clicking  "Get Recent Changes".
Step 2:
From the account level, select "Mobile app categories, negative" on the lower left-hand side of your screen, then select "Add negative mobile app category" at the top of your screen, and "Negative campaign-level mobile app category" from the dropdown menu.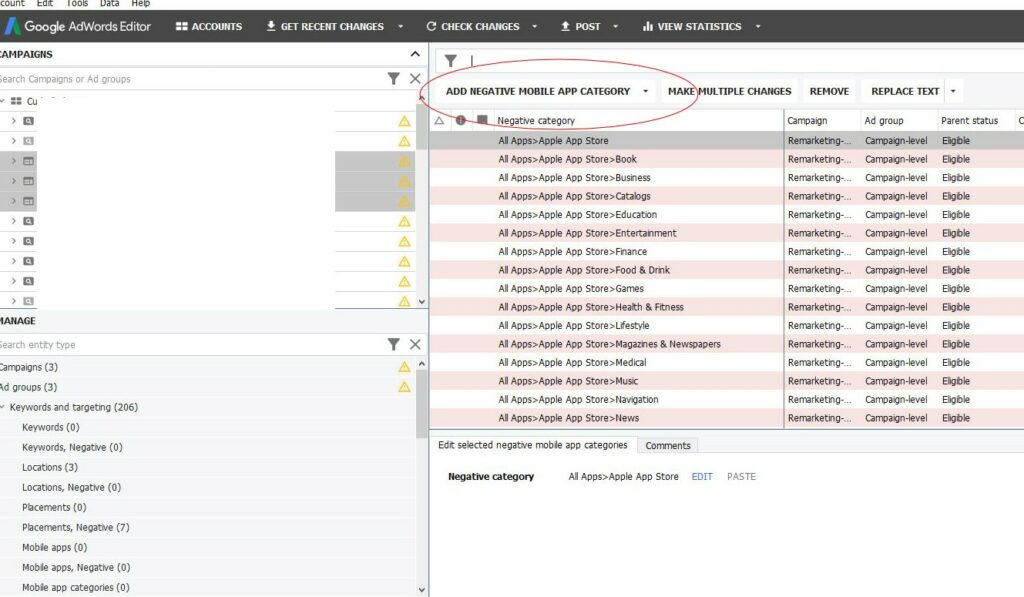 Step 3:
Select the campaigns for which you want to exclude mobile app placements.
Step 4:
Select "All apps" and "OK".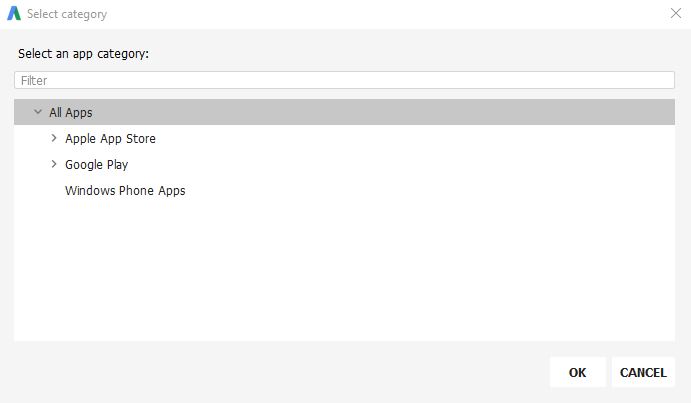 Step 5:
Double check your changes and don't forget to post!
Feel free to go through the app categories to see if any of them make sense to include in your campaign or ad group. However, if you choose to do this we strongly recommend starting with a small budget and watching spend and conversions closely.
And there you have it! A simple solution (for now) to avoiding errant mobile app clicks!
---