Are you getting the most out of your Shopify site? We've run through a handful of strategies to improve engagement, retention, and ultimately…sales!
First Up: A S(e)ound Foundation
At the core of every successful e-commerce website is a search-optimized structure. Search engines consume pages differently than you or I do. They miss out on the context of images and the thoughtful design touches that you took so much time tweaking in your theme. Instead, they dissect content based on a variety of factors or signals found on site's pages. It is important to ensure that both customers, and the search engines your customers use to find your site, understand your site's content. Enter search engine optimization, also known as SEO, a strategy to help search engines determine a site's purpose. Optimizing for organic search is the practice of tailoring quality site content around the product, service, or topic offered to increase organic, or non-paid, traffic to said site via search engine results pages.
Many ranking factors influence organic search success including content, site architecture, authority, links, and much more. While Shopify automatically handles much of the technical site architecture optimizations, you have control over the content you write and product organization you employ. Search engines aim to deliver the most relevant results to entered queries; writing unique, quality content while aligning your product titles, descriptions, and categories with common language used to find them is a great place to start.
Looking to learn more about SEO best practice? Check out the Periodic Table of SEO Sucess Factors from Search Engine Land for a basic overview of the importance of different factors. For a deep dive on many of the factors mentioned in the table, Zippy has a thorough guide of over 100 success factors ranked by significance.
Product Perfect
Showcase your products so they will sell themselves! While this one might seem a bit obvious, it tends to be overlooked. We've worked with several companies that carefully craft incredible products, but fail to translate that wow factor to the web. Sadly, these uninspired product pages fail to bring their products to the masses.
If you're new to Shopify, don't fret, just yet. Shopify's diverse theme library is a great starting place to let your awesome shine. From bold picture-heavy layouts, to tightly organized detail-rich layouts, you'll find a theme that suits your product as if it were custom built to your liking.
For sites new and old, here's a checklist of our product listing must-haves:
Product Images – high-quality with

many

angles

Detailed descriptions – speak to the

unique

benefits of your product

Features breakdown – put it all on the line, tell them all the features your product boasts, whether they're unique to your product or not (Folks want to see that yours is better

and

that it does what the competition can, too.)

Pricing clarity – if it changes based on volume or color, make that prominent
Sizing – if applicable
Product specs – dimensions, weight, etc.
Return Information – the condition of returns, a time frame for returns, etc.
Shipping information – response time after order, etc.
Bonus round:
Product reviews – someone will always have something to nitpick but don't fear – if your product truly rocks, and we know it does, the positive reviews will speak volumes beyond your marketing messaging
Sizing charts – whether you're selling shoes or tapestries, delivering a sizing guide is a helpful tool for interested customers
Videos – how to use the product or how the product was prototyped/designed
Accessories – what makes your product even better?
Special details – warranty information or money back guarantee
Give your product pages an audit – we've created this handy checklist to make sure you get your product listings right each time, the first time!
Subscribe & Save
Q: What's better than a new customer order? A: Those orders coming in on a recurring basis.
While this might seem like a saturated tactic used across many major retailers, it is a fantastic way to secure customer retention and grow the lifetime value of a customer. Subscribe and save generally provides a discounted price (think on the lower side – 5-10%) in exchange for a recurring order agreement with customers. As a retailer offering the auto-order service, you can customize the delivery frequency selectors, unit sizes available for auto-order, and the products that qualify for the service.
Our favorite Shopify subscribe and save platform is called Subscriptions developed by ReCharge. It is a user-friendly plugin that cleanly integrates with your theme of choice. Offering flat-rate pricing only – others charge a percentage of each order on top of their monthly rate –  and a free 60-day trial, it is a cost-effective way to try out the subscription model.
Revive The Cart
While automation is all the rage right now, it is an effective marketing tool when set up with intentionality. For Shopify DIYers, email automation can eliminate the need for another full-time staffer. From an abandoned cart email to a welcome series, email marketing is a cost-effective way to create incremental revenue for years to come, with minimal extra effort beyond initial setup. While a welcome series is a fun way to engage, excite, and educate first-time customers, we've seen particularly impactful results from abandoned cart emails – so if you want to move the needle, start there.
So, what is an abandoned cart? It occurs when a user adds an item to their cart, enters their email address in an early step in the checkout process, but exits before submitting payment information. Email automation aims to win back that customer and is especially beneficial if you are already paying for traffic.
Shopify can send out a single abandoned cart reminder email by default, but you cannot customize the email with offers or give it your brand's design flair. Shopify and MailChimp have an excellent integration that allows Shopify retailers to override the default abandoned cart email, customize the email template, and send via the MailChimp platform. If sending less than 12,000 emails a month, you can run your MailChimp abandoned cart automation at no extra cost!
Got Tracking?
Shopify does, but the reports are a bit elementary. Creating a Google Analytics account is free and integrates beautifully with Shopify.
One of the most beneficial Google Analytics reports for growing e-commerce sites is the site search report. Found under Behavior > Site Search > Search Terms, site owners can monitor a detailed list of search terms that were attempted on the site.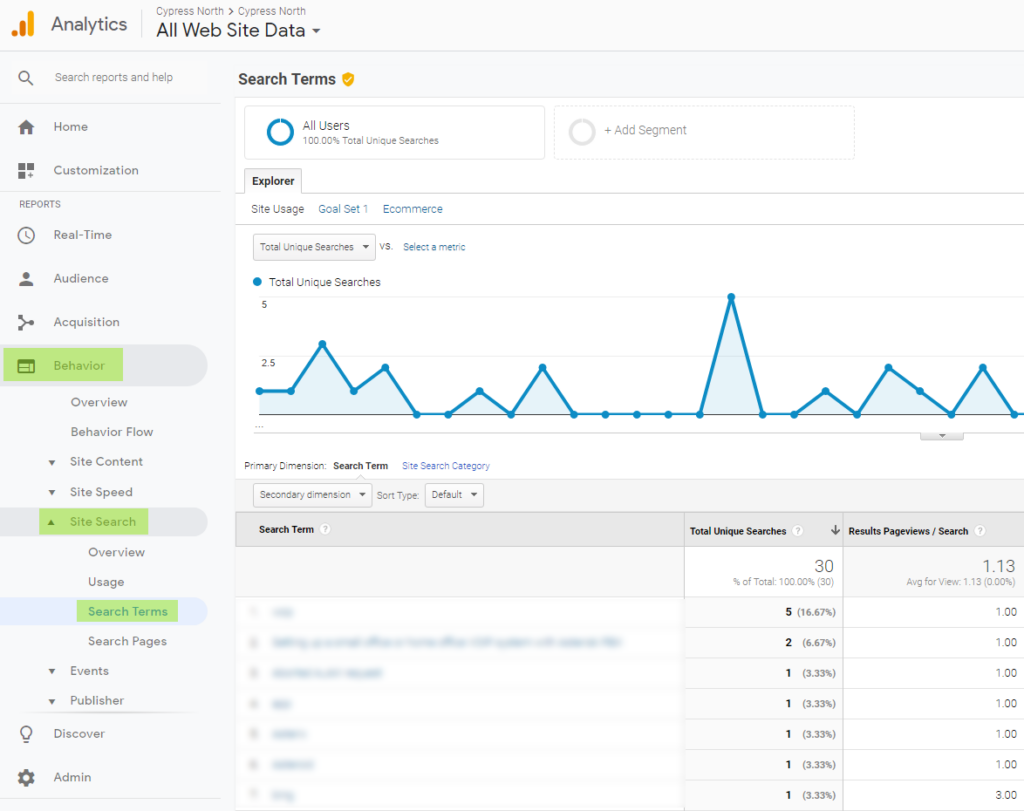 The more history the better, as patterns start to unfold in what folks might be looking for (and potentially not finding). For example, you might find 27 searches in a 3-month span for "maroon hoodie", but you only sell grey, blue, olive, and black, it might be worth sourcing and offering maroon!
Side note: The Google Analytics site search tracking feature isn't enabled out of the box, so be sure that you head to your view settings to configure!
Pay To Play
The organic efforts mentioned in the first section are designed to build value in the long-term, but sometimes you just need to sell NOW. Pay per click (PPC) search ads are a great way to increase quality traffic with high purchase intent at a low cost. Product listing ads are a unique type of visual search ad that includes a product's image, price, and merchant details. Currently, they are the only type of ad that shows images in search results.
Running product listing ads can help you display your products at the top of search results the exact moment people search for them without having to wait for those organic ranking improvements to kick in.
Before you set up your shopping campaigns, you must create a Google Merchant Center account that will house your product feed including images, descriptions, specs, and pricing. All of these product details can be automatically uploaded from Shopify using the Google Shopping Feed plugin.
Once your feed is linked to Shopify, setting up a shopping campaign is straightforward in both Google and Bing Ads. Conveniently, your Google Merchant Center product feed works in Google Ads and Bing Ads, and your products are automatically eligible to show on queries that match the products you sell once the campaigns are turned on
Conclusion
Investing a bit of time and effort into the tactics above will help kick-start your Shopify site in the journey of reaching its full potential. If you're looking for help on setting any of these tactics up, we're here to help! Hit the button below to tell us about your project and unique needs.
Have any other simple steps when setting up a Shopify site? Sharing is caring and we'd love for you to join the discussion in the comments below.
Refer to these six strategies anytime by downloading our handy product listings must-haves checklist!