Learn What Metrics to Include in PPC Reports. Then, Download Our Free Data Studio Dashboard Template!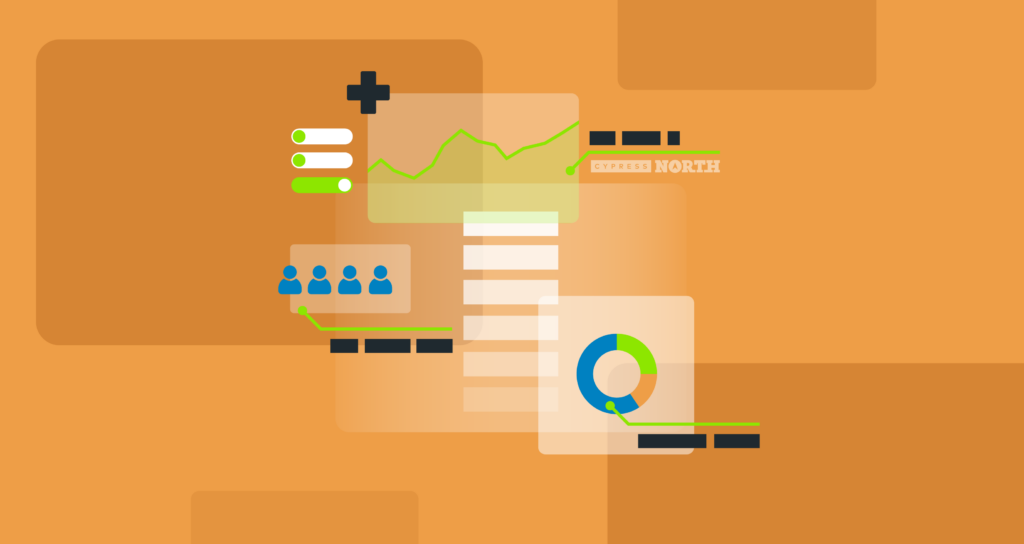 Let's be real, pay per click advertising is all about data.
What campaigns are bringing in the most revenue? What landing pages are converting the best? What keywords are underperforming?
Sometimes, seeing endless rows of data can get overwhelming, making it harder for you to analyze and draw conclusions. To combat analysis paralysis, a sound PPC dashboard can be a lifesaver when you need to digest data.
Luckily, Google Data Studio makes it easy for PPC advertisers to turn their data into an easily digestible story, giving marketers better insights into performance.
So, how do you get started? What metrics should you include? What do you need to do to tell a story with data?
If you're intimidated to use PPC data to create dashboards or don't know where to start, you're not alone… but that is about to change! In this post, you'll learn how to create a standard PPC dashboard to use as a jumping-off point for PPC reports.
At the end of the blog, I have a free digital marketing Google Data Studio dashboard template you can use for your own reporting needs.
Why Use Data Studio for PPC Reporting?
There are plenty of data visualization tools available. Some of the most popular tools are Tableau, Power BI, and Data Studio. They all have different learning curves and reasons to use each.
If you're not a data viz whiz (or in some cases, even if you are!) There is one tool that is perfect for getting started: Google Data Studio.

For many digital marketers, their go-to avenue for reporting is Data Studio. If you've never created a dashboard before and/or your company isn't tied to a BI tool or don't have a budget, then, Data Studio is your best option.
Even better, it's absolutely free and integrates with Google Ads and Google Analytics. With the help of third-party connectors like Supermetrics, Data Studio can also integrate with other PPC platforms like Facebook Ads, Microsoft Advertising, LinkedIn Ads, & more!
Knowing the Audience for Your Reports
Understanding your audience is key to any data visualization project. You can create a robust dashboard – but if your audience doesn't want that granularity it won't be helpful. If your dashboard is too high-level then it won't be valuable to those in-the-weeds looking for detailed stats. Similar to writing, understanding your audience is necessary to develop a clear message.
I've noticed that different types of audiences focus on different types of data. For example, someone who's C-Suite might care more about how the business is doing overall instead of looking for what's the best performing copy.
In comparison, managers or specialists might focus more on granular data, like campaign performance. A campaign that's generating clicks but has a lack of conversions is clearly a problem, and a dashboard could help the advertiser identify whether the issue is with keywords, targeting, or creative.
No matter how good your dashboards are, if they're not made for the right audience, it'll bring up more questions than answers.
For the purpose of my examples below, I'll be using Google Ads' sample dataset and I'll be building dashboards for managers to help them track performance across campaigns.
What to Include in a PPC Dashboard
High-Level Metrics
A good dashboard has high-level metrics that are easily visible to show this we'll be using sample data to show in action. Some of these metrics include:
Ad Spend (Cost)
Impressions
Clicks
Conversion Rate
Revenue
ROAS
This section is one of the most important parts of a dashboard because it gives a quick snapshot of how an account is performing. Instead of having to go to different ad platforms or lose time by pulling up a calculator to get conversion rates and ROAS, the dashboard pulls all of the data for you. This gives you more time to analyze and strategize.

In terms of best practices, a scorecard is the standard chart for these metrics. Scorecards focus on a single metric and provide a quick way to track KPIs. This allows you to compare performance against your goals and give you high-level performance insights.

Campaign Overview
After establishing your high-level metrics, use visuals that show the granularity of your data. If you're presenting a campaign overview to a manager, it might be helpful to showcase which campaigns are succeeding and ones that require attention. The data I include in this visual are the following:
Campaign

Cost
Impressions
Clicks
CTR
CPC
Conversions
Conversion Rate
Revenue
ROAS

Tables work perfectly for this type of data. I like using a heatmap on some metrics like the conversion rate. In the screenshot above, we can easily see how one of the campaigns has an extremely high conversion rate of 323.69% compared to other campaigns.
Advanced Tip: If you're trying to showcase an ad platform overview across platforms, like Google Ads, Microsoft Ads, Facebook Ads, and LinkedIn campaigns, don't forget to blend your data!
Other Dimensions and Metrics to Include
Depending on what your goal is with the account, it's worth looking into adding other metrics and dimensions to your Data Studio Report.
As digital marketers, most of our job consists of testing, testing, and you guessed it, more testing! If you're doing an A/B Test on landing page performance, add in your Final URLs.
Or, if you're testing different audience targeting in your accounts, you might want to add this dimension to evaluate audience performance in your campaigns.

Another dimension to consider is device type. Knowing which devices your audience are on (and how performance varies based on device) can help guide you on how to improve your site experience and adjust cpc bids.
If you have an account with Supermetrics, you have the ability to extract information like ad copy performance, bid strategy type, target location, and many more.

There are a wide variety of dashboards you can make with different combinations of metrics and dimensions. From demand generation to e-commerce, not every dashboard will be the same.
Executive PPC Dashboard
Speaking of different types of dashboards, earlier I talked about a manager PPC dashboard differing from a C-Suite PPC dashboard.
C-suites might not have a lot of free time to get into the weeds of the data. It's important to keep your dashboard very high level. Metrics you should include for an executive are the following:
Ad Spend (Cost)
Conversion Rate
Revenue
ROAS
Comparisons are really important here because these executives might not see your dashboard frequently. I usually see these metrics compared against last year's data.
Here's what a C-Suite dashboard would look like.
Notice how I changed the campaign overview to only show the top 5 Performing campaigns, omitted the device breakdown, and gave directions like "Filter by" on the report? Someone who's not familiar with Data Studio or doesn't use it frequently will appreciate these quick and short directions.
Summary Sheet
After attending a virtual conference for data visualization, I learned how having a summary sheet can help you and anyone else who views your dashboard.




A summary sheet can contain items like any calculated fields used in the dashboard, and or definitions. This helps your clients answer some questions they may have. This acts as an overall legend for the report.
Helpful Data Studio Resources
To help you succeed in your Data Studio endeavors, below are some helpful resources I've come across:
Free Google Data Studio PPC Dashboard
See? Creating a PPC dashboard doesn't have to be daunting. Remember, the goal of a dashboard is to tell a story with the data. Seeing rows and columns of data can be a lot to handle. Data Studio can help you visualize your data so you can identify wins, find problems, and improve performance.

If you're interested in creating a dashboard with the metrics and layout I provided, you can access the Cypress North PPC Dashboard Template by filling out the form below. Don't forget to change your data sources to the ones you want. Happy dashboarding!
Access the Template