If you've landed on this article, it's likely you need help with creative services for your business and are trying to figure out if it's best to hire more staff or work with a creative agency.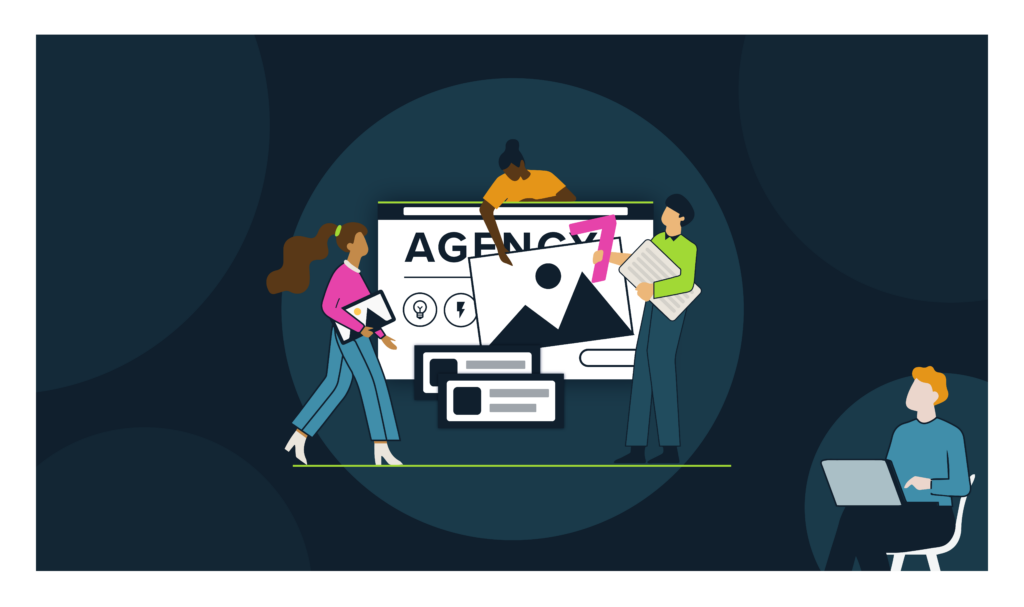 I'll admit – as the creative director at Cypress North, I'm a bit biased when it comes to this comparison. If you're looking for an article on why you should hire a full-time employee, this isn't it. But if you're looking for straight facts on the benefits of hiring an agency for your creative design and branding needs, I'll break them down here.
So why should you hire an agency instead of a full-time employee? There are seven main advantages you get working with a creative agency: Skill set, hours, collaboration, longevity, scalability, cost, and involvement.
More skills at your disposal
There's a big difference in the skill set you get when you hire a creative agency vs. the skill set you get from a full-time creative employee. When you hire a graphic designer, for example, you get their specific skills – which may be graphic design and illustration. When you hire a creative agency, you get a team of individuals specializing in a wider variety of creative skills that includes – but is certainly not limited to – graphic design, web design, print design, video, photography, editing, illustration, animation, branding, and strategy.

At Cypress North, our creative team also collaborates often with our other teams within the agency to support creative efforts using software development, data analysis, digital marketing, social media and more. When you look at it, hiring a creative agency is really like having the skills of 25 or more people from four different departments at your disposal instead of one person with a specific skill set.
Flexible hours to fit your needs
When you hire a full-time employee, you're paying them to work 40 hours a week. But what if there's not enough work for them to fill 40 hours every week? Or, on the other hand, what if your full-time creative employee is so busy that they can't think about or implement any new efforts?
A creative agency can help you in both scenarios.
Rather than having to pay an employee for 40 hours every week, regardless of workload, creative agencies offer flexible solutions to service your specific needs. With most agencies, you can get started by bringing them on for as little as 15 to 20 hours a month. Compare that to paying for 160 hours a month for a full-time employee.
Having a retainer with a creative agency also means you get the freedom to allocate hours wherever your needs are. You may have more graphic design needs one month and then need more website updates or digital marketing efforts the next month. Creative service agencies can pivot quickly to meet your business needs. You'll also have the ability to use any leftover hours at the end of each month for something new, or roll them over into the next month.
If you have a full-time employee that has a full plate, and don't feel like there's enough work to justify hiring another creative employee, agencies can help with that too. We love working with your team. Two heads – or 25 – are better than one, right?
Collaboration is key
Collaboration is important to success, and there are two different types of collaboration you benefit from when you work with a creative agency.
Collaboration between the agency and your business:
Working with an agency is not meant to be a "this or that" kind of relationship. Do you have a creative team or an employee on staff now? Most of the time, they can't do it alone. Creative agencies love working with in-house design teams – and they love working with us! That collaboration allows you to fill gaps in your team's skill set and tackle more of your goals. We're here to support whatever your needs may be and want to see you succeed.
Collaboration inside the agency:
When you hire an agency for your creative needs, you don't just get access to the services of the creative department. You also get the ability to work with individuals from other teams within the agency. The goals you have today will probably change in the future, so having support and a wide range of skills available is important.
Most agencies have multiple departments that work together to reach specific goals. For example, Cypress North has creative, marketing, data, and technology departments – and each one offers a different variety of services. Our agency's internal collaboration allows us to create, implement, market, and test the work we create for you.

Longevity that helps exceed goals
Whether you decide to hire an agency or a full-time employee, you can expect a learning curve. The benefit of working with an agency is you don't have to deal with turnover, which is high in the modern job market.
If you hire a full-time employee and they decide to eventually leave, your business is left without the creative services that person was providing. You'll then take on the responsibility of not only filling the position, but also having to start the learning process over again with a new employee.
When you hire an agency, however, there is no time lost. Even if the team you're working with changes within the agency, the agency as a whole is set up to make sure all teammates are up to speed when creating deliverables. As an agency, we learn your business inside and out to become a part of your team or, as we like to say, an extension of your team. This is valuable for the longevity of your brand efforts.
Scalable services for changing needs
As your company grows, your goals and needs will grow as well. If you're only working with a full-time employee or internal team, you'll need to hire staff to support growing efforts. That can end up being costly and time-consuming with interviews, hiring, training, and management. A creative agency, on the other hand, will essentially become part of your team and will already be up to speed on your goals, which means they're ready and able to scale quickly to meet your needs.
Now let's talk about the opposite scenario – maybe you need to scale back your creative hours. You can easily reduce hours with an agency, but with a full-time employee, you're paying a salary – no matter how productive they are.
Regardless of what changes you may be going through, agencies are well-equipped and always prepared to scale to meet your company's needs in almost an instant.
Cost-effective creative solutions
When you hire a full-time employee, you pay that person a salary for 40 hours a week plus vacation days, sick days, insurance, benefits, equipment, and sometimes more.
According to Glassdoor.com:
The average salary range for a Graphic Designer in the U.S. is $47,000 – $67,000 a year
The average salary range for a Senior Graphic Designer in the U.S. is $71,000 – $90,000 a year
The average salary range for an Art Director in the U.S. is $75,000 – $120,000 a year
When you think about the fact that your in-house team will probably require two to three people to cover the skills you need, that's where the cost really adds up. Not to mention the overhead expenses and administrative costs for each employee as well.
Depending on your services and needs, you can get started working with a creative agency for as little as $3,500 a month, or $42,000 a year. The average creative retainer usually costs between $7,500 and $13,000 a month, or between $90,000 and $156,000 a year.
Keep in mind – when you work with a creative agency, you get the skills, experience, and expertise of 25 or more individuals for basically the price of one full employee. It also erases any costs associated with recruiting, hiring, onboarding, and training a full-time employee, as well as mitigating any risk of a bad hire or any production loss that could result in you not reaching your goals.
Another benefit you get with a creative agency is the ability to decide the length of the partnership. Whether it's three months, six months, 12 months, or even a specific amount of hours – the ball is really in your court. When you have a full-time employee, it's much more complicated to terminate employment if your needs change.
Also remember that you only pay an agency when they are working for you. A full-time salary requires payment whether the employee is working for you or not.
Choose your level of involvement
Hiring a creative agency takes a lot of weight off of you. Agencies give leaders the freedom to take a hands-off approach and focus on other aspects of their business while resting assured that work is being done and goals are being met. Having an in-house team means you have to dedicate valuable time to training and managing those employees, as well as handling other administrative tasks.
Once an agency knows your business, mission, and goals, your agency team will create, implement, and test the agreed-upon plans. You'll still have the benefit of complete control over the goals and plan that's set forth, but the agency will handle it from beginning to end, only including your team when needed. You really have the flexibility to be involved as much or as little as you please.
If you already have an in-house employee or team, you can still benefit from a creative agency. Your employee can be the agency's point person within your company, leaving you with even more time to dedicate to other business efforts.
The bottom line: Agency vs. employee
While there are definitely some pros to hiring a full-time employee for creative services, the advantages you get when hiring an agency largely outweigh the benefits of paying for an in-house worker.
In conclusion: Reach out to the agency you've been looking into… conversations are free!
Interested in speaking with Cypress North's creative experts? Schedule a free 30-minute audit!