If you're searching for a creative agency to work with your organization, or trying to decide between a few different agencies now, you're probably trying to figure out whether a small or large agency is the right fit for your needs.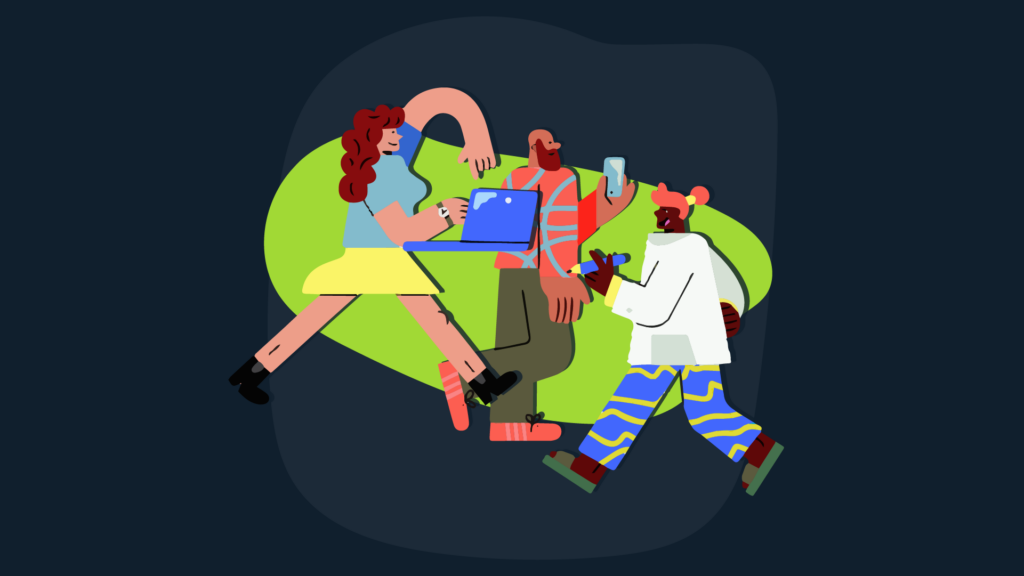 Whether you're not familiar with the benefits a small agency can offer (that a large one can't) or you're not sure if a small agency can meet your needs, this blog post explains why it's sometimes those smaller agencies that yield the biggest results.

Flexible, Agile, & Adaptable
Have you ever had an emergency edit that kept you up all night because you were so worried about it? If you work with a large agency and contact them about edits like that, chances are you'll have to wait a few days to get it done – especially if it involves work they outsourced.
With a small agency, on the other hand, the team can usually hit the ground running and have the edit done in little to no time. You'll most likely know the team well enough that you can reach out directly to the person who can make the edit rather than having to go through an account manager who will need to assign it out, which takes more time and can delay the project.
Keep in mind, small agencies constantly update their processes and adapt to different situations and projects to ensure they're achieving the best outcomes. Large agencies typically have a process they know and stick to it.

Part of Your Team
When you work with a large agency, you'll likely only be in contact with a main point person or account lead. With small agencies, you're not just in contact with one single person for your entire project. You're in touch with everyone working on your content.
Smaller agencies pride themselves on becoming an extension of your team. At Cypress North, for example, we know every client's team and they know ours. Our clients know who works on what, and who they can reach out to with questions, comments, or concerns.
Becoming part of your team is important to us because it means better, faster results for you. Having a direct, open line of communication with the right people helps prevent games of "phone tag," which means project timelines are accelerated and goals are accomplished faster.
Working with a small agency that becomes part of your team also provides longevity and sustainability. If someone on your team resigns or you add a new employee who needs to be trained, a small agency's team is there to fill any gaps while your team gets up to speed.

Talent
On paper, it may seem like large agencies may have more employees and resources than smaller agencies, but times have changed. Being able to hire specific temporary talent for needs is readily available.
Small agencies strive to hire multifaceted creative experts. Creative teams are made up of people with skills in many areas who are capable of handling multiple aspects of a single project. This results in a seamless and cohesive end product.
Something a lot of people may not consider is that when you choose to work with a large agency, you're most likely not going to be working with the top creative employees unless you're the highest-value client. When you work with a small agency, you get to work with their top talent every time.
Another major benefit of working with a smaller agency is the partnerships you'll have access to beyond the talent of the creative team. When you work with a small or boutique agency, you're not just getting access to members of their direct team. You also get to benefit from the relationships they've built with other agencies and freelancers that produce specific work. For example, some agencies may have a portfolio that consists of video work, even though they don't have a specific employee dedicated to video projects. That means they likely have a partnership with a trusted agency or freelancer.
Culture & Transparency
If you've ever visited creative agency websites, especially small agencies, you've likely seen the "We are a family" statement on more than one "About Us" page.
While that's not technically true, smaller agencies like Cypress North do spend a lot of time together. When you have a smaller team, the team members are more involved with each other than they are at larger agencies where people aren't as familiar with each other and how they work. From a client perspective, wouldn't you want to work with a team that's close and knows how to work together to create the best deliverables?
Small agency teams are full of real personalities – and they're not afraid to bring their real selves to client meetings. They're honest and transparent, which saves clients in the long run because they know what's going on with every step.
While larger agencies may be limited by corporate crutches and rules, smaller agencies don't have those kinds of communication restrictions. That means clients have more freedom to speak with their agency in whatever way makes them most comfortable.
Better Value
It's no secret that a large agency isn't as cost-effective as a small one – but why is that, exactly?
First, there are differences in overhead costs for running the agency every day. Smaller agencies have lower overhead costs because they have fewer employees and smaller offices. This allows them to be more competitive with pricing.
Larger agencies, on the other hand, have much higher overhead costs because they have bigger teams and might even be spread across several locations. With more employees to pay and more offices to maintain, they usually have to charge much more than smaller agencies.
Attention
Because larger agencies have so many employees, most teams will be split up and working on multiple projects at a time. So you never know which team you'll work with from a larger agency, which skills they excel in, and their level of experience.
When you work with a smaller agency, however, you get the best team every time. You'll also have the team's full attention. They'll work to become a valuable part of your team through processes like discovery, strategy, positioning, and more. Once your small agency team gets to know you and your organization, you can depend on them like you would your own employees.
Smaller agencies are also known for going above and beyond to help their clients reach their goals, rather than just sticking to the agreed-upon terms.

Custom Solutions
Large agencies cover a wide range of services and typically don't bring on clients for just one project. They usually like to work with clients who need several different services.
On the other hand, smaller agencies offer a much more customizable experience. Small teams usually have specialized services they excel in, and are capable of taking on small, medium, or large projects. Whether you're looking for a one-and-done project or a creative retainer, small agencies have the skillset needed to deliver on every project.
---
The bottom line: Should you work with a small agency or a large agency?
At the end of the day, it's important to remember that when it comes to creative services, bigger isn't always better. While there are some benefits to working with large creative agencies – and even some scenarios where it makes the most sense – you don't want to make the mistake of overlooking smaller agencies.
From flexibility and culture to attention and specialized talent, there's a lot that a small creative agency has to offer that larger agencies may not be able to. So if you're looking for a creative agency that will give you their full attention, integrate seamlessly to become a part of your team, and can adapt and scale to meet your changing needs, you should work with a small agency – like Cypress North. We're lean by design so all of our clients get our "A Team" and have access to our collaborative services.
Ready to take your brand to the next level with creative services?