A few months ago, we implemented a formalized internal structure for our client teams, designed to help us better serve and manage accounts. It's a move that's been well-received, both internally and externally, but one that took us a while to arrive at. Now that we're in it, it's hard to believe we ever operated any differently. But we did… for a long time. So why the change?
Growth.
Our agency started small, and back then our organization was completely flat. Everyone chipped in on every project as needed, and the work got done. That was fine for a while, but as our team, our clients, and the work we do for them have all grown over the years, a need for more structure has naturally emerged.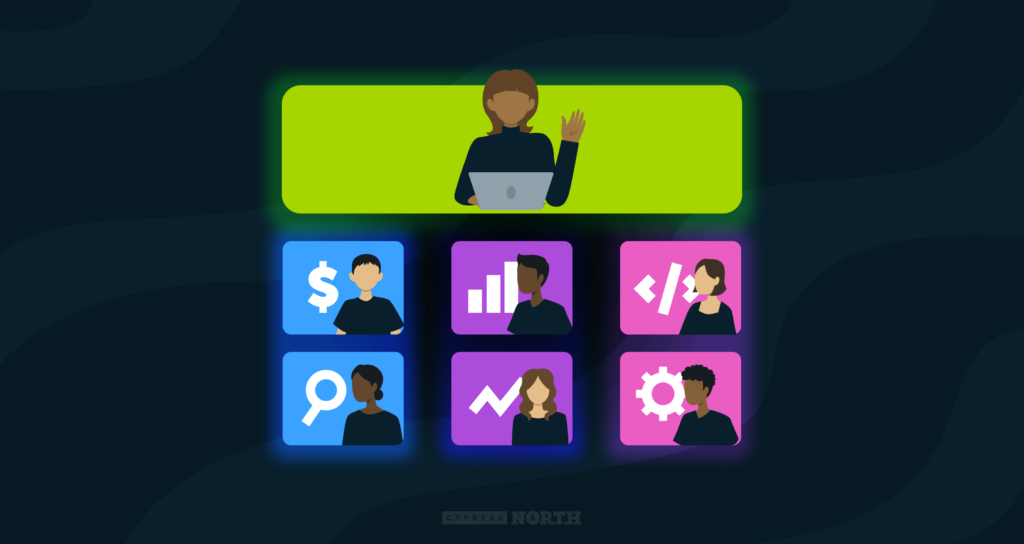 Experimenting with Structure
We've tried a couple of different things, as far as managing the workload goes. One experiment we tried on the marketing team was something we affectionately called the "pod structure." Each pod was made up of a small team that all shared the same accounts. Some people would spend more time on a specific project than others, but the idea was that everyone in the pod would bounce between clients as needed.
It got the job done, but we found one major drawback: it unintentionally stifled growth. Working across so many different accounts made it difficult for anyone to take ownership of their work. And working with the same team on every project meant that folks weren't exposed to as many different skill sets and management styles – both of which are critical to professional growth.
It was clear we needed a new system. So we shifted our thinking.
For starters, the pod structure really only impacted the marketing team. But many of our clients aren't just marketing clients, they work with multiple departments. We needed to think bigger. And the answer was right there in front of us, really.
Dedicated Client Teams
While not on paper (yet), we've always unofficially operated in a way that facilitates collaboration between departments, yielding great results for our clients due to the additional context we're able to provide each other internally. We've found that a lot of the time, we see more of the goings-on at an organization we work with than some of our contacts there – purely by being so deeply involved in their initiatives. We're at our best when we work that way; why not make it the norm?
Enter client teams. Not as sexy a name as pods, but who cares. It's not about the name, it's about how it works.
And how does it work? Simple. Each client has a dedicated team working on their account, with subject matter experts and support staff in each vertical we're scoped for. Overseeing it all is an account lead, who is ultimately responsible for coordinating efforts across teams, driving results, and ensuring client happiness (essentially, the conductor of the orchestra).
Here's a real-life look at how we operate for one of our clients: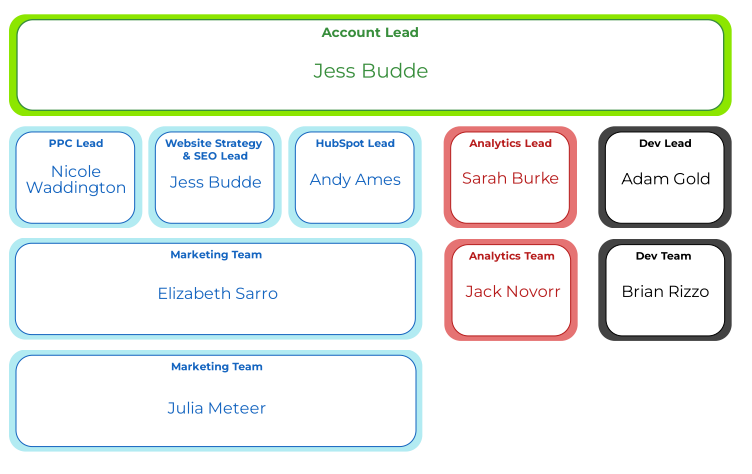 This structure allows everyone to focus on their work but prevents that work from happening in a vacuum. The account lead is responsible for guiding overall strategy and facilitating knowledge sharing between departments. If a development project has SEO implications, we can flag that before it's too late. If the data team finds an interesting behavioral pattern in one of their analyses, we can share those learnings with the team running ads.
Collaboration happens naturally around here, but having a high-level view of everything we're doing for a client allows us to work even better together, and more efficiently.
Quick pause for a second: FWIW, the client teams aren't tied to our departments' organizational structures, specifically. Titles don't matter – it all comes down to who is available, and who has the expertise needed for the project. This is how the new system fosters growth for our team while allowing us to be agile enough to handle incoming projects, changes in existing retainers, etc.
So How's it Going?
We've now implemented this structure for all clients, big and small; every account has a dedicated team. And people seem to like it so far!
Clients are happy because the new structure provides:
A dedicated go-to person who has all the context, status updates, and can field requests
A dedicated team of experts, along with a visual representation of exactly who is working on what
Better visibility and clarity into all projects and how they may impact each other, which is especially helpful for accounts with multiple stakeholders
With people being closer to their accounts, they learn the products and services better, making it easier to market them and engineer better solutions for the end user
The shift has been well-received internally, too. We've heard from multiple people that the new structure allows for more learning opportunities across disciplines, supports flexibility and variety in day-to-day work, and that being more involved on fewer accounts promotes confidence, proactivity, and an increased sense of ownership over results.
It helps us work better on client accounts, and as an agency overall because:
Everyone knows what they're responsible for, and who they can turn to for help
You get to see an entire project through rather than jumping around to help with smaller tasks, instilling ownership and pride in one's work
The entire team has the history and context to better plan for future initiatives
There's no playing telephone – if you're on the client, you're in the meetings
Managers can keep a closer eye out for scope creep, and sales opportunities
Increased visibility into current efforts and things on the roadmap makes it easier to manage department capacity and plan for new projects
In just a few short months, we've seen a big difference, particularly in larger accounts with a lot of moving parts.
Projects are smoother, work gets done faster, and teams on both sides feel better supported. It's a win-win.
Looking for an agency partner to have your back? Let us know how we can help!