When looking for a digital marketing agency for your business to partner with, there is one essential question you need to ask.
"Can this agency give me the results I need?"
But as we all know, there are many other factors that can have weight in the decision-making process. One of these factors is the size of the agency itself. How large is the team? Will the number of employees affect the work?
In this article, you'll learn what to consider from a size standpoint and how numbers can affect quality and performance for agencies.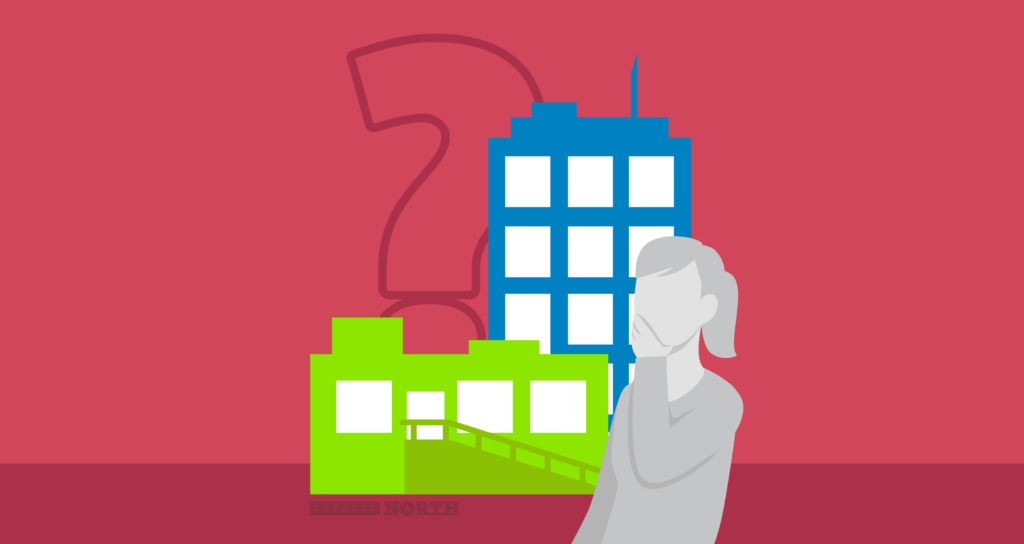 In nearly every RFP we receive, one question asked is how many full-time employees we have … and it's a great question. However, the answer may not be as black and white as you may think. Some agencies don't actually employ specific departments (like development or video) and instead contract out the work. Other companies may have so many layers, hierarchies and expenses that you end up paying for their overhead and not getting as much for your money.
In my experience, each decision maker has their own opinion about whether they want to work with a large or small agency and it is helpful when I can ask what they are looking for when they ask that question.
If you find yourself inquiring about the size of the agency as you approach your search, ask yourself:
Have you ever had an issue with an agency in the past of a certain size?
Do you have specific concerns related to employee count that we can address?
Why This Matters
A great example of why this is important is an opportunity our agency had last year. Unfortunately, we didn't win the business after the pitch process because the company felt more comfortable working with a larger agency.
This was disheartening to hear after we spent so much time working with their team, developing recommendations, putting together proposals and meeting to present them. This opportunity arose from a relationship with a member of their team who had worked with us in the past, but the lead decision maker had a previous bad experience with a small agency. Since we didn't know that, we weren't able to alleviate her concerns.
At the time, we weren't the right fit for this team simply because we weren't "big", which is completely fine. It is important to know what matters most to you and have honest discussions during the process. Since then, the aforementioned client decided that "large" stopped being a critical factor and has since given us the entire account.
Know your core requirements and value them appropriately.
Myths & Truths About Agency Size
Financial Stability
Some think that bigger means more successful or stable, which isn't always true. In smaller agencies, there are other metrics for perceived stability, like years in business and employee turnover.
Service
Some folks think they need to work with a smaller boutique agency to get personalized service, while others think that with a large agency (and more people) they'll get better service. Unfortunately, there isn't a right or wrong solution to this problem. To get real insight into the level of service at an agency, ask which team members will be working on the accounts and who will be in charge of getting results. You likely want to feel like you are the center of your agency's world (and you should!). At the end of the day, consulting references is the only tried and true way to find out about service.
Executive Point of Contact 
To some companies, it is important to know the agency ownership or leadership team intimately. If you're working with a larger agency, this may not be feasible, especially if you are a smaller account. At a smaller agency, the owners may know each client and you can feel comfortable reaching out to the firm's leaders if you are having a problem. That being said, many times larger agencies' leaders may have a larger network and contacts that can prove to be beneficial when needed.
Capacity
It is valid to be concerned about the workloads of a smaller agency – how can you be sure they'll be able to handle the work? A smaller team may not have as much overhead to cover as a large agency would – leading to a more manageable workload. A well-run large agency with set processes and training may have more capacity due to the numbers. The only way to know is to have an honest conversation about timelines, workload and resources.
Turnover
Regardless of agency size, a company will typically work with the same team of people on their projects. If you have one main point of contact and that person leaves the agency, will you feel comfortable that there is someone else to lead the way? Asking about tenure can help shed light on the culture, team and talent that will be on your account.
Cost
Companies usually equate bigger agencies to being more expensive and smaller agencies to a lower cost. This is not always the case. While smaller agencies may traditionally have less overhead, it doesn't necessarily mean a discounted rate. Many agencies are moving away from a traditional time and materials pricing methodology in favor of pricing based on scope, deliverables, or value. Larger agencies may have "junior" and even "junior jr" staff that can be billed for a lower rate, but performance could be negatively impacted due to lack of experience.
Process
Often with a bigger agency, there are more roles involved in each project. You might have an account manager, a project manager, a copywriter, a creative director and a graphic designer, all involved in one campaign and doing their specific job. At a smaller agency, you are likely to have team members that wear multiple hats and a less structured or multi-layered process.
Right Fit > Right "Size"
My aim in this article was to shed some light on things that companies might be thinking about size when they hire an agency, not to persuade you one way or another.
The bottom line is, it is important to not make assumptions about an agency based on their size. The most important thing to consider in an agency relationship is whether they can get the results your business needs! After that, you can prioritize the other items that matter to you and ask the right questions to understand if they are a good fit.
I urge you to think about the stereotypes you hold about agency size and ask questions about what you are really looking for. There is not a one-size-fits-all agency out there and everyone deserves to find their perfect fit!
If you're looking for an agency to partner with, we'd love to discuss your goals. We are a tight-knit team of performance-driven marketers who are ready to help you grow. Contact us to discuss your SEO, content marketing, or digital advertising projects.