The digital world is ever-changing with no reason to slow down. New innovations and developments can be a great thing – but if you don't keep up with them, it could cause a lot of problems for your business and your goals.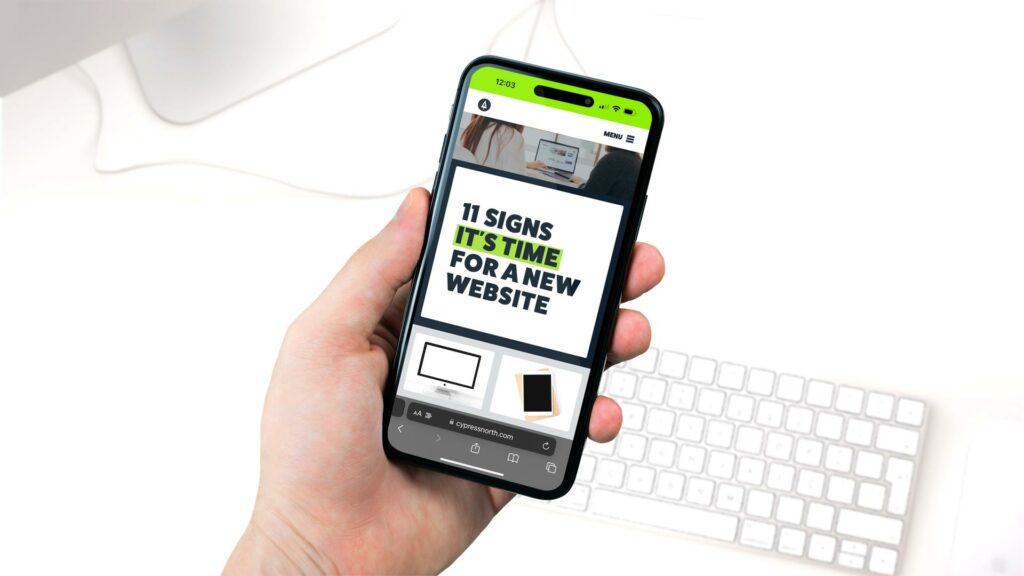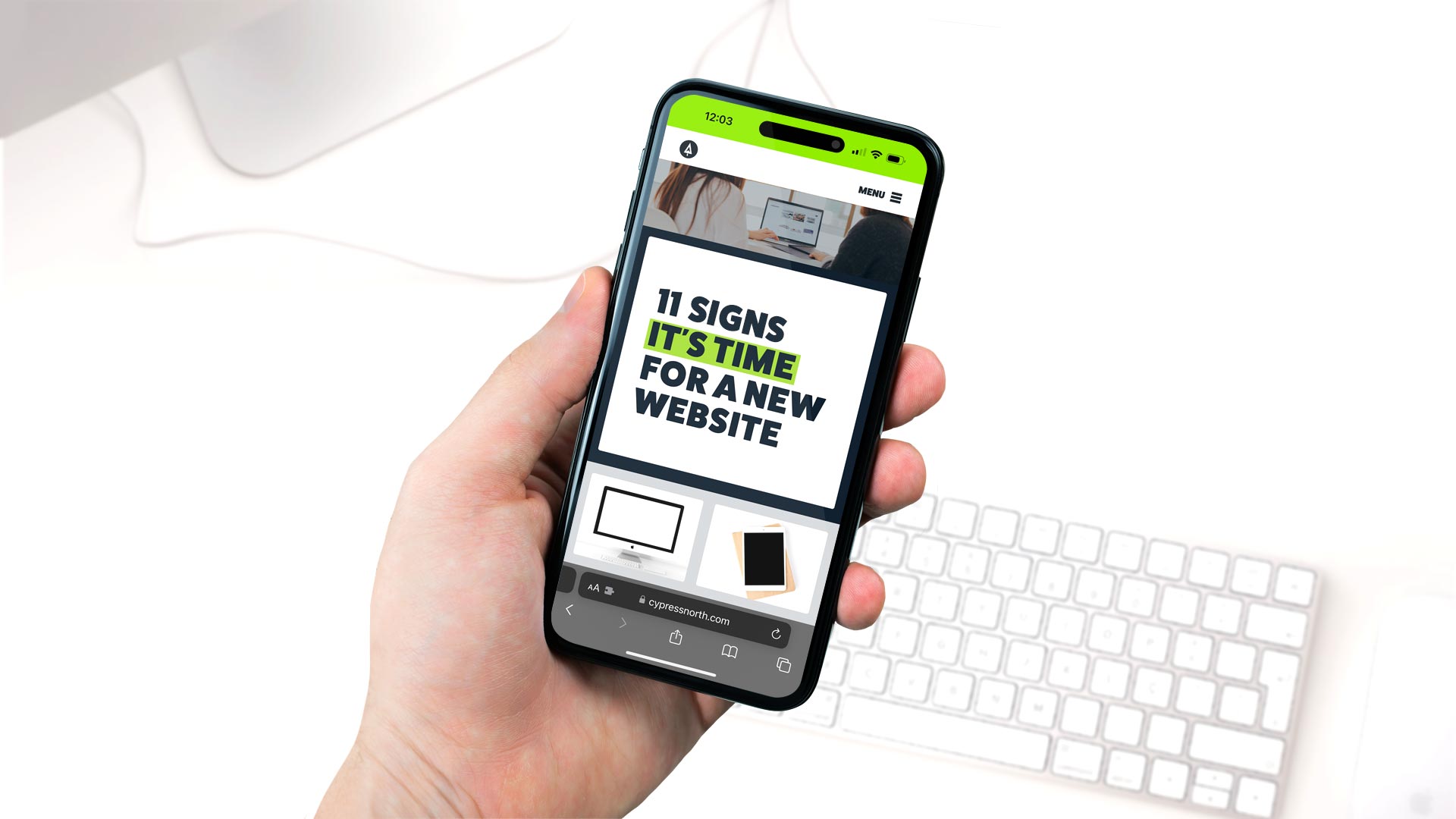 If you've landed on this blog post, you've probably already started to consider updating your website. Or you may be wondering – how do I know if I need a new website?
To make it easier for you to determine, we put together a list of signs that let you know it's definitely time for a website redesign – and why those signs indicate that you need a new website. If you think any of them apply to your current site, it's time to make some changes.
1. Your website's mobile experience isn't as good as the desktop experience
If you updated your site more than five years ago, chances are the mobile experience wasn't considered as much as the desktop experience.
But now, according to research.com, more than 58% of all website traffic worldwide is mobile. In reality, it's probably even higher.
Think about when you're sitting in the car, trying to find a restaurant. Or when something breaks in your home and you need a professional. You probably search for recommendations on your phone, check out suggested websites, and call directly from there.
Mobile-first design is so important because it meets your users where they are. If your mobile experience is broken and frustrating or there's a disconnect between what your brand looks like, you just lost a potential customer.
You should also keep in mind Google now exclusively uses mobile-first indexing, which means your mobile site is what Google crawls, indexes, and uses to rank your site.
If your site isn't mobile-friendly, or your mobile site doesn't include the same information as your desktop site, you may not rank as high as you should – so it's time for a new website.
2. Your customers aren't having a great experience on your website
The user experience on your website should be ever-changing to meet the needs of, you guessed it, the user. Your website should be easy to navigate and connect people with the information they're looking for. All of your links should work, forms should be easily accessible, and page speed should be optimal.
But your site should also work for you. Ask yourself: Is your website creating more work for you or less? Are contact forms being sent to the right person to be able to respond? Nothing is worse for a customer than filling out a form and never getting a response. Do you sell online, and is that process streamlined for your business?
Your site needs to both work for you and offer a great experience for your customers.
3. Your website represents the old you – not your current brand
Brands and styles evolve just like companies, industries, and creative trends. Sometimes when those evolutions happen, your website is the last thing to be updated.
It could be because creating a new website design feels like a big task. Or maybe the backend is hard to work in and has become a Modgepodge craft project with old branding, new branding, and elements that don't go with either – all mixed together.
But digital presence is more important than ever, so getting your website updated and aligned with your brand is crucial. Having a website that reflects who you truly are and what you offer gives you credibility and displays trustworthiness to current and new customers.
4. Failure to instill trust
Most people these days are introduced to businesses through digital-first media. Whether it's a social media post, digital ad, video commercial, or Google search, chances are customers and prospects are finding your website digitally.
That means customers need to feel like they can trust you immediately – in 0.05 seconds, to be exact – or they will close the tab and look elsewhere. So is your website trustworthy?
Here are some stats to consider:
First impressions are everything: It takes about 50 milliseconds (that's 0.05 seconds) for users to decide whether they like your site or not and whether they'll stay or leave
57% of users won't recommend a website with a poorly designed mobile experience
85% of adults think a company's mobile website should be as good or better than a desktop website
If you sell products online, smartphones hold a 63% share of all retail website visits
88% of online users most likely will not return to a site after a bad experience
75% of consumers admit to judging a company's credibility on what their website looks like
First impressions are 94% design-related
89% of consumers shop with a competitor after a poor user experience
Slow-loading websites lead to a $2.6 billion revenue loss each year
Users spend 88% more time on pages with videos
Are you potentially losing business because of any of these statistics? If it's even a possibility, it's time for a new website.
5. It's too hard for you to make edits to your own website
Maybe your site was built on a certain theme that's now broken. Or maybe a developer didn't consider the ease of use in the backend and now it's impossible to make any changes to your website on your own.
These days, you should be able to make simple changes to your site without the headache. A robust, flexible, and responsive content management system (CMS) allows your team to easily update copy, change images, remove or add new modules, build out landing pages, add or remove products, and even create new pages for your site without stressing that you'll break something.
This also adds longevity to your website because it gives you the power to make updates to keep up with your brand, services, company, and industry as they change.
6. You only address one customer persona – not all of your customers
Are you speaking to all your customer segments with your website? Are you considering their different user journeys? If not, you're missing out on converting those customers.
Users today want to have a great user experience when they visit an organization's website. In order to do that, we must consider their needs and how best we can serve them.
Many websites are built around what they look like or their theme. But the user and their needs may not have been considered at all and they are the entire reason you need a website in the first place, so they should always be top of mind.
7. It's working against you – not for you
Is your website working for you or are you working for it?
Your website can and should be working hard for you. Whether your goals are to bring in new leads, sell products, capture information, or offer valuable information, a good website will help streamline these processes to work for you.
From a marketing perspective, how does your site perform organically? Was your site set up correctly to be discovered? Is the content on your website convertible? If you're not sure how your site performs, or if you know it's not performing as well as it should, it's time to get a new, optimized website and improve your conversion rate.
8. Lack of security
Over the past several years, web users have become more and more concerned about security and privacy when they visit websites. It's even more important if they're considering purchasing something directly from a website.

That little padlock icon in the address bar goes a long way when it comes to ensuring your customers that their information is safe with your site. If you don't have it, you could be losing customers and revenue, which means it's time to make sure your site is secure.
9. Not everyone can easily use the site
As of right now, websites are not required to comply with the Americans with Disabilities Act (ADA). But having an ADA-compliant site is still beneficial because it ensures your site is accommodating for all customers and prospects. Website accessibility is important because it lets everyone know what services you provide and that they're available to all.
Here are some of the features that can make your site more accessible:
Enable keyboard navigation for users unable to leverage a typical mouse
Always include descriptions for images and videos
Color should not be the only visual means of conveying information
Test all your forms in different scenarios
Use uncomplicated visuals with clear direction
Provide alternatives to audio and video content
If your current site isn't compliant, it's time to update it.
10. You're not following best practices
Does your website look and act like other modern, frequently used websites? Does it follow best practices in design?
Users are familiar with how to operate websites on desktop or mobile, but only if they follow best practices with what they're familiar with. You should have items on your site where users expect to find them.
Here are some questions you should ask yourself to find out if you're following best practices:
Does your navigation follow the typical layout on desktop and mobile?
How about your footer?
Do you have an eCommerce site? If so, what do your cards look like? Are they easily discoverable and clickable?
Does your contact page operate the way it should?
Are your buttons clear and do they stand out?
A design without considering best practices will confuse the user and they will leave your site. If you aren't following best practices, it's time to change that.
11. Users find it outdated and unattractive
What your website looks like shouldn't be the reason people stay. Still, we can't ignore the statistic that tells us "first impressions are 94% design-related" or "75% of consumers admit to judging a company's credibility on what their website looks like."
That being said, your brand and website need to be attractive to your target audience. That will keep them on your site longer so they can explore what you have to offer and eventually convert them into a customer.
---
So do you need a new website?
If you think any of the signs listed above apply to your current website, it's time your organization gets a new one. Having a modern, user-friendly, attractive website will grab the attention of your buyer personas and help you turn them into customers. Updating your site will also make your life a lot easier because modern websites can be so much easier to update.
If you're interested in launching a new website that will accelerate your organization toward success, today's the day to get started! As of June 2023, Cypress North has successfully completed 100+ development and website redesign projects in Buffalo, NY, and beyond!
Get in touch with Cypress North so we can get the ball rolling on a new site!