Think a digital marketer's job is done after the conversion? Think again.
Performance-based advertising and digital marketing aren't just about generating traffic and conversions.
It's also about driving quality.
It's about producing a return.
It's about being able to directly tie efforts to results, especially for B2B.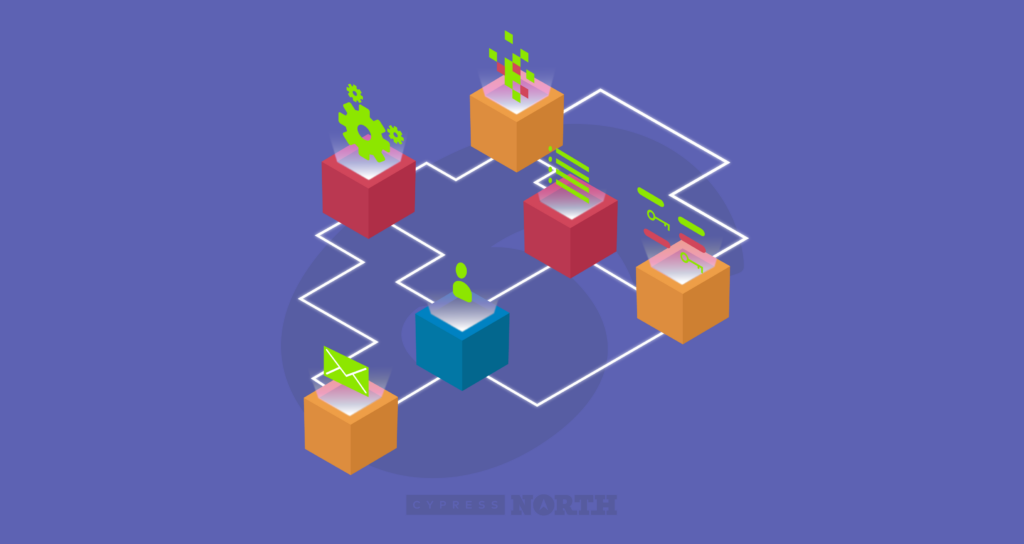 How do you achieve all of this? By making your CRM and Marketing Automation Platform a core part of your advertising and digital marketing strategy.
If you want to get more return on your B2B advertising and digital marketing, you'll need to start better leveraging the data in your CRM and the tools in your Marketing Automation Platform. To set you up for success, well cover:
CRM Digital Marketing & Advertising Basics
Before we dive into how you can use your CRM and Marketing Automation Platform to improve your advertising and digital marketing, let's revisit a few basic definitions to make sure we're all on the same page.
What is a CRM (Customer Relationship Management) System?
A CRM is database software that gathers information from marketing, sales, and customer service activities in one place in an effort to improve business relationships with prospects, customers, and more.
What is a Marketing Automation Platform?
A Marketing Automation Platform is software that automates marketing activities such as email, social posting, advertising management, and reporting to increase team efficiency, personalize experiences, and enable modern marketing practices such as lead nurturing and account based marketing.
What is CRM Digital Marketing?
CRM digital marketing is the practice of using the data collected in your CRM to improve upon your digital marketing efforts over time.
What is CRM Advertising?
CRM advertising uses the first-party data stored in your CRM, POS, and other systems to personalize prospect and customer advertising experiences. CRM advertising campaigns target remarketing, lookalike, or account based marketing audiences based off of segmented CRM lists.
How to Use Marketing Automation & CRM for Advertising and Digital Marketing
Now that you know the basics, it's time to find out how B2B advertisers and digital marketers can make CRM & Marketing Automation their best friends.
1. Automate Contact Creation & Updates
On the most basic level, your CRM should be able to capture data from your forms and automatically create or update contacts. This saves you time from having to import or update new leads, and it empowers sales people to respond to incoming requests in real time, improving conversion rates down the funnel.
Many CRM and marketing automation tools offer their own native forms that can be embedded directly on your website and landing pages for lead capture. While native forms can be extremely useful, many marketers opt to use additional solutions like third party tools, such as Gravity Forms, and ad network lead gen forms.
Your CRM may offer direct integration with other forms, but if it does not you can usually rely on integration platforms like Zapier to automate contact creation and updates.
2. Configure Reliable Source Attribution
The key to building a performance based marketing program is a reliable feedback loop. This requires you to use your CRM to attribute conversions, pipeline, and revenue (at the very least) back to their original source.
Many Marketing Automation Systems allow you to set up a tracking pixel on your website to automatically attribute leads. Platforms with robust functionality will automatically attribute source, channel, campaign, conversion events, and more based on how a prospect arrived on your site. Some will even enable you to see every page view pre and post conversion.
More basic solutions will allow you to create tracking campaigns and set up tracking, either by rules or by pixel placement, that will automatically attribute leads to CRM campaigns that have been manually set up. Make sure that you configure these CRM campaigns in a way that will allow you to tie leads, deals, and customers back to individual marketing campaigns.
In addition to the tracking that comes out of the box with your CRM and Marketing Automation Platform, you should also make sure that you set up custom fields to capture additional marketing data including:
UTM Parameters
Ad Network Value Track Parameters
Custom URL Parameters
This will provide you with more granular tracking that will make it easy to track customers all the way back to the keyword they converted on. If you're using powerful tools like HubSpot, you'll probably be able to use hidden fields on forms to automatically capture parameters from converting URLs.
Using hidden fields to capture UTM parameters in a HubSpot form
3. Customize Reporting
Once you have reliable source attribution in place, you'll be able to build detailed reports to track marketing performance at every stage of the funnel. Most solutions come with custom reporting tools that enable you to easily view lead progression by source (and more) in a clear, and concise manner.
However, the real power comes from being able to build smart lists by source (or marketing initiative), exporting the CRM data from data from those lists, and combining it with data from other sources in external reporting tools.
Real Life Example
We have a running smart list of paid leads that we export to a Google sheet and combine with ad network data in a Google Data Studio so we can easily visualize cost, conversion, and return metrics at every stage of the funnel* for all of our advertising campaigns.
Additionally, if you monitor conversion metrics over time for all of your digital marketing channels, you'll be able to better model your funnel in order to predict future performance and set goals by channel.
*i.e. Subscriber, Lead, Marketing Qualified Lead, Sales Qualified Lead, Opportunity, Customer
4. Optimize Conversion Rate
There are two major ways your CRM and Marketing Automation systems can help improve conversion rates for advertising and digital marketing campaigns.
First, your treasure trove of marketing data will help you identify key drop off points and barriers to conversion. Custom reporting helps:
Diagnose holes in the sales funnel.
Compare conversion data on different offers to inform promotion plans
Identify key dropoff points and top conversion pathways on your website.
Secondly, utilize progressive profiling on forms to reduce friction for leads. Progressive profiling pre-fill forms with data you already have on prospects (either pulled from your CRM or tools like Zoominfo) to personalize and minimize the fields presented to a prospect.
In this example, any fields that are already in the CRM would be hidden and replaced with a queued progressive field. If the contact already has submitted more than 2 of these fields (excluding email), the form will have fewer fields and therefore lower friction. Progressive fields should be optional so that they aren't an added barrier to conversion.
5. Automate Follow Up & Lead Nurturing
Let's say it again, a performance-based digital marketer's job isn't done after the initial conversion.
In order to ensure that advertising and digital marketing campaigns generate a positive return, it is important that marketers use their CRM and Marketing Automation tools to nurture leads into customers.
If you aren't thinking about what happens to contacts after they fill out forms, you're basically just tossing people's contact information into a trash can.
It is vital that all conversion points have clear follow up actions, which may include but aren't limited to:
Redirection to a thank you page where they can find more information.
Assignment to a sales person.
Sending a confirmation email and/or text message.
Enrollment in a nurture flow.
Adding to (or excluding from) a remarketing list.
Sharing a calendar booking tool.
In our experience, even if it's just an email, following up with a lead in the first 15 minutes significantly improves conversion rate. Having a clear follow up plan in place has a powerful impact on the effectiveness of your digital marketing strategies.
6. Leverage CRM Advertising
As previously mentioned, CRM advertising uses segmented CRM lists to serve personalized ads to your target audience. It can be used for retargeting, lookalikes, or Account Based Marketing (ABM).
What is CRM Retargeting?
CRM Retargeting allows you to remarket to your existing contacts based on online behavior, offline interactions with your company, and other data that you've collected. This strategy augments lead nurturing programs and allows you to segment your retargeting efforts by where a prospect is in the funnel. It's highly effective for nurturing top of the funnel leads into MQLs and bringing cold MQLs and SQLs back to the table.
What are Lookalike Audiences?
Lookalike audiences are exactly what they sound like; they are audiences comprised of people who exhibit similar behaviors to your existing contacts and are likely to become customers. They're "lookalikes" to your existing contacts. Creating a lookalike audience is as simple as uploading a segmented email list of qualified contacts to an ad network and using their "create a lookalike" feature. Lookalike audiences are best supported on Facebook, Google, and LinkedIn.
What is Account Based Marketing?
Is your sales team targeting a set list of accounts? You can support them with an Account Based Marketing Strategy. In the same way that you upload lists of people to ad networks for retargeting and lookalikes, you can also upload account lists to serve ads to prospects at target companies. This is best accomplished on LinkedIn, but ABM can be possible on other platforms.
What Are the Best CRMs & Marketing Automation Platforms for Digital Marketing and Advertising?
While CRM & Marketing Automation strategy is vital for improving your advertising and digital marketing, it is far from the only factor. You need to make sure that you are picking a tech stack that will set you up for success.
HubSpot
HubSpot is the swiss army knife of CRMs and Marketing Automation. It does almost everything you need, and does it extremely well. Its CRM is completely free and the paid version (Marketing Hub) boasts state of the art email marketing, workflow automation, advertising management, reporting, website, chat, and social tools all in one place.
As an added bonus, it integrates with a myriad of other marketing softwares and has sales & customer service offerings. HubSpot is extremely user friendly and is usually the perfect solution for SMBs and Agencies, but that doesn't mean enterprise companies can't find success with it.
Marketo
Marketo offers very similar capabilities to HubSpot, but it offers more customization and better campaign tracking. However, because Marketo is so customizable, it is not nearly as user friendly as HubSpot. Most marketers can learn HubSpot and find success with it over time, but Marketo requires an in-house Marketo expert or a consultant. For this reason, we only recommend Marketo as a solution for enterprise users.
Salesforce
Salesforce is known as the world's top CRM solution. Sales & Marketing teams alike love Salesforce because of how effectively it can be customized to meet unique business needs and because of its custom reporting capabilities.
However, Salesforce is a standalone CRM and only offers business process automation, not marketing automation. Salesforce will require the purchase of a marketing automation platform, but it does play nice with others. Connecting Salesforce with HubSpot or Marketo is usually a breeze.
Pardot
Pardot does its best to compete with the likes of HubSpot and Marketo as the Marketing Automation solution in Salesforce Marketing Cloud. Its biggest appeal is that Salesforce users generally get their first year free (and may receive additional discounts) and that it has 1:1 campaign syncing with Salesforce.
Compared to HubSpot and Marketo, Pardot is lacking in features, especially when it comes to attribution, reporting, automation, and user experience. While it is lacking in certain areas, it does get the job done and can make sense for certain Salesforce companies if the price is right.
ActiveCampaign
ActiveCampaign is the go-to CRM and Marketing Automation solution for anyone with a tight budget. Coming in hot at only $129.00 a month, ActiveCampaign's Professional package is a drop in the bucket compared to other options and it offers the functionality needed to pursue all of the strategies outlined above.
Why CRM and Marketing Automation Aren't Just for Biz Ops
Are you ready to start incorporating CRM and Marketing Automation into your advertising and digital marketing efforts? You've come to the right place! We're certified HubSpot and ActiveCampaign partners, but we're system agnostic and will work with you to build a marketing tech stack that will set you up for long term success. Feel free to reach out with questions, or get in touch to work with us on a project.
Are you looking to solve other problems with your funnel? Download The Ultimate Playbook to B2B Digital Marketing Challenges to learn how you can level up your digital marketing strategies to fill your sales funnel with qualified prospects