I'll admit, I'm unlike most human beings. When purchasing a vehicle, the first thing I did was make a spreadsheet for gas consumption, knowing that I drive a ton. I then picked the car that would cost me the least (a Ford Focus!) When purchasing a house, I found a dump with the best price per square footage in the area I wanted to live in and fixed it up with the help of YouTube videos and caffeine. I even went nuts and picked Steph Curry in the second round of my Fantasy Basketball league even though I didn't want him (ok, that reference might have gone over your head).
The point is – I love value. I judge the value of everything, I simply can't get around it. That's why I love content marketing. It can pack the most bang for your marketing buck than all other tactics — if executed properly.
Content marketing only requires a few things:
Amazing content related to your business
Proper seeding & promotion
In reality, there are more things unaccounted for like research, design, etc. — but those are the basic two ingredients in the content marketing recipe. However, the end product of this simple process can be long-lasting, sustainable content that can provide value to your business day after day, year after year.
One of my favorite examples that shows the sustainability of good, relevant content is a piece that we launched back in 2007. Here's a look at a post that was launched Dec. 2007:

Note the initial spike when launched that saw 200,000 pageviews coming in for the first few days. Since that peak skews the scale a bit, lets take a look at what happened after the initial promotion. Here's a look at the month  after (Jan. 2008) through the end of last year (Dec. 2012). One of the first things that you'll see is that the majority of all the traffic did not come during the initial 200,000/day launch, but after the fact:

Interesting, right? Well, you may be thinking "Great, you got traffic and eyeballs – so what?" Well, Mr./Mrs. Pessimist, here's what. Since this was evergreen content that had a direct relate to the company, the traffic drew in relevant, natural links and traffic that converted and boosted sales, long after the initial promotion. In fact, here's a look at the sales for the 3 years  (2008-2012) after that content was launched back in 2007: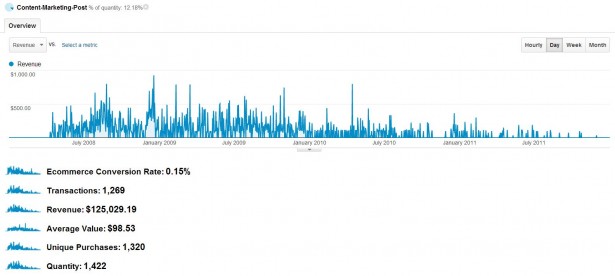 Over the three years post-launch, that particular piece of content drove more than a million page views, hundreds of natural links, and $125k in sales — all with no maintenance or additional work required.
So how can you see similar, sustainable results to this?
Here are a few tips:
Keep It Evergreen
The longer a piece of content stays relevant, the more value you will get out of it post-launch.
Promote Properly
Don't expect people to just stumble across your needle in the digital haystack, have a great content promotion plan (see our post on social news & bookmarking)
Good Content ≠ Great
Is your content "pants-crappingly" good? If not, try again.
Make Sure It's Related
One of the worst things you can do is to create off-topic content that doesn't fit on your site. You won't see results like above.
So if you're like me — and love value — content marketing can be your best friend. And we can be friends too! Make sure to follow us on Twitter and Facebook or Subscribe to our Blog for more great posts.