The role of news and search has been a complicated relationship over the years. A strong presence in Google News will help drive significant traffic from the SERPs, yet are tallied as referral traffic in Google Analytics.
From a search standpoint, we help companies with news optimization and want to accurately track the progress of our hard work. To combat this, we've created a very simple dashboard that pulls out all traffic from Google, Yahoo and other assorted news based sources. Google News optimization can be somewhat tricky and a big investment for many publishers, so tracking success is of great importance for us.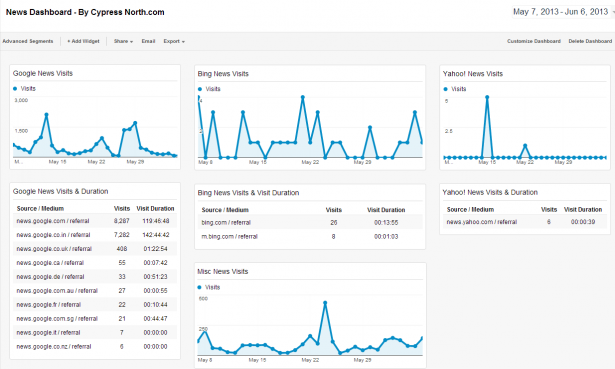 This report is great to use for a dead simple  "how are we doing in Google & other news sources?" standpoint. It contains only 3 charts and 3 graphs and is geared to find data from news aggregation sites only. Here's a look at the data we use:
Google News
Typically the largest referrer (and most important to track from a search perspective) is shown in the first row. We include all TLDs, not just from news.google.com. Included are visits and duration.
Bing News
The next set of charts & graphs is for Bing. This acts similar to Google, but only for the main Bing.com domain.
Yahoo! News
While currently the trickiest site to gain traction on, it will be interesting to see how Yahoo! News shapes out under the new direction.
WildCard News
The last chart/graph combo we use is a miscellaneous  news match that looks for sites that may have a news sub-domain. Items like news.cnet.com would show up in this chart and may help to uncover opportunities.
Hopefully this dashboard will save you some time and track your success if you're an SEO involved in Google News optimization. To gain access, simply download the News Dashboard to your Google Analytics account today.
Don't forget to follow us on Twitter, Instagram, Facebook, and Google+ for more updates.