App name: Wishbone
Wishbones.  Those slimy crescent shaped bones that you and your siblings would fight over to break in half and see whose side was larger (and more importantly, whose wish would come true).
That is loosely the thinking behind the new app Wishbone.  Create a posting comparing two things, and then have your friends, colleagues, and "popular celebrities" (full disclosure, there's never any indication of who these "celebrities" are), and social circle determine which is better by voting on their own preference.
Think upvoting something on Reddit: but with poorer content, fewer choices, and a swarm of Starbucks Frappuccinos and Uggs.  No kidding.
So…What the Heck is Wishbone?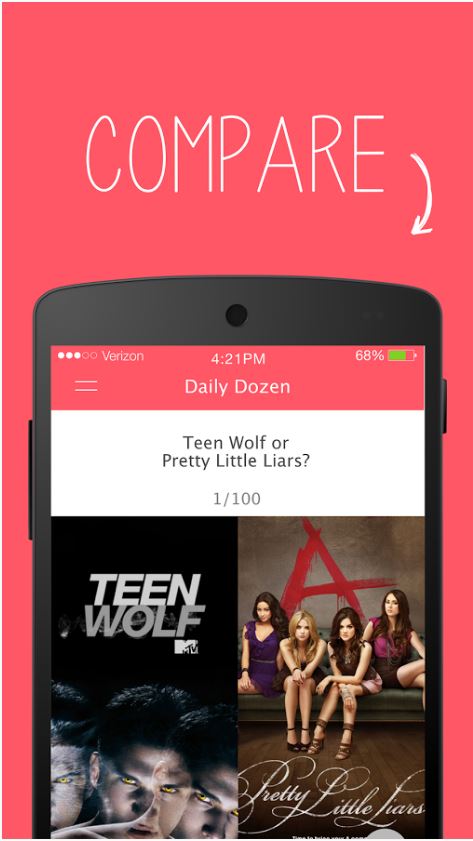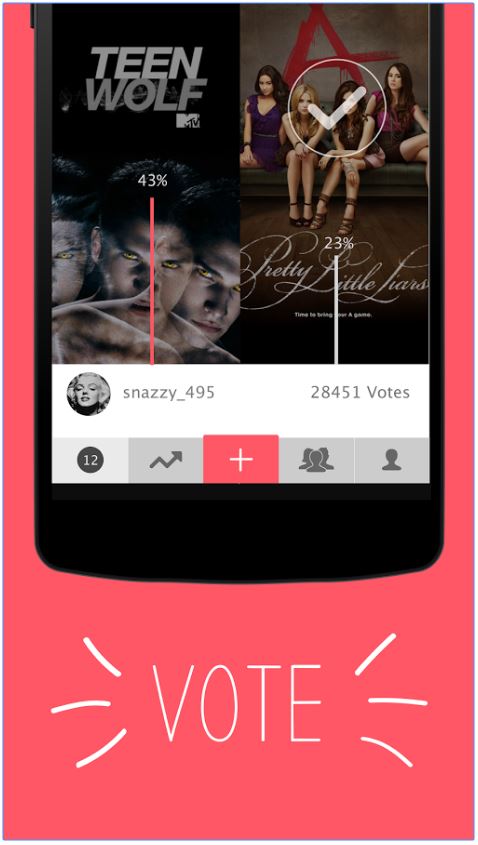 As Wishbone would describe itself, it is a:
"Go-to for comparing anything your heart desires!  Wishbone covers everything from fashion, celebrities, humor, music, and pretty much anything you can think about."
That's really all it is.
Compare. Vote. Create.  Oh, and get constantly bombarded by ads.  Wishbone favors extremely intrusive ads for Britney Spears video games, gambling apps, and other annoying pop-ups perhaps not suited for their 12+ age group target.
In the middle of designing a pressing comparison for your social circle?
Well hold tight, because every minute or so a pop-up advertisement equipped with sound, video, and a hard-to-find exit button will invade your creative process.
Additionally, Wishbone offers a "Daily Dozen" feature that allows the user to vote on some of the most popular comparisons.  They are typically pop-culture based and relevant only toward kids 12-16 years old, primarily female.  Teen Wolf or Pretty Little Liars, Justin Bieber or T-Swizzle's new-do, or choose between two YouTubers you didn't even know existed.  It's innocent, silly, and intrinsically worthless.
Is it Useful?
Simply put: no.  Down the line Wishbone may become a useful app for retailers looking to gather insight on styles, trends, and preferences from pre-teen and adolescent girls.  Until then, however, Wishbone is a useless conglomerate of sparkles, Taylor Swift, ABC Family shows, puppies, and pop-ups.
How We Describe It
Not an app for the indecisive. Although maybe it would strengthen their decisiveness skills? I can't decide. – Sarah Burke (Internet Marketer)
Had poor UGC imagery, intrusive ads; a rather worthless network for any type of marketing. – Greg Finn (Internet Marketer/Partner, Search Engine Land and Marketing Land Correspondent)
It was fun for a minute, then I realized how old I am… – Jessica Budde (Internet Marketer)
When you're comparing a picture of a napkin vs a picture of a napkin dispenser, nobody wins. – Matt Mombrea (Chief Technology Officer / Partner)
How We Rate It
At Cypress North we're giving Wishbone a solid 3/10.
It knows its target demo, has slight potential for the future, and can be fun if you are of that select age group, but doesn't hold any other worth to marketers or businesses looking to tap into the new-app market.
Download or Disregard?
Disregard.
Nice knowing you, Wishbone.  You had a good 24 hour run here at Cypress North before we knew what to do with you.  Better luck next time.