The goal of any type of marketing is to sell product. Period. That includes marketing with social media. Whether through awareness, buzz, brand building, or general goodwill, we use social media to promote ourselves and our product.
This is an important thing to remember when us marketers see news like Facebook's new public stance on organic reach that was released last week. Comments from the release include:
Because the content in News Feed is always changing, and we're seeing more people sharing more content, Pages will likely see changes in distribution. For many Pages, this includes a decline in organic reach. We expect this trend to continue as the competition for each story remains strong and we focus on quality.
If you didn't shudder when reading that comment (no matter how many times you've already seen it), you should have. This is the first time this issue has been addressed by Facebook head-on; they are depreciating your ability to market organically on the social network.
How Has This Changed?
Traditionally, social networking was a format that appealed to marketers, as it allowed customers to receive updates and stay in touch with their customers. Five years ago when trying to convince big brands to invest in social networking, I would describe it as an RSS feed that customers can consume in an environment that they were comfortable with and visited frequently.
With Facebook's continued change towards a paid model, that RSS reference doesn't fly anymore. Facebook is now removing your Page's effective audience and the value that fans previously provided. It's not an organic stream from Page to fan — it's now simply a fan/Page connection with weakened exposure. With that said, Facebook is still a great source for advertising, as having a custom fan base can help you target your ad dollars.
In contrast, other networking sites like Twitter aren't in the business of reducing messaging. In fact, it's quite the opposite. In a session at last year's SMX West, Twitter's Guy Yalif enthusiastically told the audience that it was Twitter's goal to provide an unfiltered stream for users, and that they never plan on changing this.
What Does This Mean?
As brands and pages have seen instant drops in the 20% range, it's time to have a serious conversation about the value of organic Facebook marketing. Just how valuable is your Facebook strategy? This is a question that you must honestly ask yourself as you head into 2014. If you can only reach 10% of your (earned) Facebook audience, does it make sense to work to grow this? (Tweet this!) If you work to promote and incrementally grow your fan base organically, you may find yourself in a place where you are treading water, effectively offsetting the declining reach.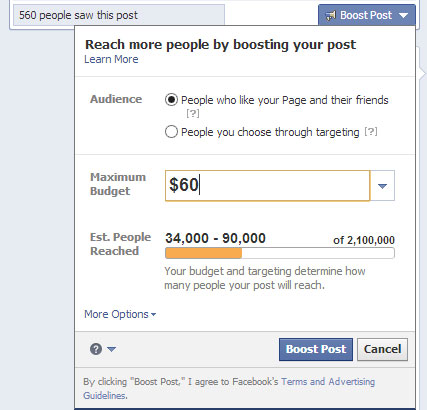 We don't own Facebook, and we don't own our fans. As Facebook adopts the pay-to-reach model, pushing customers to our own properties would behoove us. If you were a brand running a Facebook ad, would you include your Facebook page URL? At this point in time, I sure wouldn't. I'd rather get interested customers to my web properties, to download my app, or to follow me on Twitter.
This also means that if you are purchasing Facebook Page Ads (with the goal of getting fans to your page), you'll likely want to stop. Your goal when running Facebook ads should be geared more and more towards getting users off of Facebook and to locations that you own, instead of paying for fans that you'll need to pay again to reach.
What Do We Do?
So, back to the question posed earlier: just how valuable is your Facebook strategy? Simply building a Facebook audience and hoping for organic results may not be enough to provide the required ROI for your company anymore — you'll have to test.
As average organic reach is in the teens and falling at record numbers, us as marketers need to ensure we are working to sell product. Paying for a fan (via Facebook Ads, other ads, or with man-hours) and not being able to reach them won't help our cause. Some companies may still see positive gains when paying for Facebook fans and repaying in Facebook ad dollars when trying to reach them.
As the Dallas Maverick's Mark Cuban accurately stated over a year ago, it might be time to consider looking elsewhere for your organic social efforts. Again, networks like Twitter that have put a premium on unfiltered messaging may be worth re-focused time and efforts in 2014 … only testing will tell.
As Facebook becomes pay-to-play, don't blindly continue your organic Facebook effort. Bring this quote to your budgeting and planning meetings: "For many Pages, this includes a decline in organic reach. We expect this trend to continue," and think about what marketing channels you are putting a premium on in 2014.
For more great marketing & development news, follow us on Google+:
or Twitter:
Follow @cypressnorth
Or, if you want to see a fraction of our posts, check us out on Facebook. Good luck in 2014!