Facebook has major news for advertisers. Come September 2019, account managers will no longer be able to set budgets at the Ad Set level in Facebook Ads. Instead, Facebook's Campaign Budget Optimization will become the default setting for all campaigns, forcing advertisers to rely on the Campaign level when setting a budget.
Read the official Facebook announcement.
While the ad set daily budgets are being removed, there will still be some *lifetime* controls that can be implemented to help restrict Ad Set spending in a campaign. This won't perform in the same way that Ad Sets previously operated, as the only location to set the budget will now shift to the Campaign level.

Rather Listen?
In our Marketing O'Clock podcast, we breakdown everything about Campaign Budget Optimization that you need to know.

Listen Now >>


Who – Who's Affected?
Let's take a deeper dive on this migration over to Campaign Budget Optimization:
Everyone. All advertisers. There's no one using Facebook Ads that won't be affected by this update.
What – What is Facebook Campaign Budget Optimization?
According to Facebook, "Campaign budget optimization is a way of optimizing the distribution of a campaign budget across your campaign's ad sets. This means Facebook automatically and continuously finds the best available opportunities for results across your ad sets and distributes your campaign budget in real time to get those results.

Campaign budget optimization has been an option since November 2017. But with this new update, you don't have the option anymore.
However, you can still set Ad Set spend limits within your campaigns. These are very different than a budget though.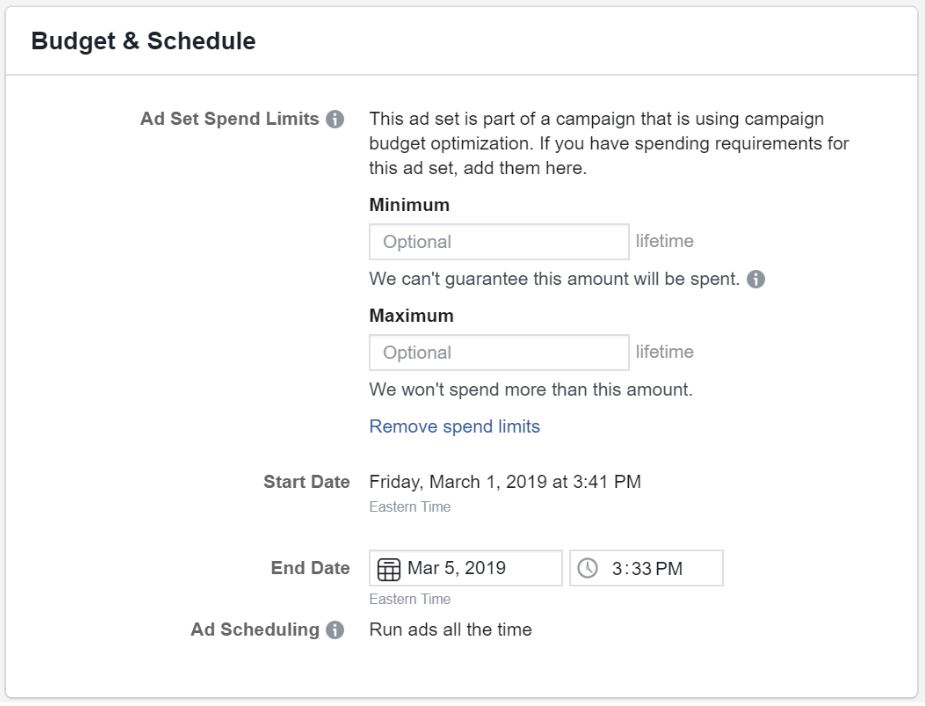 These limits are called desired spend limits and are a non-guaranteed minimum and/or guaranteed maximum lifetime budget for your ad sets. In simpler terms:
You can tell Facebook to at most spend $XXX in an Ad Set over the lifetime of the campaign – and it will.
You can tell Facebook to spend at least $XXX in an Ad Set over the lifetime of the campaign – and they'll try, but won't guarantee anything..
That said, you basically won't have any control over your ad set budget.
Advice: If you want to control your spend, make every ad set into its own campaign (similar to Google Ads).
Where – Where do you use this?
Campaign Optimization can be set at the campaign level within Facebook Ads Manager. To activate, click on the settings within a campaign by toggling this switch:

Once toggled on, Budget Optimization is now active! You can hop back to the campaign view and hover over any campaign in the 'Budget' column to see where the budgets are set.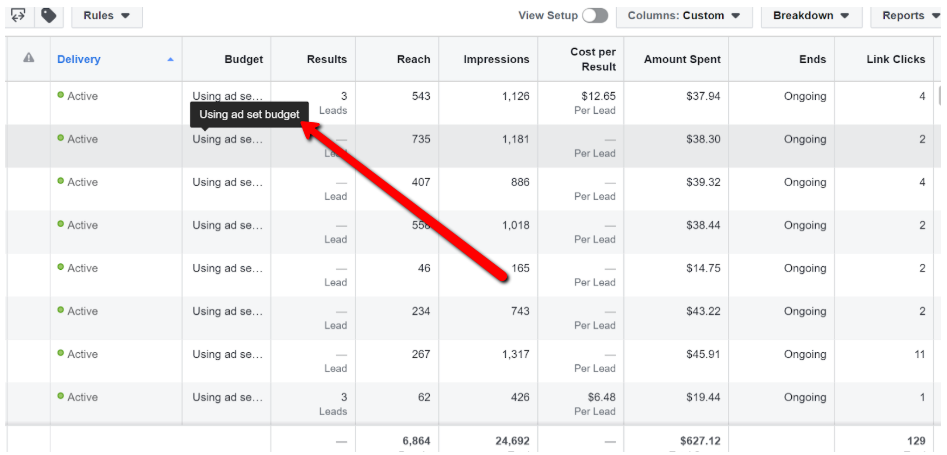 When – When is the update?
Facebook campaign budget optimization will become the default budget setting in September 2019.
Why – Why should advertisers use Facebook Campaign Budget Optimization?
Although no one will ever know the true answer to this question, Facebook gives us a list of benefits for using this method including:
More value
Less time
Simplified
De-duplicate audiences
Avoid restarting the learning phase
Efficient spending
In reality, this would be great for anyone that is tracking conversions and is looking to test a variety of different audiences, messages, targeting or more.
How – How would you use this?
Currently, the budget optimization option is a toggle button under campaign budgets. But in September 2019, all campaigns will be migrated to campaign budget optimization.
Eligibility Requirements:
All ad sets have to have the same budget type.

There needs to be fewer than 70 total ad sets.

All ad sets have to be published.

All ad sets need to have the same bid strategy.

All ad sets need to have the same optimization for ad delivery if the bid strategy is at the lowest cost.

All ad sets have to use a standard delivery type.

All ad sets need to be scheduled to run ads all the time.
Make sure to keep a close eye on upcoming Facebook announcements because we're not sure how the exact process will be updated.
Our Opinion:
Facebook's budget update will make some lives easier from a management perspective – especially if advertisers are already used to setting up campaigns with Google Ads.
When you need to segregate budget, we suggest separating everything out at the campaign level. We also know that all conversions are not created equal. Facebook will optimize for the lowest common denominator and take the easiest conversion path. Just because the results look good, we strongly recommend thoroughly reviewing and scoring any leads to make sure the value matches up.
Whether we like this update or not, it's coming. All you can do now is accept the change, prepare yourself, adjust your campaigns, and continue to learn the best way to leverage Facebook Ads for your needs.