When administering a Facebook page sometimes a user would like to actually comment on the given page with their personal account. Well, the default settings for the Facebook page are geared to showing all posts and likes from the page itself, even if you are using Facebook with your personal profile.. So lets say that we post this article up to Facebook, and I switch back to my personal profile and like the post – well it will be show that Cypress North liked the post. This can look a little odd: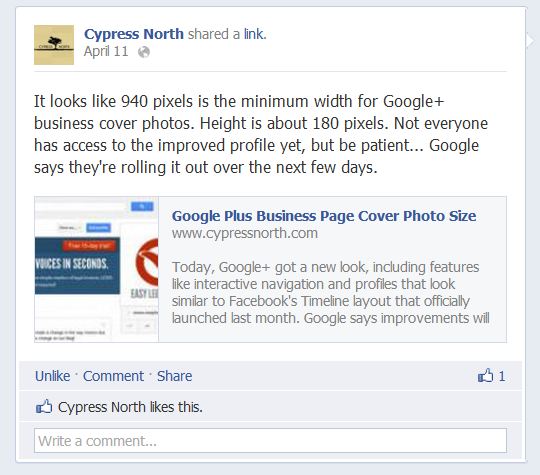 So how do you make sure that you aren't commenting as your business page when using your personal profile? Its easy, just follow the steps below!
Head to the page you would like to change.

Under the "Manage" button in the upper right, click on "Edit Page":

Click on the "Your Settings" button on the top of the left hand navigation:

Unclick the top box that says "Always comment and post on your page as PAGE NAME, even when using Facebook as PROFILE NAME.

And there you have it! Now when you are using Facebook as your personal self, all comments will show up from you, instead of your page.
If this helped, like our Facebook page or follow us on Twitter so you can keep getting helpful tips & tricks like this!