UPDATE 11/14/13: We've added some new screenshots to show you what the new cover photo layout looks like.
The consensus around the web is that the new Google+ cover photo size is massive. The new size is 2120 x 1192 pixels — which gives businesses and brands a lot more space to work with compared to the old version.
In a previous post on our blog, one visitor named Scott commented with the following question:
How exactly should one design in such a way to control the viewer's/visitor's experience? Is there a new template to use?
This is a great question, and one that I'm sure many of us are paying attention to.
A cover photo can say a lot about a person. What do you want your first impression to be? Since the cover photo takes up about 95% of the viewable screen area, this is your opportunity as a biz owner to make an impact and engage potential customers, clients, and visitors.
Think about your goals and your audience on Google Plus. Are you trying to build a community or brand awareness? If so, you may not want to lead with a pushy marketing message, but instead try something more personal that your audience can relate to. Show off people using/wearing your products. Share a picture of you and your team.
We updated our cover photo with our very handsome, furry friend, office mascot Rogan. People who have read our website and follow us on Instagram, Twitter or Facebook know Rogan — they've seen him fetch a beer, dress up for Halloween, and take lots of naps in the office.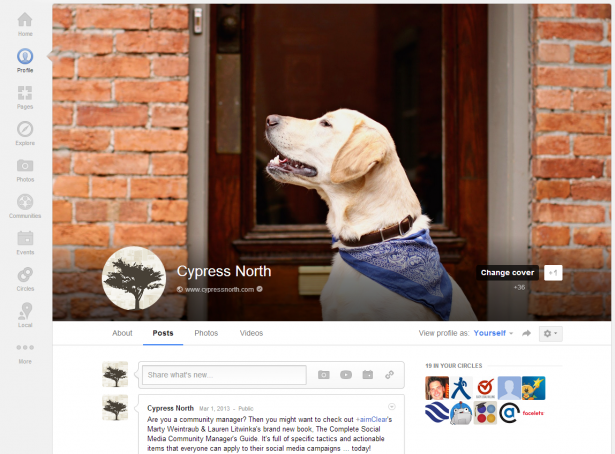 Find something that tells visitors a story or gives a little insight about you/your brand/your company. It'll give you some common ground and serve as a talking point when they contact/hire you!
General Observations
Here are some of my initial thoughts and observations about the new Google+ cover photo, plus a new template and size specifications to help you update yours.
There's (a lot) more space to work with
The height of the old cover size (180 px) was somewhat limiting as it forced users to focus on finding images that best fit the horizontal layout, or forced them to work with a designer that could help create a custom cover photo design. The new cover photo size gives you far greater flexibility to display images bigger and better – a marketer's dream! There is a lot more room with the new photo size to add clear call to actions, highlight services, and showcase products to engage potential clients and customers who visit your page
Cover re-sizes dynamically
If anyone was worried about screen resolution size and how that plays into the massive cover photo, worry no more. The cover photos dynamically resize proportionately using 16×9 ratio to fit your screen resolution so you – or a visitor – will always see the cover photo, a preview of a person's first post, circles, and navigational elements no matter what browser or resolution.
Need high resolution images
A bigger photo size means that you now need higher resolution images to make your page look visually appealing to visitors. Avoid using blurry or pixelated images.
Profile images: circle and square formats

If you have a square logo with margins around the edges, like Mashable does, be aware that your profile image may be displayed with some white edges around the side. If you want to avoid that, size your profile image smaller, or add more padding overall so that it fits within the circle. The downside to this is that your square image may appear smaller:

Inspiration
Here's a look at some creative uses of the new Google+ cover size.
Coca-Cola uses the cover photo as a collage to display photos of the ice cold pop around the world.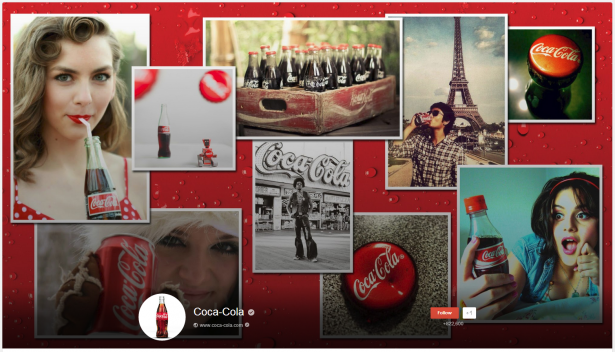 Ford uses the cover photo to display a beautiful image of one of their vehicles. The logo has a transparent background, which makes it look like part of the cover image.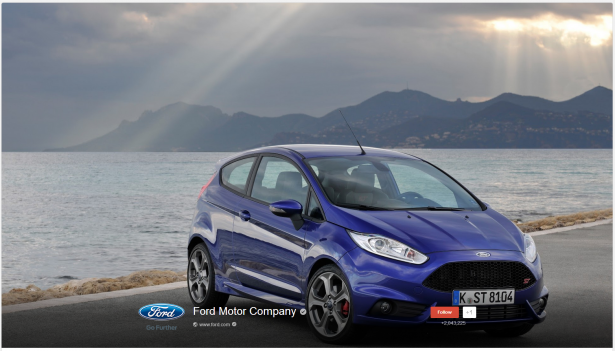 Madewell goes simple — which is very much in line with the brand aesthetic — and displays a very clean image of a model wearing pieces from the company's line.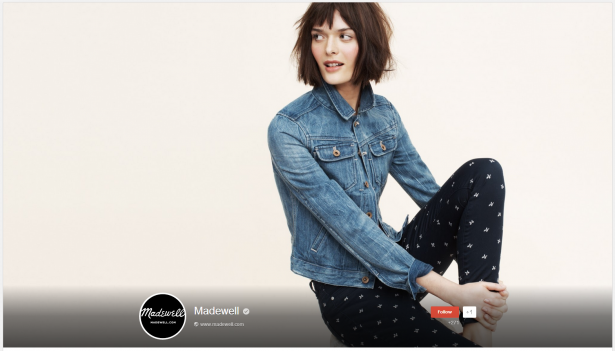 SMX chose an image from a session at a marketing conference to give visitors a glimpse into what it's like to attend the industry show.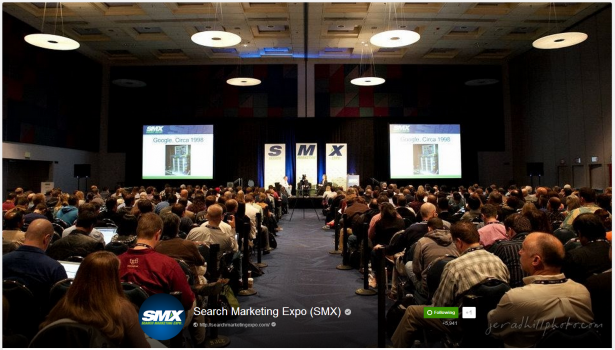 Etsy does a nice job showing off handmade items and letters. This is also a great example of fitting the logo to the circle and square format.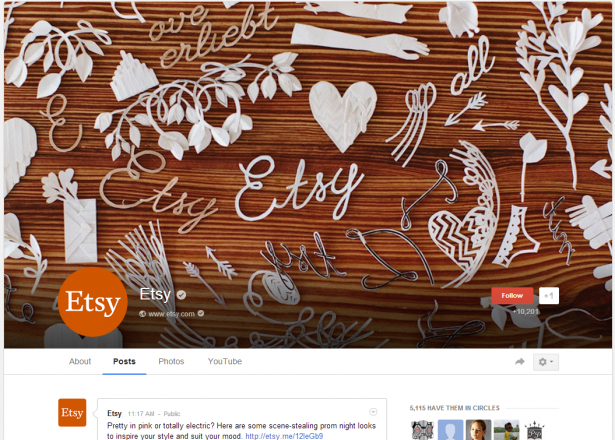 Tips
Keep it simple, don't try to jam everything into the cover photo – you want people to keep scrolling to look at your content

Think about your profile image (logo) and make sure it doesn't conflict with the cover photo (i.e., look at patterns, colors, textures and make sure your profile image stands out and doesn't get lost)
Try bringing attention to your Follow and +1 buttons to encourage users to connect with you like they used to do on the Facebook fan gate pages; I haven't seen an example of this just yet, so let us know in the comments if you find one!
Specifications
The display size of the Google+ Cover Photo image is 2120 x 1192 pixels
The height of the area that displays the profile photo, page name, page URL and number of +1's is approximately 160 pixels in height (Google adds a black gradient to the bottom of the image so be sure all important information and text is included above the page name)
Template Download
Since the cover photos re-size to fit your web browser, it's a bit harder to create a template download as the profile image and page details move depending on the resolution of your web browser.
Here is what our page looks like when shrinking the web browser: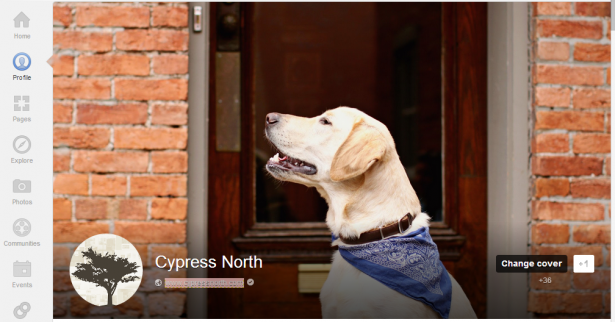 Here is what our page looks like at full screen: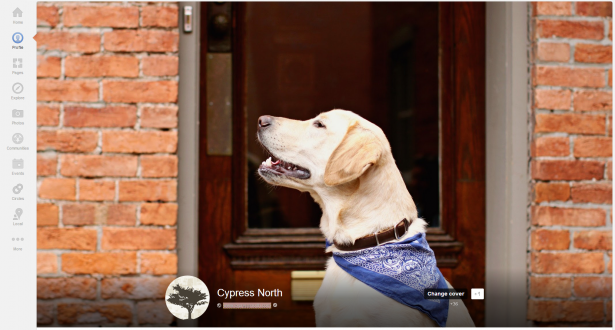 As you can see, the page details get smaller and move more towards the center when viewing the page at full screen vs. a larger logo and details that better fill the page when viewed at a smaller size browser.
UPDATE 11/14/13: Google has once again changed the layout of the cover photo for Google+. The newest version displays your full cover photo on the page, taking up about 2/3 of the width of the page, with the remaining 1/3 displaying the page/user information, a button to quickly circle the page/user, and an option to share the page/profile. The background behind the information section is a re-purposed version of your cover photo with a blurred effect applied. Cover photo dimensions remains the same: 2120 px by 1192 px, aspect ratio 16×9.  The change is live for all users, and you can still use our free downloadable template to create a compelling, engaging cover photo for your Google+ profile or page. I think this is a nice upgrade from the previous, massive cover photo.
Here are some examples of pages with the new cover photo update: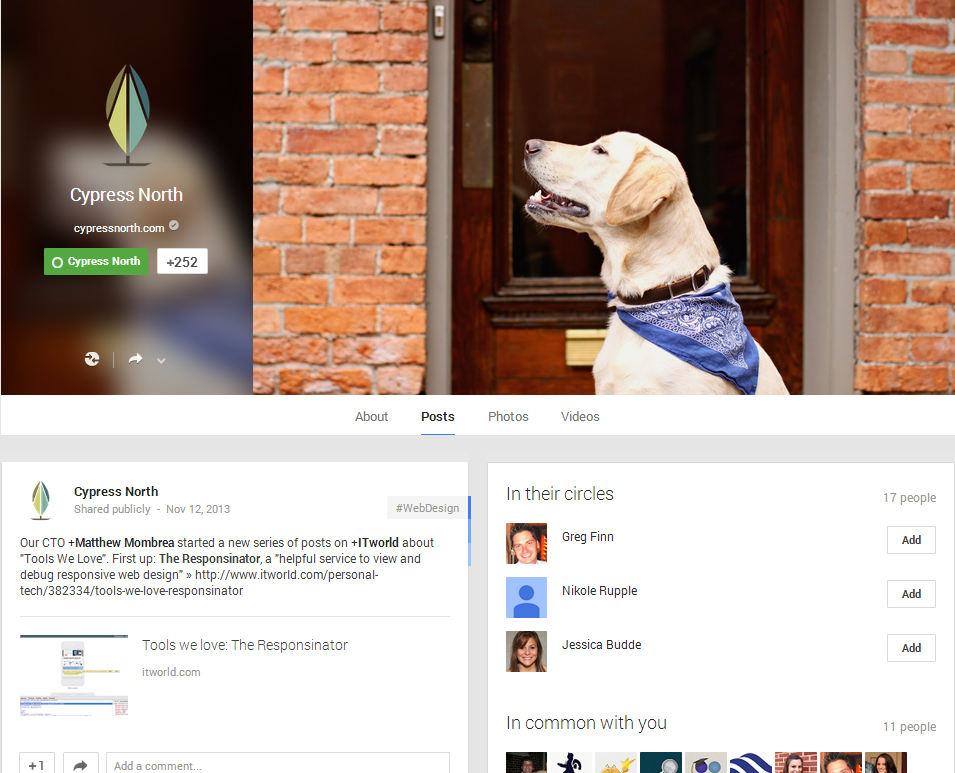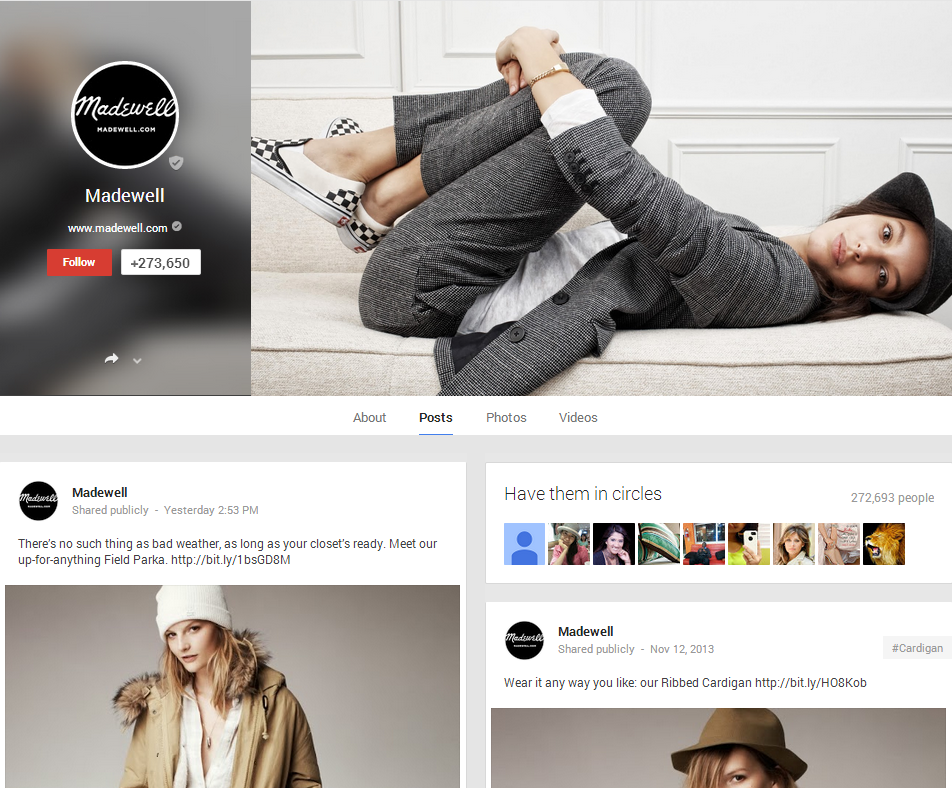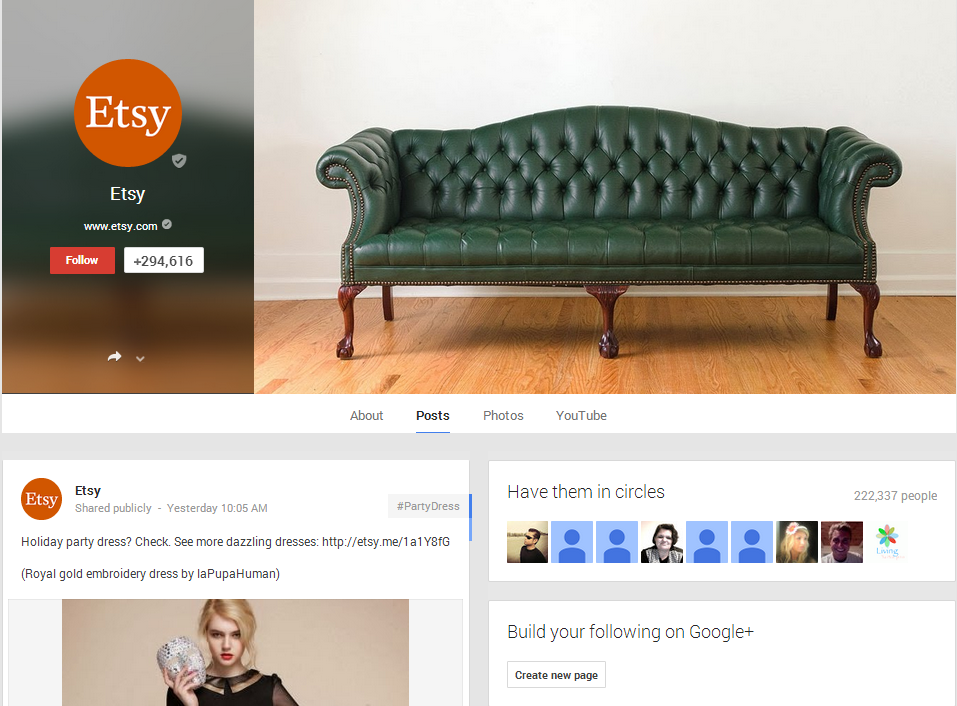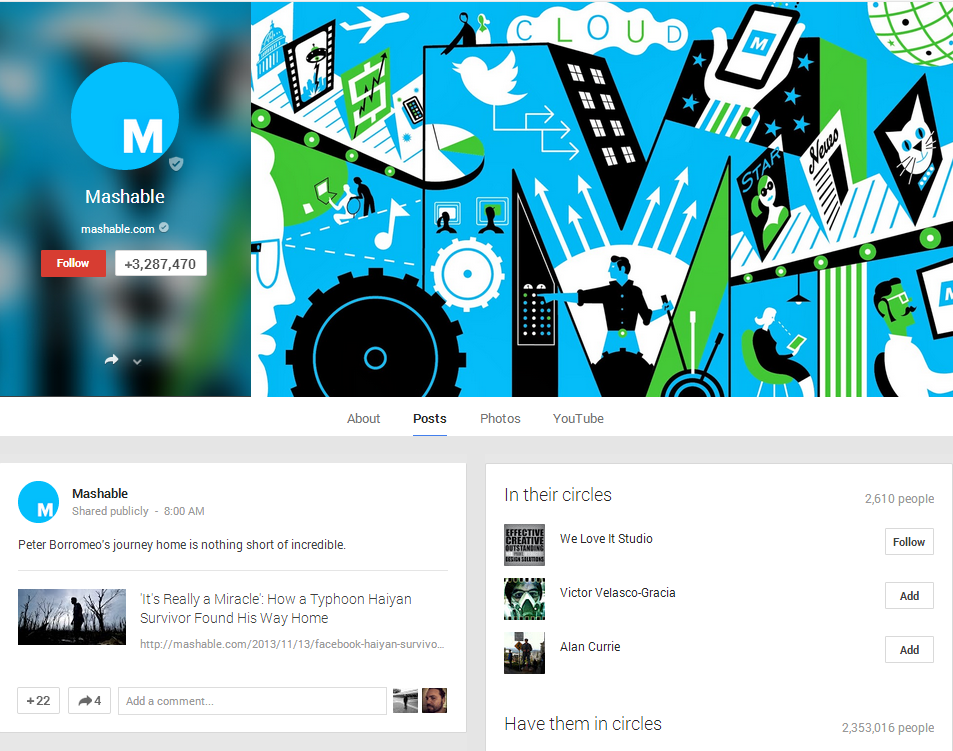 To get you started, here is a free Google Plus Cover Photo .PSD template already sized to 2120 x 1192. It might take some trial and error; however, the good news is that there isn't anything blocking the top part of the photo.
We'd love to see what you create — stop by and leave us a link to your profile so we can check it out. Good luck!
For more posts like this one, be sure to follow Cypress North on Twitter, Facebook, and Google+.