YouTube Annotations is a powerful marketing tool that can be used to increase engagement, viewership, and subscribers to your videos and YouTube channel. Using video annotations, there are a variety of options that allow you to direct traffic, provide general context or information, and help users navigate to where you want them to go.

It's awesome because you can tell users exactly what you want them to do, such as:
Subscribe to our email list
Contact us for a quote
Register for a webinar
Download a free PDF
…and much more!
The options are endless!
But, before you start trying to add external URL links, you must first add an associated website to your account, otherwise you may be met with a tiny bit of frustration.
And before you try to do that, you have to do a few things to verify ownership of accounts and sites.
The good news is that we're here to walk you through the process as we complete the steps for one of our own software products, Smart Sign Out.
Let's dive in, shall we?
1. Verify YouTube Account
The first step in this process is to verify your YouTube account. You can do this quickly by going to youtube.com/verify and following the instructions in the two-step process.[divider]

Once you have successfully verified your YouTube account, you will be greeted with this message:[divider]

2. Confirm YouTube Account is in Good Standing
In order to add an associated website, your account must be in good standing. You can confirm these details in the Channel Settings > Features.[divider]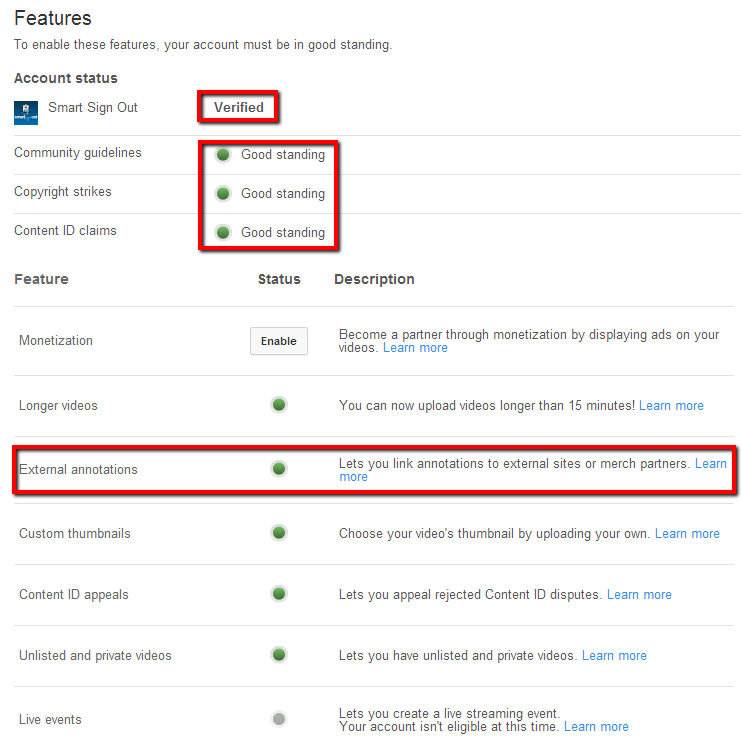 The green circle for External Annotations is highlighted, signifying that we now have the ability to link to external sites.
3. Enable Account for External Annotation Links
Clicking on a video to annotate brings up a notification bar asking you to enable your YouTube account for external annotation links. Click the Enable button.
You will be asked to agree to the terms and conditions.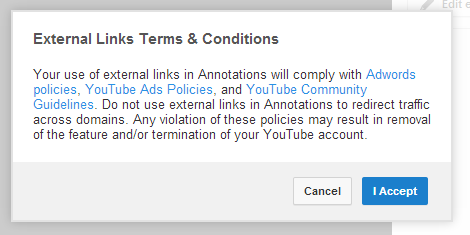 If done properly, you'll get a successful notification message:

4. Add Associated Website
The next step is to add the domain associated with the website. Do this by going to your Channel Settings > Advanced > Associated Website and entering the URL. Click Add.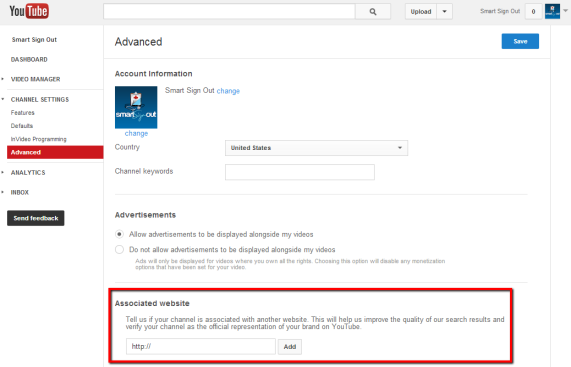 Next you'll have to verify that you own the domain or site by verifying it. You can do this in Google Webmaster Tools using a variety of methods. The easiest is to upload an HTML verification file. Until you do this, the status will be "Pending".

Click the verify link. This will take you to your Google Webmaster Tools account where you will be presented with options for verifying ownership of the domain.
Upon successful site verification, you'll be greeted with praise.
Toggle back to your YouTube account and see your successful addition of an associated website!

5. Add Annotations
Now that your website has been associated with your YouTube account, you can finally add annotations to your videos that link externally off of YouTube . . . and on to your site! Check the Link box and select "Associated Website" from the drop down menu. Drop your URL in and Save.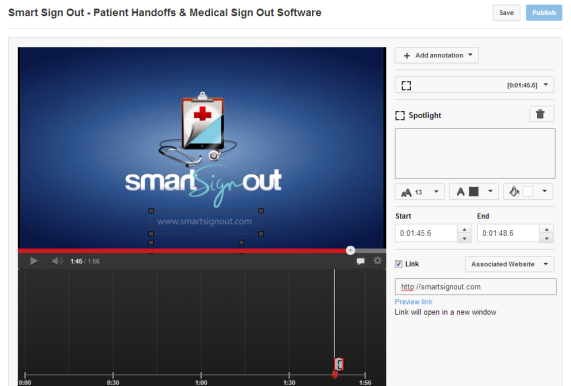 This is ideal for driving traffic back to your website, getting users watching your videos to take action by signing up for a newsletter, requesting a demo, and much more.
6. Test Links
Now that you have your external links set up, test the links to ensure you're directing users to relevant pages on your site. You may also want to consider using the URL builder to add campaign tracking tags to your links so you can see which links are most effective. Alternatively, you can check out the YouTube Analytics dashboard for specific stats on annotations (among other View and Engagement reports).
Here's our video where the CTA is to Request a Demo, and links directly to a contact form.
Now that you know how to add external links to your website with video annotations, what are you waiting for? Get on it!
If this post helped you, please share it! Feel free to leave comments, tips, and questions below, and follow Cypress North on Twitter, Facebook, Google+ and Instagram.