If you're a digital marketer, you've likely run into quite a few cases of duplicate content in your day.
If you're a digital marketer, you've likely run into quite a few cases of duplicate content in your day. All joking aside, identifying duplicate content isn't pleasurable; it forces you to burn quite a few calories while pulling all the hair out of your head. But … it's an essential part of what we do. Recently, we've done a good bit of work cleaning up underperforming duplicate content that was severely hindering a site's performance.
During this process, we've built our own internal systems that help plan, identify, and fix these issues. During the duplicate content identification phase, one tool has proved to be quite valuable and may help you on your journey to "single content." In the following steps we'll walk you though how the tool Siteliner can help you quickly nip your duplicate content issues in the bud.
1. First, you'll want to head over to Siteliner and enter in your URL
If you are looking at a site under 250 pages the service is free. Anything over 250 will cost a penny per URI.

2. Once you've entered in your domain name, you'll be taken to a list of pages hosted on your site in a summary tab
You'll want to click on the Duplicate Content tab on the left (where you'll see your overall percentage of duplicate content).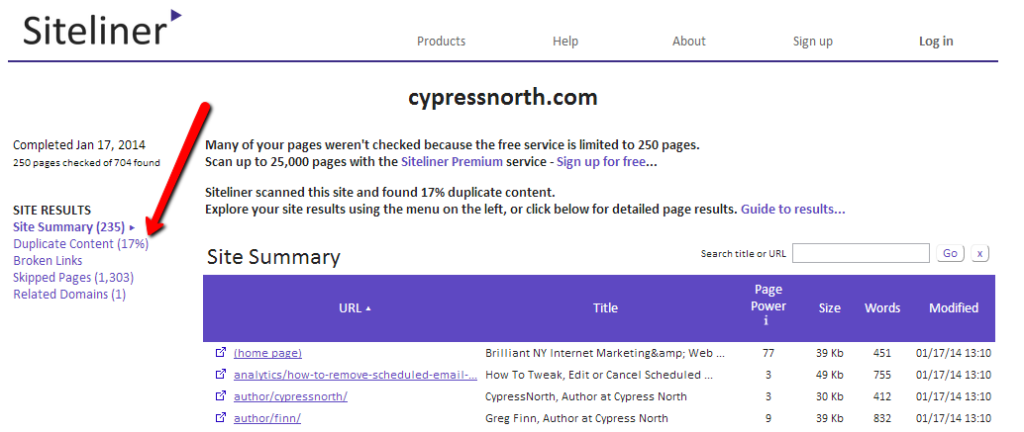 On the duplicate content screen you'll see the following columns:
Match Words – This shows the number of duplicated words that are matched on this page.
Match Percentage  – The overall percentage of matched words versus the total words on the page.
Match Pages – The total number of pages that have matched duplicate content.
Page Power – An estimate of page importance on a scale of 1-100 (with 100 being the most important.)
You'll then be able to sort, filter and export the data.

3. To discover more about each of the pages in question, simply click on the link in question
You'll then be sent to an overlay of the page. On the right had side, you'll see the pages matched to the duplicate content. By clicking on each of the pages on the right, you'll see the matched content become highlighted on the page. This is the content that is matched from the page in question to the duplicated content.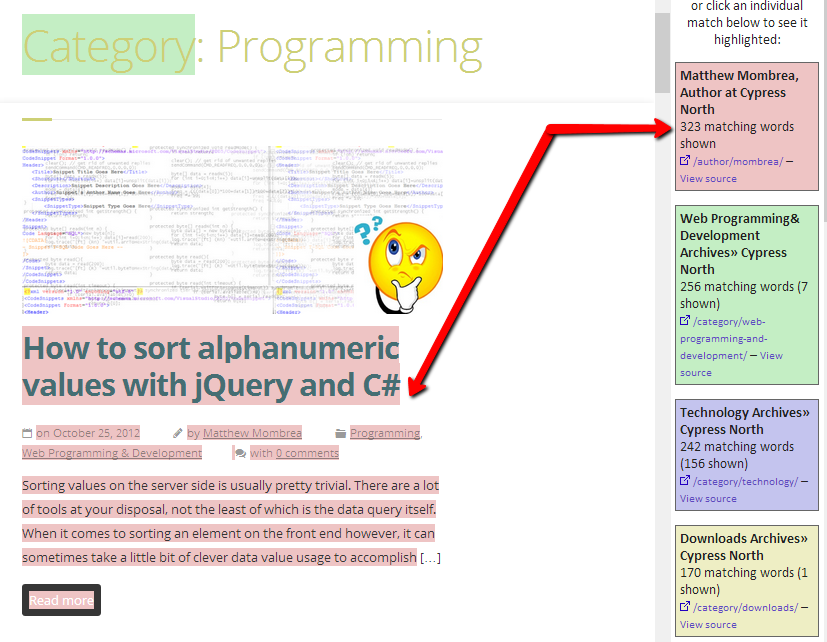 You'll now be informed of the duplicated content on the site and the specific page and can choose the tactic of your choice to help fix your duplicate content dilemma.
If you're still in need of more help on your duplicate content cleanup, give us a holler — we'd be happy to help.
For more great tools, tips and tricks, why don't you  follow us on Google+:

Or you can also catch us on Twitter: