In the process of creating a killer whitepaper, eBook or printable tutorial? I guarantee that you want more people to share and promote your work without you lifting a finger, right? Well contrary to what many believe, you can embed links within your document that encourage sharing on social media sites. We've been helping a few folks with implementation and decided to share with you, our beloved reader, too. Here is the process that we use to embed social sharing links within documents:
These Are Just Links, Not Widgets
One of the questions that we get frequently is "can we add our social widgets into our whitepaper?" The answer is no, you can't. However, you can do the majority of work using plain links within your content. These items can be clicked upon and will take users directly to a share page on a specific network. The item in your document simply needs to be hyperlinked to the codes below and a share window will open, doing a portion of the work for the user! All that you need to do with these links is swap out your content/URLs and hyperlink the social icons/images within your documentation.
LinkedIn Sharing
With LinkedIn, you can send the user directly to the share page with a link of your choice pre-loaded. LinkedIn will pull images and any open graph data from the link, but allow the user to input their own update data, share with a specific individual, or post directly to a group.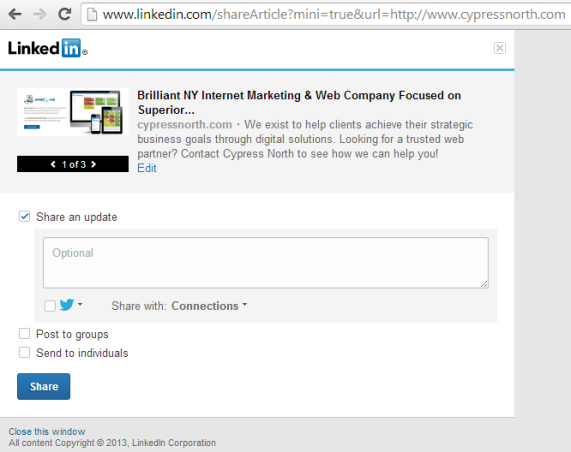 To accomplish this, simply use the link below:
http://www.linkedin.com/shareArticle?mini=true&url=http://www.yourlink.com
Make sure to use your precise URL in the document however, our you will be sharing www.yourlink.com instead of your whitepaper.
Twitter
Twitter allows you to accomplish more with a simple link. You can pre-fill a Tweet with links, your Twitter handle and more.
Use the following code below to achieve this. The portion that can be modified is anything after the "tweet?text=" portion.
http://twitter.com/intent/tweet?text=Text%20That%20You%20Want%20The%20Reader%20To%20Tweet%20http://www.yourlink.com
To include a space, simply use %20 and make sure that you don't actually use a space in your link. Also, swap out your URL that you would like to have your reader share.
Facebook
Facebook sharing via a link works similarly to LinkedIn with the site/data/images auto pulled in, but with customization options still available. Users can share on other poeple's timelines and customize the audience that they share with.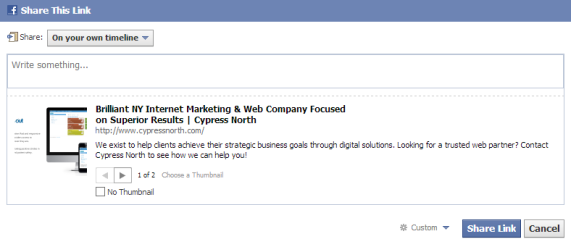 This link will achieve the Facebook social share:
http://www.facebook.com/sharer/sharer.php?u=http://www.yourlink.com
Of course, remember to use the URL that you are in fact looking to have shared.
 Google+
The capabilities of Google+ sharing mimic both Facebook and LinkedIn. Users share the post/data/images and can customize to a specific group of people/circles.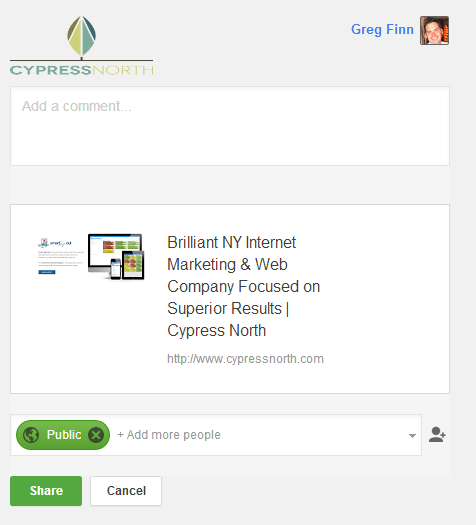 Use the following for Google+ sharing:
https://plus.google.com/share?url=http://www.yourlink.com
Again, swap out the your link and test before implementing!
Like what you saw here? Of course you did. Don't forget to follow us on Twitter, Facebook,  Instagram & Google+!