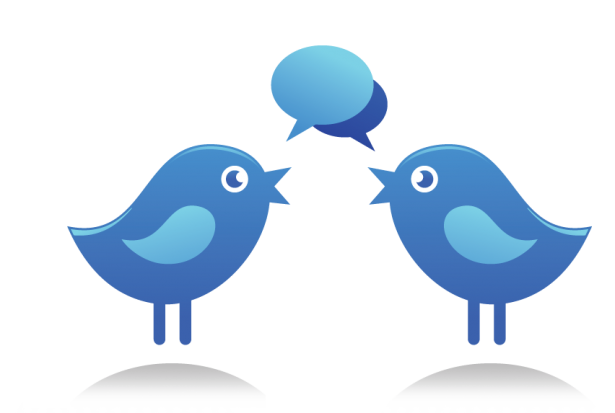 Twitter has helped changed the way we network with other professionals in our industry. Before Twitter, I'd probably have to do a ton of happy hour networking, attend expensive trade shows/conferences, and join a few professional organizations to meet others in my field. This strategy requires time, and no guarantee that I would actually meet anyone worth knowing.
With Twitter, however, the tough work disappears and I can begin the "fun" stuff. The "let's talk about our industry" stuff. The "what are your thoughts on this current issue" stuff. I can meet people, bounce ideas off of other professionals, and do it all from the comfort of my office by joining something called a Twitter Chat. It sounds a little lame, like AOL chat room days, but trust me, it's a lot better. And it's FREE.
Twitter has opened the door in so many ways for marketers and business owners. Here's how you can capitalize on an engaged community to further grow your audience and brand.
First … let's start with some basics.

Twitter chats are public conversations held on Twitter that occur about a specific topic at a scheduled day and time. Anyone can join by searching a unique hashtag and reading a stream of tweets from users in all corners of the world. There is usually a moderator/host who presents the questions/topics and facilitates the conversation during the set period of time.
More importantly, the real question is why participate. Let's take a look at why you may be considering Twitter chat to begin with. What is your goal? Is it to connect with others? Build your following and community? Promote your business and brand? Provide customer support? Be helpful?
Some benefits of Twitter chats include:
Interact with fans and followers and gain a deeper understanding of your target audience and community
Meet like-minded individuals and industry influencers
Promote your brand and business
Get instant feedback from your customer base; respond and provide customer support in a timely manner
Before you dedicate an hour or more of your week to chats on Twitter, be sure to ask yourself why you are participating in the first place and what your goals are. Keeping the end goal in the back of your mind will help you make the most out of your 140-character tweets.

One thing I love about Twitter is that I can quickly find links, resources, and people who share common interests in 20 seconds or less. By doing a couple of power searches and using free tools such as Bottlenose, I can see all kinds of information about specific topics in real-time.
For example, a group I follow closely is the medical education community. By simply searching the hashtag #meded, I am able to see the top links, recent tweets, relevant people to follow, AND other relevant topics and hashtags that are currently trending about that topic. Pay attention to these hashtags, as they have already been established in Twitterland and are very likely monitored by a decent-sized following.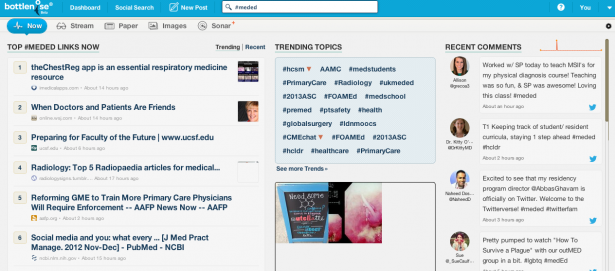 After spending enough time monitoring these streams and creating columns on Tweetdeck around specific people and hashtags, you'll start to see tweets about Twitter chats pop up. Some Twitter chats only occur once, while others are on a more regular schedule. It all depends on the chat and who's hosting it. You'll have to do a little bit of digging to find the chats that are relevant to you and your target audiences, but I recommend Bottlenose as a starting point.
Here are some examples of effective marketing Twitter chats:

Now that you've found a Twitter chat, what are the next steps? It's not brain surgery, but here are some basic tips to get you started!
DO introduce yourself. This is essentially the ice breaker of new club meetings, but I promise it's not as awkward. Social media is a way for people to connect with others, so make sure you introduce yourself to the group and identify your role to give others an idea of where you're coming from.If you're tweeting on behalf of a company — as I do — I would recommend sharing your first name, location (good common ground), and your goal/interests related to the chat.If it's your first time participating, mention it. People are super friendly!
DO be helpful. Go out of your way to help others. Provide links to resources or sites you've seen around the web that would benefit the group and your audience. People might not remember what you said, but they will remember how you made them feel.
DO use the correct hashtag. If you don't, your tweet won't show up in the stream and others won't see it.
DO play Devil's Advocate. Twitter chats are a discussion, so it makes sense to present both sides of an issue; however, don't bully people or be rude.
DO promote others. Retweet if you agree with what someone said, or if there's some good info that would benefit your following. Remember, all of your tweets in a Twitter chat also show up in your stream of tweets, so if you are going to take up your followers' streams, make it worthwhile.
DO be patient. Building rapport and understanding different environments takes time … so be patient. Participate regularly if you think it will help you achieve your business goals. You may not have something to say all the time, and that's okay, but you can still follow along.
DO take advantage of the collective knowledge of the group. This is an engaged group of individuals that are experts in the industry. Use that to your advantage.
DO be real. Be you. Find your voice and don't be afraid to share personal experiences/stories (but use your best judgement). It gives others the chance to connect with the person behind the Twitter handle.
DO use Twitter tools. I prefer Tweetdeck over Hootsuite. I think it's easier to manage, and I like the overall design better. I create columns around specific hashtags and Twitter host accounts to monitor the conversation, as well as columns for mentions and activity. This way I can easily see when new people follow me, favorite tweets, or RT content I share, and jump in and respond quickly.Here are some other resources for tracking hashtags in real-time. Again, this is my personal preference.

And now it's time for a few Don'ts.
DON'T be a jerk.  Be respectful of others and their views and opinions. Treat someone like you would want to be treated.
DON'T just tweet to tweet. Make sure your tweet contributes to the conversation and provides value.  People may retweet you, which will give your tweets longer legs and greater visibility.
DON'T just talk about yourself. Don't join a Twitter chat just to talk about your brand or product. People WILL notice and it is a major turn-off. Instead, find unique ways to connect with others that will make people want to learn more about you. We are all naturally curious, and if I see something interesting, I'll click on the profile to read their bio, see a few of their top tweets, and check out the URL listed.

There may not be a Twitter chat for your specific niche, and if that's the case, you may consider starting your own.
Establish a consistent format. Decide whether the entire chat hour will be dedicated to a single question/topic, or 2-3 questions per topic. It's completely up to you, but be sure to communicate the format before you get started so followers know what to expect during the course of the chat. Follow the same format each time the chat is hosted.

Promote your Twitter chats. But don't overdo it. Ask your audience for RTs to spread the word.

Bring in guest hosts and other experts.Share the fun and invite influential people in your industry to participate. This helps keep the chats interesting and will encourage new people to join the conversation, giving your Twitter chat broader exposure.Often times, you can also pitch topic ideas or ask moderators to guest host a Twitter chat. I'm sure they'd be more than happy to have a night off.
Facilitate the discussion. Ask follow up questions that show both sides of an issue. Ask questions that require further clarification or additional thought. If you ask the right questions, you're sure to stir up some good, healthy dialogue.
Stay on topic. Don't stray from the original question proposed; if you must, take your conversation offline or don't use the Twitter chat hashtag.
Say thank you. Thank people for participating and remind the group of the next Twitter chat.
Post the archive. Archives are useful for those who missed the chat and want to catch up on the discussion. Bonus tip for marketing pros: when doing initial research on who you should be following on Twitter, scan the Twitter chat archives to see if there are any users that stand out to you. Jot those handles down and check 'em out.
Keep on, keeping on. There's no right or wrong answer to running Twitter chats, but as you get some chat sessions under your belt, you'll start to see what works and what doesn't, what type of content your audience engages with most, and so on. So stay positive and keep up the good work!
If you're looking for more in-depth resources on hosting a chat, check out this guide to Twitter chats from SocialMediaExaminer.
Have you ever tried to host a Twitter chat, or participate in one? Are there any other tips you'd add to this list? If so, leave a note in the comments so we can continue to help one another. Thanks, as always, for reading. If you want to stay in the loop when we post, be sure to follow us on Twitter and Facebook or Subscribe to our Blog.