This new and improved platform offers new targeting and tracking features to make your campaign more effective.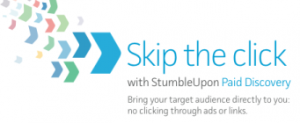 The traffic per click is inexpensive, and it can be used to drive free "stumbles" to your site.
This post  highlights some new features that appeal to marketers.  Do not miss the tips and tricks section!  There is advice on selecting and checking the right categories for your campaign.   Read the full article at Search Engine Land, and kickstart your social campaign!