May has flown by here at Cypress North, full of new hires, clients, opportunities and a lot of preparation. In June I will be moderating a handful of panels at what should be the biggest search-focused digital marketing conference of the year, SMX Advanced.
Best of all, this year Christine Zirnheld will be coming along as well to present her very own solo session: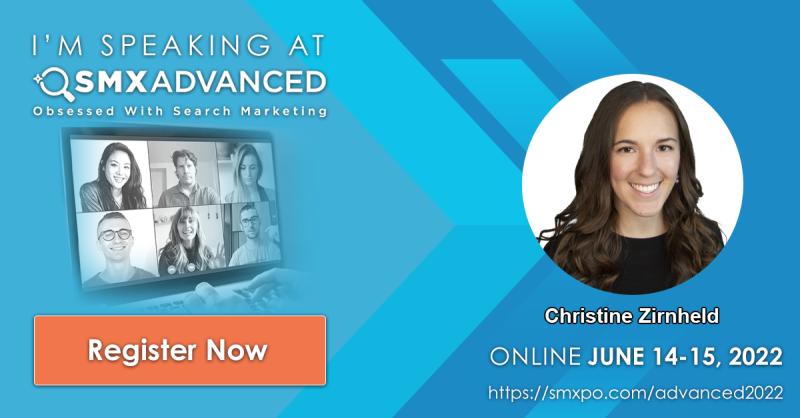 Christine is a paid search dynamo here at Cypress North. She is not only the main host of our weekly digital marketing news podcast, Marketing O'Clock, but is also the lead on all of our SaaS efforts while spearheading our content strategy. Her solo panel at the show will surely be a "showstopper" as she will be delivering:
---
Layer on the automation: How to combine automation options for PPC success
In a world of ever-growing machine learning and artificial intelligence, it's important to leverage the right automated features in Google Ads to properly control and steer your campaigns.
Join Christine Zirnheld, Digital Marketing Manager at Cypress North, as she dives deep into automated strategies related to audiences, keyword targeting, ad types, campaign types, bid strategies, and more. You'll walk away with the knowledge you need to get the most from automation within your paid search campaigns and beyond.
After this session, you'll be able to:
Optimize conversion settings
Leverage automation in targeting to find new customers
Maintain control over automated ad types
Use Performance Max and other automated campaign types
Achieve performance goals with automated bidding
---

Additionally, I will be running a Q&A panel with Christine after (don't miss it!) as well as follow up panels for other sessions including:
Leveraging automated bidding for maximum PPC performance with Menachem Ani, JXT Group
June 14th, 12:40 PM EST
How to create better ads in a world with only RSAs with Frederick Vallaeys
June 15th – 11:40 AM EST
Lastly, I'll be running one of the first-ever "Coffee Talks" at SMX along with Andrea Cruz. This will be a fun open forum to discuss what is (and isn't!) working in our accounts:

Coffee Talk: The good and bad of your paid ad accounts
June 15th, 10:30 AM EST
---
Best of all, this year's SMX Advanced comes at no charge! This is the first-ever completely free SMX Advanced, so if you haven't registered yet, sign up today.
See you all there!
~Greg