Google Places. Google+ Pages. Google+ Local tab.
Um, yeah.
Don't worry. You aren't alone in feeling somewhat disoriented and confused by all the changes happening at Google and Google+. The short story is that Google Places has been replaced by Google+ Local pages, which means that there is now a Local tab on your Google+ profile that you may have noticed.
Google Places business listing + Google+ business page = Google+ Local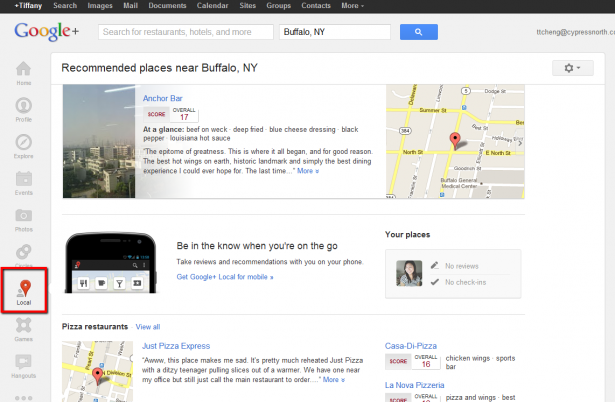 Additionally, the rating system has been replaced with a 30-point Zagat review system (for now), the Google+ Local pages are integrated across other Google products, and, because everything is personalized for users, now you'll see recommendations and reviews for businesses from friends, family, colleagues, or anyone else in your Google+ circles.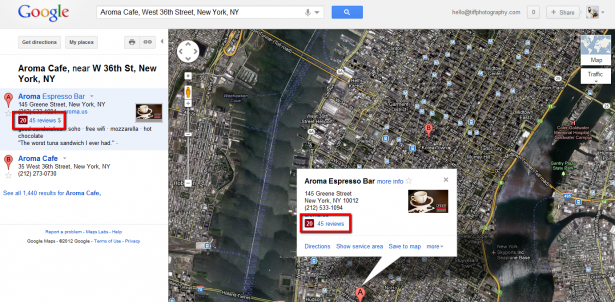 That's a lot of information to digest — especially if you're new to the social network. We recommend you read through some of those articles we linked to above to get a better understanding of the changes.
What we want to do in this post is to show you how to register your business with Google. Creating a local listing is a free and easy way to help increase the visibility of your business on Google — that includes Google Search, Google Maps, Mobile search, voice directory search, and even Google Earth.
Ready? Here we go.
1. Submit your information
Start by visiting Google Places. I know, I just told you that Google Places went kaput. But, according to Google, you can still use Google Places to manage your business listing. The difference now is that as a user (versus a business owner), you can rate, review, and add photos through the new Google+ Local.
Ok, moving on. You will need a Google Account to register. Keep in mind that this business listing will be tied to a single Google Account and is not transferable, so if you plan to share with others, use a common Google Account.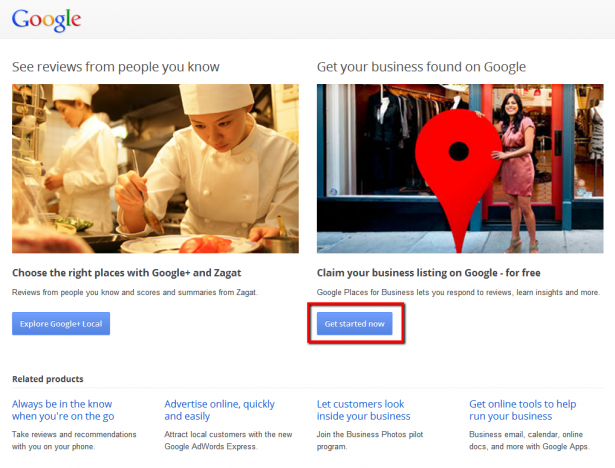 Click the "Get started now" button.
You will be taken to a screen that will ask you if you've registered your business before. Enter your country and a business phone number. If you haven't registered your business in the past, you will be prompted to add a new listing.
You will be taken to the screen below, which asks you to fill out basic information about your business, such as official name, address*, phone number, web address, hours of operation, accepted forms of payment, photos, videos, and more. You have complete control over the added content, so add images and videos that help customers learn more about you and the products/services that you offer.
*Be sure to use your exact business address, as if you were going to send a piece of mail to that location. If you are a business that serves customers in multiple locations, you will have an option to hide the address at a later time.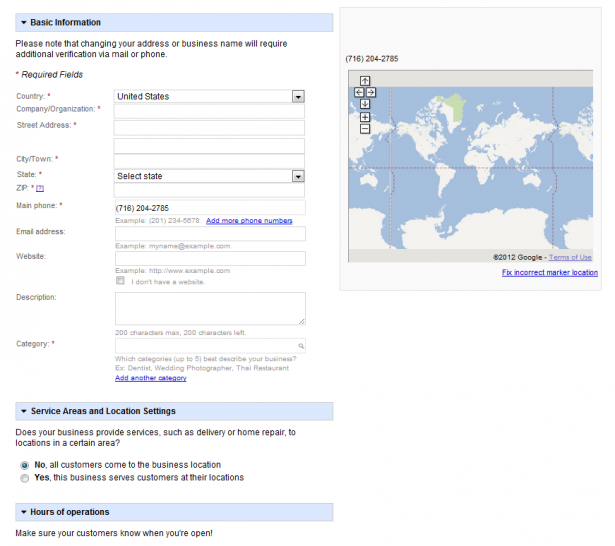 2. Verify your listing
Next, choose how you want to verify your business listing and click Finish. You can choose to verify by Phone, SMS, or by postcard; however, not all verification options may be available. The PIN verification helps Google confirm that the person claiming the business listing is actually a real human — the business owner or an authorized representative for the business.
I chose to verify my photography business listing via postcard, and waited for Google to send me my verification pin number. It took just under a week to receive the postcard.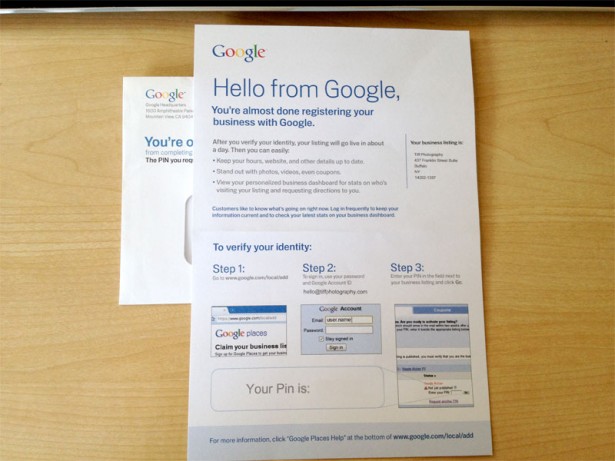 Once you receive your mail from Google, follow the steps on the postcard. You'll need to visit www.google.com/local/add and sign in using your Google Account username and password that you used to register the listing. This will take you directly to the dashboard where it will ask you to enter the pin number provided on the postcard.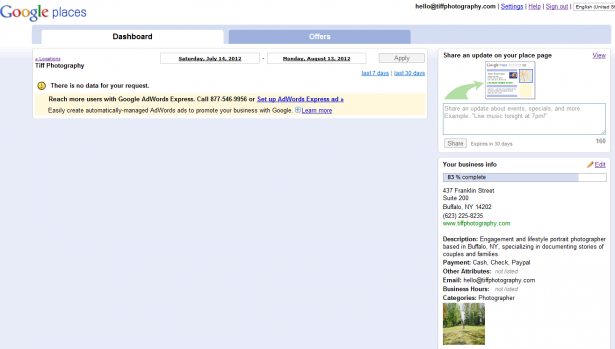 3. Wait
And voila! You are verified, but not quite live. It may take up to one week after verification before your business listing appears on Google. If you already own and manage a Google+ Page for your business, you may want to consider merging your Google+ Local presence and your Google+ business page. This will give you a single, unified presence of your verified brand that you can manage from the Google+ Pages admin section, plus all of the extra social features.
Now that wasn't confusing at all, was it?
If you need additional help adding multiple listings for more locations, visit the Google Places for Business support center.