Instagram released its first app update today since the $1 billion dollar acquisition of the company by Facebook in April. The app's most notable difference is the new "Explore" tab and its compass-like icon, replacing the former "Popular" tab with the heart icon. By going to the "Explore" section of the app, users see a grid of the top trending photos shared on Instagram at any given time (just like before) and can quickly search for other users or content using specific hash tags using the new search bar.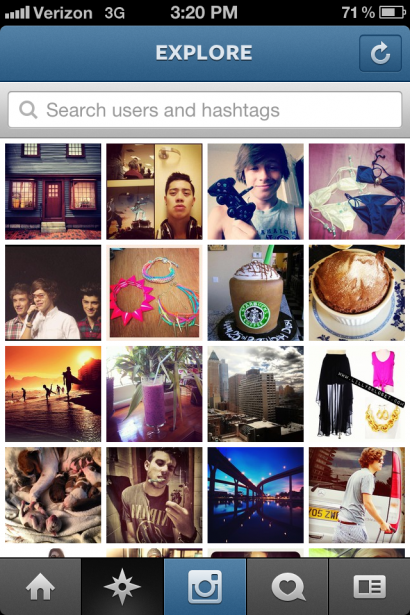 Other updates to the app include:
Improved user commenting
Streamlined profile layouts
Search autocomplete for users you follow
Visual aesthetic improvements
Speed optimizations
In addition, you can share your "likes" to Facebook if you choose, which means every time you "like" a photo on Instagram, it will show up as a notification in Facebook's news feeds. The plus side is that pushing "likes" is not automatic. You must authorize the mobile app to push notifications and link your profile to Facebook. If you want to enable this option, you can do so in your profile settings.
A couple of tips that might be handy to the power Instagrammer:
You can change your profile photo by tapping on it instead of navigating to your profile settings. Previously, tapping on it did nothing. Now, tapping on the photo brings up the options to change the picture, remove, choose a new one, etc.
Jump straight to your camera roll (for iOS users) by holding down the camera icon. It auto pulls up your photo album to select the image you want to post next.
Since updating to the new version this morning, I've noticed that the app is a lot less buggy. The speed seems to be noticeably faster, and moving from screen to screen is a much smoother experience. If I could ask for one change, I might ask for the ability to post external links within captions/comments (although, the linking thing could get out of hand). But even without that, I'm still a happy camper.
Instagram continues to be one of the most-used apps on my iPhone. Since I last  wrote about Instagram on the Cypress North blog, they've released an Android version and, as mentioned earlier, were purchased by Facebook for $1 billion.
Have you updated to the new version of Instagram? What do you think of the new changes?