Buffer is an application that allows users to share great content throughout the day on social networks in a smart and efficient way.
Buffer's simple interface is very intuitive and easy to use. All I have to do is fill my Buffer account with content I want to share at some point in the day, and Buffer "automagically" posts the articles for me as the day goes on. Being able to schedule my posts ensures that I have a consistent social media presence and my content is posted when I feel my followers and fans would benefit and engage the most.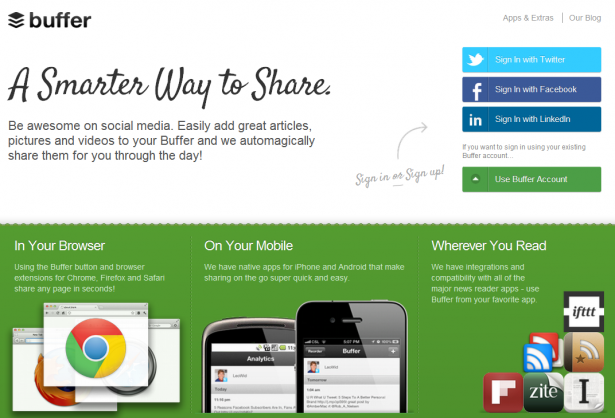 To make social sharing even easier, Buffer announced new Buffer Browser Extensions that allow you to Buffer content directly from Twitter, Facebook, Google Reader, and several of the major news reader apps like Flipboard and Instapaper. You can "share links, pictures and videos from wherever you are on the web," according to its website.
Okay, so you're sold, and you want to start using Buffer to help you rock social media. Where do you start?
First, you need to create a Buffer account. You can sign up using your existing Twitter, Facebook or LinkedIn account directly from the home page, or create a Buffer Account. Once your account is created, you'll want to install the extension for your browser type. Currently there are extensions for Chrome, Firefox and Safari.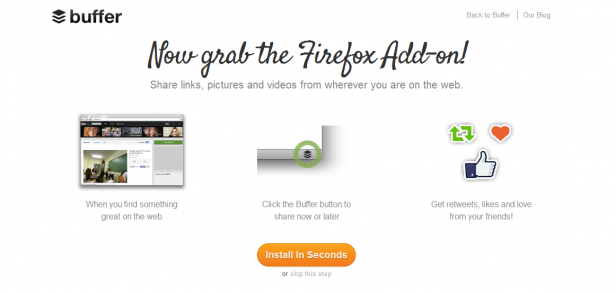 Click that orange button to install the extension. They don't lie to you, it really does get installed in seconds.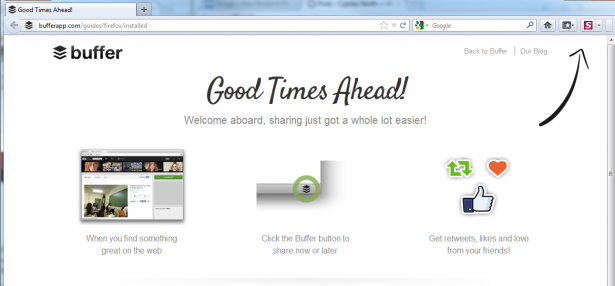 After confirming that the extension has been installed to your browser, visit one of your social networks where you should see the green Buffer button appear next to a "Post" button.
Here's what it looks like on Facebook:

You can buffer all kinds of content, including status updates, photos and links.
Here's what the extension looks like on Twitter: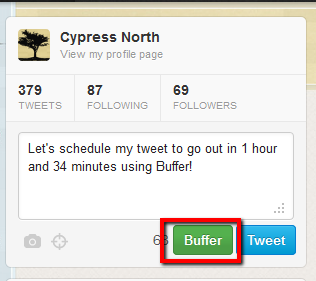 Do you want to re-tweet a post on Twitter, but in a few hours? You can do that too.

But maybe you're surfing the web and find yourself looking at great content that's not on Facebook or Twitter. Use the little button in your browser bar to add the page or article to your buffer.
For Firebox users, it's at the bottom right of the browser, and for Chrome users it's at the top right of the browser.

Once you click on the button, a box will pop up that will allow you to select which network(s) and to post now or buffer for later.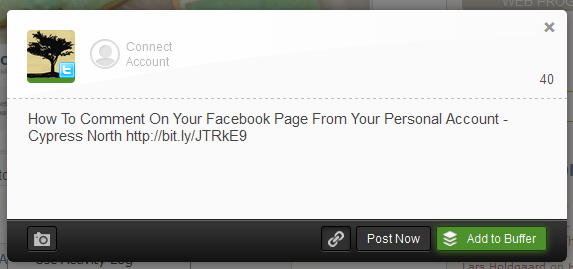 To see a complete guide on the new extensions, visit the Buffer blog. The free Buffer plan allows you to have 10 posts in your Buffer, connect one Twitter account, one Facebook account and one LinkedIn account. You also get features like the browser extensions that we covered here, as well as free mobile apps. If you manage additional social accounts or want to add more than 10 posts to your Buffer, check out the pricing for pro and premium plans.
What do you think of the new extensions? What tools do you use to be efficient and effective on social media?